SHORT TAKE:
Lake Charles Little Theatre closes out this season with Godspell, the musical of vignettes from the New Testament, which is performed like a theatrical troupe flash mob.
WHO SHOULD GO:
EVERYONE!!!
LONG TAKE:
Have you ever seen a flash mob? They're all over Youtube. A bunch of people, appearing to be from all walks of life, converge on a public area: an airport lobby, a playground, a mall – and someone starts to play an instrument or sing a song or dance. Then, one by one, others in their group, camoflaged as passersby,
join in with voice or a flute or guitar or in tap shoes and before you know it, there are dozens, if not hundreds, of people singing the "Ode to Joy" or Christmas Carols or tap dancing their hearts out, or like in the faux flash mob with actors from
The Greatest Showman, act out medleys from a Broadway show.
I am always pleased and delighted to watch these coordinated groups who, of a single mind, have the nerve and verve to perform for total strangers. And judging by the smiles, the photographs, and the applause from the suddenly blessed impromptu audience, I am not alone.
While I have never seen one in person, I would travel a considerable distance to be either a participant or an audience member, but by the very nature of the "show," most beneficiaries of these live exhibitions do not know about them ahead of time.
Musicals, like La La Land, have employed this concept since…well, since the advent of the musical. Random strangers all suddenly are inspired to break into song and hoof coordinated complex dance routines. It's a wonderfully infectious and entertaining trope.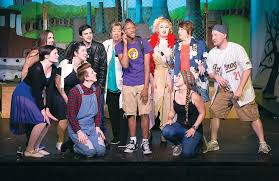 Now, imagine you are minding your own business at an empty baseball field – throwing a ball with your son, having a picnic, walking the family dog. Suddenly a group of Catechism teachers from various eccumenical branches, dressed for all walks of life, happen to converge and, inspired, cobble together a series of seemingly impromptu mini-plays, acting out stories and parables from the New Testament – from Jesus' baptism by St. John the Baptist through to Jesus' death. This is Godspell as the actors at Lake Charles Little Theatre truly personify the admonition from Matthew 18:20 that: "For where two or three are gathered together in my name, there am I in the midst of them."
Godspell, literally from the Anglo-Saxon meaning "Good Story," refers, obviously, to the Gospel or Good News of the New Testament. The show is written as though the characters arrive together by chance unprepared and without anything but the clothes they wear, whatever happens to be lying around on the baseball field, a fervour for the Lord, and a desire to preach and teach the Gospel, enacting "on-the-spot" demonstrations of lessons from the Bible.
The show begins with the chant: "Prepare ye the way of the Lord," and features songs you will find very familiar from your high school years, if you are over forty, and might have heard your parents play or on an elevator somewhere, if you are younger. But THIS is the way you SHOULD hear these songs – live and on stage, sung by people, some of whom I know personally, who are of great faith and mean every word they sing and say.
Unlike the play Jesus Christ Superstar or movies like The Passion, where individual actors step into roles and assume the mantle of that character for the duration of the story, in Godspell the actors are NOT supposed to BE that person, but are only vehicles for the communication of the Gospel message. Ordinary people going about their daily business are inspired to teach the Word. Therefore, there is no disrespect intended when Apostles are dressed in running shorts, or for ballet practice, or in a leather jacket or lab coat, because that is how they are supposed to have showed up for this "come as you are" exercise in missionary work. The actors, thereby, communicate an additional underlying message, that EVERYONE – young, old, whatever gender, whatever your gifts, are all called to evangelize. That when the moment calls to speak up for your faith, you are not to let formality stand in the way, but just jump right in and strike while you have a receptive audience.
And there is no "gender agenda," but only a "necessity of convenience agenda" when
a group of ladies ham it up with fake beards as Pharisees or a young lady responds as Peter – there are simply not enough men in the available cast. (MORAL TO THIS PART OF THE STORY – You guys in Lake Charles – MAN UP AND AUDITION!!!)
Clay Hebert, a staple in both local independent films and community, high school and college theater for over three decades, speaks on behalf of Jesus in an Astros shirt. Unsurprisingly, he has the command of both the stage and the Gospel message. I've known Clay since he had hair and have always been impressed by him as a brilliant example of the RIVER of talent that flows through our city.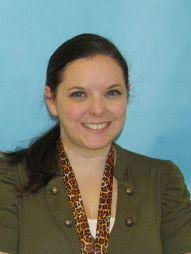 Kirsten Bush,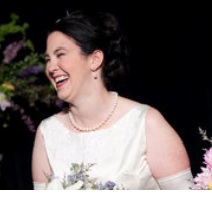 Heather Partin,
Zoe LeBeau and
Joseph Comeaux are very familiar figures on our Lake Charles stages. And the rest of the performers shine as well:
Clay Corley,
Rebecca Harris,
Virginia-Kate Jessen,
Theresa Hay Needham,
Taylor Novak-Tyler,
Liz Rentrop Trahan, and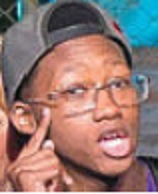 Jaylin Williams all round out a cast which embodies a wide variety of roles: from the fallen woman Jesus saves from stoning, to the wealthy merchant who will not live to enjoy their earthly treaures, to the rich man who ignores Lazarus; from Caiaphas, to a temptress Devil, to the ungrateful servant, and those healed by Jesus. All the stories these delightful actors tell will be well known and beloved to even a casual student of the Bible. It is a joy to see these stories play out and hear the beautiful singing. These very familiar songs, which can grow stale over time with indifferent repetition, come alive with the energy of immediate re-enactment that this talented troupe brings to the stage.
Greg Stratton, with a resume longer than my arm, gifted actor and director, corrals all this enthusiasm into the Godspell that we enjoyed, masterfully inspiring his cast, bringing out the best of their vocal and acting talents, making the challenge of directing so many performers constantly on stage look effortless. I have had the privilege of watching Greg direct up close and his creativity, love for the theatre and respect for his performers comes through clearly. Greg has an enormous repertorie, wearing the hats on and off the stage in comedies and dramas alike.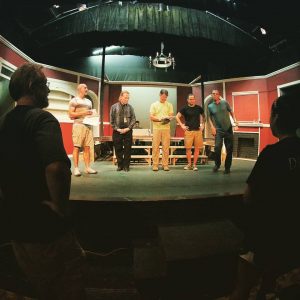 A theatrical master magician who, like Prospero in The Tempest, is able to make his audience weep or laugh, Greg manages to do both in this funny, joyful, and emotional modern re-presentation of Bible stories.
So go see Godspell at Lake Charles Little Theatre as soon as you can – the run is only through April 29th – and be uplifted as only a live retelling of the Bible can be where two or more are gathered in His name.
AND I APOLOGIZE FOR THE PAUCITY OF PHOTOS FROM THE SHOW – MY ACCESS TO PICTURES WAS VERY LIMITED. IF ANYONE FROM THE CAST WOULD LIKE TO CONTRIBUTE PHOTOS FROM THE PRODUCTION PLEASE SEND THEM TO MY E-MAIL AT: KBARRILLEA@SUDDENLINK.NET AND I WOULD BE DELIGHTED TO ADD THEM TO THIS BLOG IF AT ALL POSSIBLE.
GET YOUR TICKETS AT THE WEBSITE BELOW:
This Post Has Been Viewed 104 Times