AUDIO PODCAST OPTION OF ALADDIN REVIEW
SHORT TAKE:
Fantastic live action remake of the 1992 animated Aladdin.
WHO SHOULD GO:
Anyone and everyone.
LONG TAKE: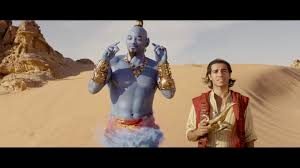 I walked into the movie theater fully expecting, nay planning, not to like this new version of Aladdin. I dreaded a cheap imitation of the original.
Happily, I could not have been more wrong.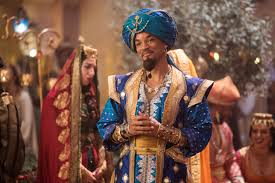 This live action Disney Aladdin musical is absolutely adorable and Smith is wonderful in it. It is both fresh and familiar, telling the same story, touching all the same plot points and featuring all of our favorite music, moments and lines, yet does not merely imitate.
This Will Smith-led Aladdin does respectful homage and even honor to the memory, not only of its animated predecessor in general, but of Robin Williams in particular, and brings Smith's own unique tone to the story.

It's obvious that Smith loved and respected Robin Williams' Genie. He is playful with the character that Williams invented yet gently puts his own spin on the character.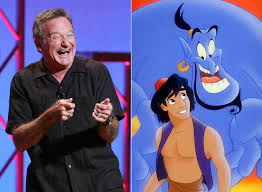 Robin Williams was frenetically comedic, exuding an ambiance of anxious-to-please humor, whereas Smith is more self-confident and wryly witty. Robin Williams excelled at impersonation, jumping effortlessly from character to character – that was his style.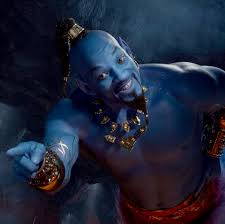 Smith stays Smith as Genie – that's his style. Both are two variations on the same theme. Like Tchaikovsky's tribute to Mozart in his Mozartiana, Smith hits all of his predecessor's brilliant notes and rhythms but applies his own personal talents to this clever musical take on the Arabian Night tale.
The 2019 live action version, directed by
Guy Ritchie (Robert "Iron Man" Downey, Jr.'s Sherlock Holmes features) even resolves plot holes and
improves character arcs in ways that were not necessarily required of an animated feature, but meet one's heightened expectations of a live-action movie.
The songs are all there with the same energy and comedy and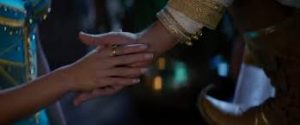 touching moments portrayed by performers with whom, other than Smith, I have very little familiarity, but who are terrific in their roles.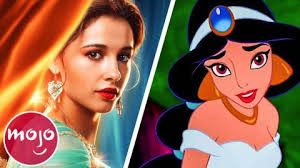 Naomi Scott, an openly devout Christian and child of pastors, has an incredible voice and does an amazing job as
Jasmine.
Mena Massoud is charming and personifies the thief with a heart of gold (or diamond as the case may be).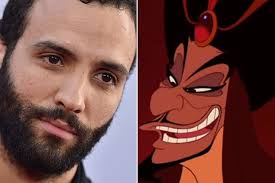 Marwen Kenzari (Branagh's Murder on the Orient Express, Cruise's Mummy and the very peculiar dystopian What Happened to Monday), avoids a caricature "mustache twirler" Jafar and instead
is portrayed as the flip side of Aladdin, with chilling effect.
Navid Negahban (12 Strong, Fringe and American Sniper)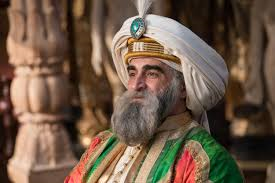 creates a far more realistic portrait of a troubled and stern but fair and caring father and ruler in the Sultan than in the animated version. Comedian
Nasim Pedrad (SNL and Despicable Me 2) creates the new character of Dalia, at once handmaid and confidante to the princess and focus of an unlikely suitor to adorable affect.
Frank Welker reprises his voice acting talents as both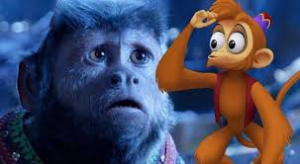 Abu and the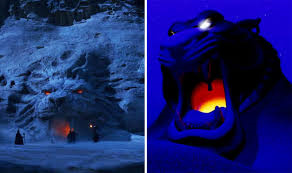 Cave of Wonders.
The color palette used was appropriately bright and well-defined, like the beloved cartoon feature brought to "real" life. The music was just as we remembered, with amazing singing from both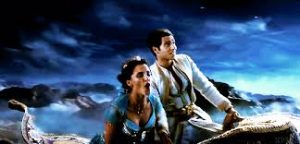 Naomi Scott and Mena Massoud. There is also a terrific Bollywood-style courtship dance number which has been added to the proceedings. One of my only criticisms of this Aladdin is that there was not two or three more of them.
While I would love to wax eloquent about the zillion ways in which they have successfully and entertainingly brought this classic animated feature to life, I do not want to ruin a minute of it for anyone with spoilers.
However, from the very first setup in the very first scene it will become obvious the thought, care and affection with which they have invested to recreate this story.
So go enjoy this delightful re-creation of the animated movie we grew up with. And, since you're going anyway …. bring your kids.