SHORT TAKE:
Unusual tale of how two unpleasant people create a positive relationship through a series of conversations at a weekend destination wedding.
WHO SHOULD GO:
Absolutely only adults and preferably married ones at that for: profanity, casual blasphemy and an explicit, albeit genuinely funny and fully clothed, scene of realistically portrayed sexual intimacy.
LONG TAKE:
A love story with a twist. To my knowledge this phrase was coined by my friend Franklin. He claims it an apt description to ANY movie. That may be so, but Destination Wedding really is one.
While the movie doesn't exactly turn the standard for the rom-com on its head it does view it obliquely. Destination Wedding certainly follows the formula: somewhat unlikely couple meet, after a few coincidental further encounters they find they have common interests, fall in love, run into obstacles to the relationship, etcetera. What's different about Destination Wedding is both the structure of the movie and the characters.
Written and directed by Victor Levin, (who penned 29 episodes of the adorable rom-sitcom Mad About You),  the movie would transit to the stage with ease. Much like a mobile My Dinner with Andre, the leads are the only people who have dialogue.
While My Dinner with Andre took place almost exclusively at a dinner table in a restaurant, Destination Wedding wanders all over different events' settings: an airport, an airplane, the rehearsal dinner at a restaurant, the outdoor wedding, hotel rooms, etc. But the settings are barely noticed. The entire focus of the film is on the conversations between these two unlikely lovers, Lindsey and Frank.
You know the romance involved will be a bit different  when it begins with the subtitle: "A narcissist can't die because then the entire world would end."
Frank is played by Keanu Reeves, the titular action movie hero from
John Wick. Lindsey is played by Winona Ryder, most famously and recently as the frenetic mother, Joyce, desperately trying to protect her family from
Stranger Things.  Although there is no violence or supernatural killers in Destination Wedding, looking at the pictures from the lead actors' current most notable respective roles one can see why there is a natural chemistry between the actors.
Reeves here contributes to his too small stock of comedies. Reeves deadpan delivery is perfect for the emotionally distressed and extremely subdued Frank,  who comes from a family which is extravagantly dysfunctional, and includes his half-brother, the groom. Cynically, Frank's opinion of romance is summed up in his response to whether he believes there is someone for everyone.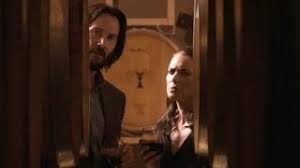 Frank retorts, "Close. I believe that there is nobody for anyone." Lindsey, on the other hand, has a stable family background, but her problem is that she is still in love with the groom, and expresses her bitterness and frustration in self-absorption and constant critiques of others.
I once heard Dr. Laura Schlessinger describe her philosophy of a healthy relationship as finding someone whose quirks you don't mind who doesn't mind yours. Lindsey and Frank certainly have the quirks. The story examines whether their quirks will mesh comfortably or grind each other to pieces.
Like two oddly shaped puzzle pieces, the two rub each other the wrong way from their first casual conversation. But as they are both depressed outliers at this matrimonial celebration who find mutuality in hating the groom, avoiding the relatives and thinking the bride has "all the sense God gave a toaster," they repeatedly end up ignored and forgotten by the wedding party at the different events – together.
Extreme dislike, like love, is a strong emotion which can be flipped on its head and the audience is entertained by watching for how, when and if Lindsey and Frank will catch up with the idea that they are in some bizarre way made for each other.
Their major winning personality trait is their honesty about themselves and others which they employ to strip each other bear emotionally and psychologically. But like Eustace in
Voyage of the Dawn Treader both are in desperate need of this personality scrubbing of the emotional dragon scales with which they have armored themselves, and to which scrubbing, to their credits, they reluctantly but patiently submit.
The acting is quiet and amusing. You would not think listening to these two dissect the wedding party and each other for 87 minutes would be fun, but it was. These two weirdly mismatched people slowly grow on the audience and each other. And we can not help but wonder what will next be revealed as each layer is removed and healthier more vulnerable parts of their souls begin to emerge. This is the fourth movie for Ryder and Reeves to do together, and their chemistry is light-hearted, easy and evident.
The cinematography is simple and straight on as though you WERE watching a play, with the beautiful setting of San Luis Obispo California, wine country, as merely a frame to this clever little romantic snapshot. It was shot in 10 days with no close-ups and few if any retakes.
Along with the casting of these two who have been friends since the 1980's, there are a couple of other in-"jokes" as well. Lindsey suggests they play "Devil's Advocate" in a discussion of their future as a couple, an offhand allusion to the movie The Devil's Advocate in which Keanu Reeves starred. Frank alludes to his father's new girlfriend as, "Being a senior while he [the father]was a freshman," which is pointedly similar to a quote by Reeves' character's best friend, in
Bill and Ted's Excellent Adventure, when Ted refers to Reeves' character Bill's very young stepmom.
Also, as an interesting side trivia, like their characters, though having been in serious relationships before, neither of the actors have ever been married. In addition, there's a running cinema legend that the two actors have actually been married to each other for 25 years, having appeared in Francis Ford Coppola's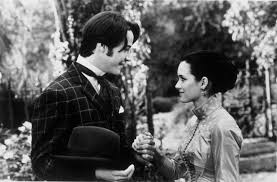 Dracula during which a real Romanian priest was engaged for the wedding ceremony of their characters.
This is a movie for adults only, for language, conversation subject content, and a graphic scene of sexual activity. Although no skin is ever seen the clothed behavior is vivid and explicit although genuinely funny in its very artlessness.
So if you are an adult in the mood for an individually peculiar, romantic comedy of two broken people searching for their complementary parts, you could do worse than follow Lindsay and Frank as they literally and figuratively go off the beaten track to find their awkward match.
And — welcome back to your rightful home in comedy Mr. Reeves!