SHORT TAKE:
Sequel to the over-the-top zombie movie spoof about four survivors of a zombie apocalypse.
WHO SHOULD GO:
ABSOLUTELY NO CHILDREN! And only for adults who have a taste for gory macabre humor that pushes the envelope – like Shaun of the Dead, Cabin in the Woods, and the Evil Dead franchise. No sexual content of note aside from seeing two unmarried people in bed talking, but there is a lot of profanity.
LONG TAKE:
Let me make this simple: if you liked Zombieland then you will like Zombieland: Double Tap. There is nothing deep or philosophical about either of these movies. They are just plain old gory fun.
The premise of Zombieland: Double Tap answers that most pressing of all questions: Where are our intrepid heroes from the original Zombieland 10 years later?
The original cast returns as four survivors of a zombie apocalypse who form an ersatz family, fighting the undead with as much joie de vivre as possible. Woody Harrelson (Three Billboards Outside Ebbing, Missouri see review HERE, Now You See Me 1 and 2, 2012 AND lest anyone forgot, broke out as the sweet Woody Boyd assistant bartender in Cheers) is Tallahassee again, the leader of the group and the one who attacks zombies
with the most creative and gleeful enthusiasm. Jesse Eisenberg (Social Network, Batman v Superman) reprises Columbus, Tallahassee's sidekick. Columbus' official romantic interest is
Wichita, (Emma Stone – La La Land see review HERE), older sister of
Little Rock (Abigail Breslin – Signs, Raising Helen).
To tell more than these bare bones would be to give away too much. Suffice it to say, ZDT is as clever and as campy as its predecessor, playfully turning the zombie genre on its head.
Instead of characters cringing in fear and running in fright from the brain hungry mobs, this crew embraces the challenge of zombie killing the way others in a non-zombie world might embrace an extreme sport like skydiving into a shallow pool without a parachute or Safari hunting lions with a crossbow.
I must say zombie killing has been good to these guys. Zombieland was the first thing I ever really liked Woody Harrelson in, Jesse Eisenberg makes a far better Columbus than Lex Luthor, none of the actors, except Abigail Breslin appear to have aged a day and Little Rock couldn't help it because she went from teen to young adult, and all of them seem to be having the best time of their lives.
Adding to the merry mayhem of people they meet along the way are: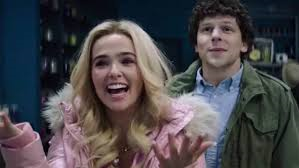 Zoey Deutch as Madison,
Avan Jogia as Berkley, 
Rosario Dawson as Nevada, Luke Wilson (brother of Owen and Andrew) as Alberquerque, and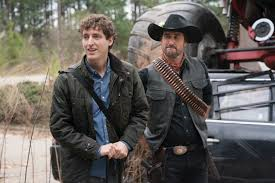 Thomas Middleditch (Godzilla see review HERE, Tag see review HERE) as Flag Staff.
The music is at turns perky folk Americana, upbeat, creepy, and sometimes all of the above at once, incorporating songs from Caddyshack's "I'm Alright" to
Elvis Presley's "Hound Dog". (You'll understand why each of them are included when you see the movie.)
The characters are self-aware, make fun of themselves, the genre, their characters and do not just break the fourth wall but don't really seem to care if there is one or not.
Had the actors, writers (David Callaham, Rhett Reese, and Paul Wernick) or director (Ruben Fleischer) stepped back even an inch from the full steam ahead, break through the guard rails approach, Zombieland would not have worked.
As it is, this ultimate camp of the year zombie movie, for the demographic of those who prefer goofy in their gore, camp in their carnage, and do not mind more than a bit of grotesque with their humoresque, Zombieland: Double Tap is, in its own special and unique way, a delight. But please oh please, leave the kids at home unless you want to start the therapy fund early.