SHORT TAKE:
This first is in a series of movies which I will review which are unlike any other films. I begin with a gentle comedy fantasy, starring the greatest American actor who ever lived, with a new perspective on Sherlock Holmes.
WHO SHOULD SEE THESE:
Depends on the movie – but the range for ones I have in mind are about mid-teen and up, for plot topics, or language, or because younger kids would simply be bored or frightened. As always, but especially with these since there is often little to compare them to – you should check them out first before showing them to your kids.
INTRODUCTION:
A preponderance of movies now-a-days are derivative. You can't blame movie executives for it really. When you are sinking millions of dollars of other people's money into a project it is a great comfort to know it is similar to another one that made a profit. And I love formula movies. There is an enjoyable reliability in the anticipation of a familiar theme – like listening to a variation of a song you love by a different artist. Like Buble's upbeat jazzy version of the originally clunky Spiderman theme song. Or Sia's creepily ominous version of "California Dreamin'" from the recent disaster movie San Andreas.
But every now and again I find a unique little one-off which makes it fondly to my list of favorite movies. By unique, I mean it has no sequels, no prequels, and no one (yet) has plans to remake it. They are not part of a franchise, few people have ever even heard of them, and if you go on Amazon to look for them the "Customers Who Watched This Item Also Watched…" you will not find a single item anything like it. Oh, you'll find a list of other movies the actors have been in or the director has made or a stab at the genre, but NOTHING approaching these sparkling gems in the cinematic firmament.
Here is the first of my favorites in no particular order – aside from the fact it stars my favorite actor ….. ever.
LONG TAKE:
THEY MIGHT BE GIANTS (1971)
I think George C. Scott is probably one of, if not THE best American actor ever. (Sorry Marlon).
His filmography spanned decades.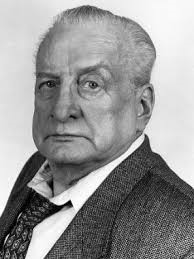 He threw himself completely into every role but never lost sight of the idea it was a job and he a performer whose responsibility it was to entertain his audience the best way he knew how. His career was as varied as his thespian skills were intense. At home in comedies, mysteries, biographies, romances, classics, horror, dramas, you name it,
he played cops and lawyers,  generals and sleaze-balls, gangsters and scientists. He was an attorney in Otto Preminger's 10 Oscar nominee 1959's
Anatomy of a Murder, and the off-the-wall
General Turgidson in Kubrick's 1964 classic 4 Oscar nominee Dr. Strangelove.  He was the man of choice in a version of Scrooge,
Edward Rochester with a Jane Eyre played by Suzanna York (who later played Christopher Reeve's Superman's mom), the Beast opposite his then wife Trish Van deVere's Belle, Fagin in Oliver Twist, Mussolini in a biodrama about the dictator, one of 12 Angry Men, the captain in a version of the Titanic, a hit man in a Stephen King movie, and the stalwart and heroic
General George S. Patton in 1970's amazing Patton, the latter a winner of 7 Oscars including best director, movie, screenplay, and lead actor.
Mr. Scott turned down both his Best Supporting nomination for The Hustler and stuck to his guns turning down even the Oscar for his win in Patton. He maintained the Oscars had morphed from a friendly dinner among compatriots to a "meat parade" with "contrived suspense for economic reasons," and that he was not in competition with his fellow thespians.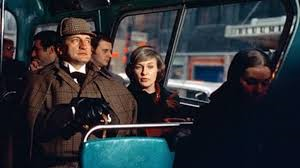 THEN, right after his definitive turn as Patton, at what was then the height of his career, he made a little known film for a small budget,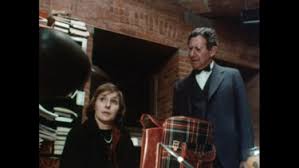 whose virtues rest squarely on the shoulders of the actors. They Might Be Giants was written by James Goldman, directed by Anthony Harvey, and with music composed by John Barry (who also scored 11 Bond films), were the same three men who crafted the brilliant Lion in Winter.
The premise of They Might Be Giants is that Judge Justin Playfair (don't look at me, I didn't make up the name, but this will give you a clue as to the film's ambiance), is so stricken by grief over the loss of his wife that he has retreated into believing he is Sherlock Holmes.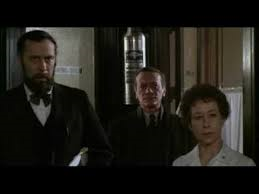 His brother, with motives other than Playfair's best interests, seeks out a psychiatrist to have him committed. Unfortunately, or fortunately, her name just happens to be Mildred …. Watson.
Dr. Watson is gently played by Joanne Woodward, who with a considerable acting track of her own, was the wife and long-time working companion of Paul Newman.
Scott is (one viewer noted) "majestic" in this quirky mystery-romance, describing the film as a "delicate … comedy/fantasy". I couldn't agree more. Without giving ANY spoilers, I will admit this is not a perfect film, but what is there is creative, memorable, and delightful.
So, as Robert Frost might encourage, take the road "…less traveled by," and check out this small movie aptly named They Might be Giants.
It is also available on Amazon HERE.