SHORT TAKE:
Gratuitously violent action adventure about five semi-immortal mercenaries who fight for "good" guys who can find and afford them.
WHO SHOULD WATCH:
Only for adult fans of graphic novel genre stories which take themselves way too seriously. Inappropriate for the usual superhero demographic crowd because of: violence, profanity, disturbing images of prolonged suffering and overt same sex attraction relationships.
LONG TAKE:
Pray for rain, plow the field. Despite the unfortunate lack of genuine prayer life in most filmmakers' lives nowadays, (the Kendrick and Coen brothers, respectively, being the most prominently laudable mainstream exceptions), movie makers sometimes demonstrate a, shall we say, unjustified amount of optimism regarding sequel-likelihood for their movie. I'm not talking about tried-and-true established film franchises justifiably confident in their future audience, like: Marvel, Star Trek and Star Wars. I'm talking about movies that come out of nowhere but blatantly setup endings which require a sequel for an adequate conclusion, ending in what can only be thought of as a cheap way to dodge coming up with a satisfying finale to a tricky plot conundrum.
One example is the campy old classic 1975 Doc Savage: Man of Bronze whose final scene showed Doc (Ron Ely) whisking off in response to an answering machine message about a threat to millions of lives. 45 years on were still waiting to find out what that was all about.
Another is the woefully underappreciated campy old 1980 classic, Flash Gordon. Even the inclusion of: Shakespearean Timothy "James Bond" Dalton, Academy Award winner and auteur Ingmar Bergman darling Max Von Sydow,  Branagh's "go to" Shakespearean stable performer Brian Blessed, music by Queen, and production by Dino DeLaurentis (whose filmography includes 184 films), could not save this light and fun swing at the action adventure hero genre at the box office. Flash "concludes" with the destroyed evil Emperor Ming's ring being picked up by an unidentified someone's hand and the Emperor's wicked laugh sounding against the end title of  "The End ?" I think we can safety answer – yes, it was the END of that movie.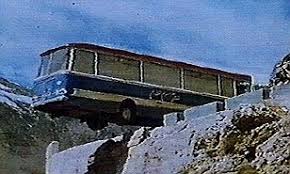 Another is 1969's The Italian Job, (not the 2003 sequel which is quite different) which ended with our intrepid antiheroes literally hanging in a bus over a cliff with a massive fortune in gold causing them to teeter towards the abyss and Michael Caine's character's last words:
"Hold on lads, I've got an idea," ringing in our ears.
SPOILERS
The Old Guard is an action adventure fantasy starring Charlize Theron (Atomic Blonde, Tully, Mad Max Fury Road, and, coincidentally, the 2003 version of The Italian Job) as Andromache "Andy" of Scythia which posits the idea of a small band of almost immortal warriors who make a living performing impossible good deeds for a price. While the premise is interesting it never really carries through with the most obvious question which the characters themselves ask over and over throughout the movie, which is: "Why?"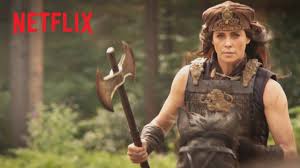 Why are they immortal? What is the reason? They are apparently just born this way, and their only similarity is that they all tend to either be or gravitate to a warrior existence. The most obvious structure should have lead us to some kind of ultimate good towards which they were all moving. While a sort of vague impulse to do good lies at the heart of their raison d'etre, there does not seem to be a focus or long game.
Filmmakers now have such an aversion to the idea of an Intelligent Creator that even when it is the most obvious conclusion to the very setup they have created it is a Third Rail. I might have been interested in a sequel which headed toward answering this mystery. Instead we are treated to the appearance in a pre-end credit scene in which Booker, temporarily outcast for reasons I will not spoil here, encounters another quasi-immortal about which we have only seen briefly in flashbacks
Frankly, I thought it rather presumptuous of them to so obviously stick us with an unfinished conclusion, assuming a following they have not yet earned. Overall more time is spent watching the characters fight and bemoan their immortal existence than examining what could have been a very interesting philosophical question structured within the body of an action adventure movie.
The movie is based upon a comic book/graphic novel mini series. But the first issue having been published in 2017 there is not a lot of traction to warrant the conviction of a sufficient following to support a second installment.
Keep in mind Doc Savage was a comic book too, with 181 issues published between 1933 and 1949, and an established following of kids who were now adults when the 1975 clunker hit the big screen like a bug on a windshield.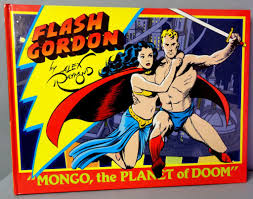 And Flash Gordon was a comic strip which ran from 1934 to 1992 in multiple countries around the world. But that didn't save its 1980 butt from being thoroughly kicked with critics and audience alike.
In addition, The Old Guard violates one of my demonstrably relevant rules of successful movie making. They don't have a sense of humor. Even the characters in Aliens found a few legitimate, albeit "whistling in the dark" chuckles despite their dire circumstances. (Hudson, a male soldier trying to antagonize Vasquez, a female soldier: "Hey Vasquez, have you ever been mistaken for a man?" Vasquez: "No, have you?" After their rescue ship crashes Burk quips: "Maybe we can build a fire, sing a couple of songs, huh? Why don't we try that?") But in The Old Guard they don't even try. Aside from some bleakly pessimistic sarcasm there is no genuine lightness to their lives.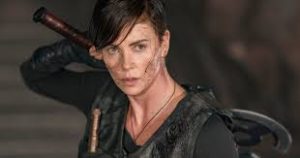 They see no real upside to their longevity, but only moan a lot about the downsides – which admittedly are considerable. And while it's true that they will outlive everyone they love,
and there is always the possibility they could be trapped somewhere for an interminable amount of time without the escape hatch of death, you would think, with possibilities available to them which are not for the rest of us mortals, they could find some positives. They have all seen significant chunks of history play out. They will not get cancer, suffer overmuch from even catastrophic injury, become bald or even get cavities!
Over the centuries they have done great good but never stopped to appreciate it. To them immortality just isn't all it's cracked up to be. I get that. But that is not the button that should be pushed repeatedly throughout the entire movie.
I became impatient with their collective inability to count their considerable blessings.
They would have done well to watch Groundhog Day (a few times LOL) and learn what it means to be blessed with the opportunity to save lives and prevent pain. Although Phil's  temporary immortality came in a repeat loop and The Old Guard's is more linear and arguably should have been more satisfying, Phil came to appreciate his altruistic duty. I suspect the difference is in Phil's basic footing in a faith in God, hinted at in moments such as when Phil looks up to Heaven as the elderly man he is trying to save dies – again. Phil came to accept that he, Phil, is not in control, but is only meant to do the best he can with the unique position he is in.
There is no such similar water shed moment in The Old Guard but just a constant, low level, bitchy undervaluing of the tremendous gift they have been given, without ever considering the possibility that maybe they have a reason and a purpose.
Despite the wishful thinking from gushing, almost syncophantic reviewers, The Old Guard is already being referred to as a "quick kill blockbuster". A quick kill blockbuster is a movie with so much hype, star power and anticipation before it comes out, that it makes a big splash, only to sink pitifully to the bottom of the pool fairly quickly. The Old Guard's financial demise will be hidden for a while both by the inertia it has going into the public mainstream based on Charlize Theron's involvement and its alleged comic book origin appeal, and by the fact that "box office" returns have been reinterpreted due to the Wuhan virus government regulation cataclysm keeping theaters closed.
Collecting "box office" revenue has been replaced with counting "streaming hits" and no one has adequately interpreted the conversion factor for those yet. But it is easy to guess that what would otherwise have been a box office bomb can be covered by the "film" (if you will excuse the pun) of references to "excitement" over its release and the number of "hits" it gets on its home media of Netflix. Since a subscription to Netflix gives access to anything within that system without extra cost, it is impossible for the average observer to tell how many of those "hits" resulted in a full screening or just a casual taste which is quickly discarded after a few minutes of fading interest.
It's just not a very good or engaging film. The characters mope about in a miasmic funk of self-pity when they are not precision "target shooting" their opponents or leaping about in martial arts choreography we've all seen done often and better in any of the Infinity Saga movies.
That's not to say it is a terrible movie or not a good popcorn flick.
It's got a number of redeeming qualities to it, not the least of which is at least a nod to Judeo-Christian faith of the newbie character Nile, as well as a truly interesting concept, albeit one which is not well explored. But it is just nowhere near strong or creative enough to merit the kind of confidence which demands the movie-going public must commit to another movie in order to resolve the plot twists which had been hinted at throughout the film's already over long two hour and five minute run.
Theron does a credible job as Andy, head and oldest of the band, artistically fighting her way through hordes of bad guys and occasionally with colleagues. But she bringing nothing much more to her character than a smoldering gruffness, which prominent personality characteristic she has brought to many of her other movies like Atomic Blonde and Mad Max. I understand her tough guy/girl persona does not lend itself to lightness and fun but even in Tully SEE REVIEW HERE, where she plays a wife and mother, why does she have to look so GROUCHY all the time??
Harry Melling's evil pharma king Steven Merrick fully channels Jesse Eisenberg's Lex Luther in Batman v Superman.  This is especially notable as Merrick, the skinny hyper megalomaniac, is portrayed by the same actor who played dumpy, spoiled but, at the end,  gratefully good hearted
Dudley in the Harry Potter movies.
The ever delightful Chiwetel Ejiofor (2012, Dr. Strange and The Martian) plays Copley, the researcher who unearths and exposes the band and whose motives are mixed and complex.
Matthias Schoenaerts (Rust and Bone, Red Sparrow SEE REVIEW HERE, and The Laundromat) is a sympathetic Booker, Andy's favorite, whose convoluted motives provide some three-dimensional flair to the proceedings.
Relative newbie Kiki Layne is refreshing as Nile the newly emerged mostly immortal.
Veronica Ngo (Star Wars: The Last Jedi) has the unenviable position of Quynh, whose character is more referred to by the other characters than ever seen but who promises to be in the sequel if one ever  is filmed.
And whether it is yet another victim of the Wuhan virus regulation cataclysm or if this slow moving action flick is using the pandemic response overreach as an excuse, the earliest that The Old Guard 2 is even being considered is 2022. So, as fans of Flash Gordon and the first The Italian Job could tell you – don't hold your breath. And honestly, while the movie is mildly entertaining, never getting a resolution to it would not be much of a loss for this fairly arid outing.