SHORT TAKE:
Lovely production of Steel Magnolias running at ACTS Theatre in Lake Charles, LA from August 2, 2019 through August 11, 2019.
WHO SHOULD GO:
With parental discernment – probably mid-teens and up. A slight bit of language and serious topics, but mostly because the nature of the format – six ladies talking in a single stationary set – while engrossing to the more mature audience members  would bore the little ones.
LONG TAKE: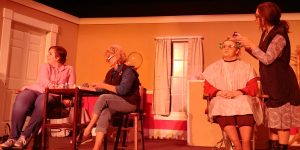 I had the distinct pleasure of seeing the dress rehearsal of Robert Harling's Steel Magnolias at ACTS Theatre. This comedy-drama is set in a 1980's Louisiana beauty parlor and performed with great affection for the Southern women about whom this play revolves. The six ladies in the cast nailed it. Their timing, their energy, and their easy camaraderie the night before opening felt as though they already had several weeks of performances under their belts and were only tweaking for the weekend run.
The blocking was artfully choreographed, allowing easy access to all the characters, always a concern with an ensemble cast.
The stage for Truvy's Beauty Parlor was terrific in all its brightly lit, lightly cluttered and detailed natural realism. For anyone who has ever spent time in a beauty parlor, you could almost smell the familiar hair care products and feel the warm breath of the hair dryers ubiquitous to ladies' salons.
The director of this all female cast, Zach Hammons, is male. He, with his terrific back stage crew, 
 did a tremendous job with the style and technique of an experienced director.
Veteran of the stage as an actor for many years and winner
of performing awards,
he is fairly new to the role of director.
I found his masculine behind-the-scenes influence a great advantage to this show, helping subtly inform the extensive, but never seen, male supporting players,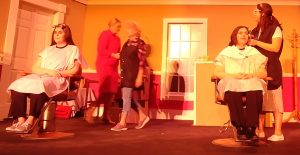 whose actions are talked about, affect and are occasionally heard by the females on stage: Shelby's Dad and M'Lynn's husband, Drum, Tommy and Jonathan, Shelby's brothers, Truvy's husband, Spud, Ouiser's boyfriend, Owen, and Annelle's husband, Sammy. These men are all actively present in their women's lives but are never present on stage.
Zac confided to me that where most plays have two months to prepare, because of the exigencies of scheduling, they only had one month, but you would never know it to see the show.
It's tight and well timed, brisk in tempo, maintaining its intensity in both comedic and tragic moments from opening line to closing curtain call.
Ashley Dickerson plays Shelby, the optimist who does not let anything get her down and is the center of the play.
Ms. Dickerson has performed both at ACTS and Lake Charles Little Theatre on many occasions.
Kathy Heath plays Shelby's mom in a very challenging role of varied, and occasionally intense, often subtly repressed, emotional turmoil.
Ms. Heath has lent her experience to both ACTS and McNeese Theatre, the latter from which she graduated with both a BA in theatre as well as a BS in Mass Com.
Joy Pace literally bursts onto the stage as Ouiser, the curmudgeonly neighbor to M'Lynn's family. Fiercely loyal and sometimes merely fierce, her bark is always worse than her bite as she frequently steals scenes while providing comic relief.
Ms. Pace has extensive experience as director for ACTS, and Artistic and Executive Director for the Itinerant Theatre, with a BA in Speech, and an MFA in directing, but this is her performing debut with ACTS Theatre.
Veronica Williams is Truvy, the energetic Eveready Bunny and the owner of the  shop in which all the action takes place.
This is only Ms. Williams' second stage outing, her first as Rosie in Mama Mia! garnering her an ACTA for Best Supporting Actress.
Taylor Novak-Tyler is Clairee, the sweet and lovable widowed dowager who provides advice and acts as a mediator and peacemaker to the sometimes tense female interactions.
Ms. Novak-Tyler is another generous contributor to the stages both at ACTS and Lake Charles Little Theatre.
Shelby Castile plays Annelle who starts as the gentle and shyly fragile newbie to town
who has the greatest character arc in the show. No newbie to ACTS Theatre though, she has been on stage here many times before.
So head on out to ACTS Theatre to see this terrific rendition of these very familiar women who are, indeed, Steel Magnolias – but, similar to the juxtaposition of opposites in the very title of the play – be prepared to both laugh until you cry and cry until you laugh.