AUDIO OPTION OF THE WAY BACK REVIEW
SHORT TAKE:
The Way Back is a story, beautiful in its own troubled way, of a broken man struggling with alcoholism and his own regrets, by coaching a "lost cause" basketball team at the high school where he had been a celebrated champion.
WHO SHOULD WATCH:
Mid-teens and up but ONLY with parental discretion, supervision and discussion. While there is no sexual content, there is a LOT of bad language and scenes of self-destructive drinking which make for excellent horrible warnings. On the plus side The Way Back gives a clear demonstration of respect for the Catholic Church in general and priests in particular as kind moral centers and understanding sources of redemption.
SPOILERS
LONG TAKE:
While The Way Back has a lot of similarities to traditional underdog movies, it  progresses through far darker waters than your average feel good sports flick. Most movies of this genre would have ended two-thirds of the way through where The Way Back does.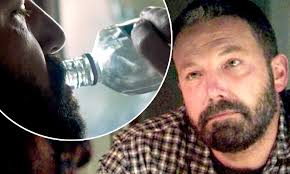 But The Way Back has the courage to move FORWARD through a realistic assessment of the deeply troubled Jack Cunningham, far after the predictable conclusion to the basketball team's triumphs. This is not condemnation but commendation.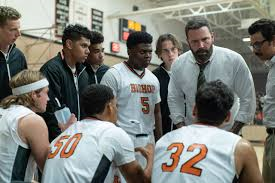 I like a formulaic sports movie as much as the next person. From the faith-based Facing the Giants to the histo-sports drama Victory, the sentimental Hoosiers and the weepy The Miracle Season, I love movies that end tied up in a nice neat bow. But The Way Back is just not one of those movies.
The story, clearly a vehicle for Affleck as cinematic therapy for his own struggles with alcoholism, is of an angry and bitter Jack Cunningham – divorced, former basketball champion, alone and seemingly determined to drink himself to death. Functional in his construction worker job, he showers in the morning with a beer in the soap dish, pops one open on his way home, spends his evenings at a bar and often has to be partially carried home by a family friend.
Apparently his life fell apart 2 years previous and we do not initially know why. It could have been for a lot of reasons, but this is a man who has almost completely cut himself off from his family, and self indulgently given up on his marriage, his life, and hope itself.
He is a walking poster child for horrible warnings,
until his former priest calls him in need of some assistance with the team which is now languishing at his old alma mater. The previous coach had taken ill. They needed a replacement and, I suspect, the priest knew Jack needed a constructive purpose.
While the rehabilitation of the basketball team is satisfyingly predictable, it is only the background of the road to redemption for Jack.
Movies like
He's Just Not That Into You and
Batman versus Superman notwithstanding, Ben Affleck is a fine actor. His talents have shined in movies like
The Accountant, (SEE REVIEW HERE) about an autistic hitman, and
Argo, the semi-docudrama about the rescue of six people behind Iranian lines during the Carter botched, Reagan recovered hostage crisis of 1979. The Way Back,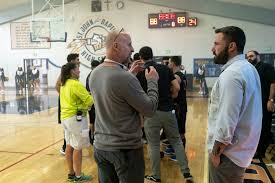 directed by the same talented Gavin O'Connor who helmed The Accountant, is another example of Affleck's abilities. It's no coincidence that Affleck has had his own battles with dependency. Jack's very realistic pain reaches through to the viewer in every scene.
By Affleck's own admission The Way Back was cathartic as the actor went from rehab to filming. And Affleck makes the most of every aching moment.
Janina Gavankar is solid as Jack's long suffering estranged wife, Angela.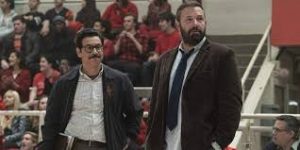 Al Madrigal is sympathetic and charming as Dan, Jack's assistant.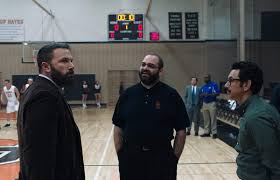 Jeremy Radin and John Alyward offer lovely performances as Fathers Mark and Edward, respectively, who try to encourage  Jack while still guiding the young men on the court who are in Jack's care.
The basketball scenes are energetic and entertaining, respecting the audience enough to immerse the basketball in what was, to me, obscure language, but providing enough clear context in language, action and good filmmaking, that details were not necessary.
The movie is quite good but certainly not without its flaws.
The cinematography by Eduard Grau is dark, whether by accident or poorly thought out attempts at atmosphere is unclear. Some scenes have jerky edits, and a lot of the intimate conversations are shot with all the panache of a TV soap opera.
On the other hand, the music by Rob Simonsen, who has penned music for other heart wrenching and moving stories like: Burnt, Tully, Life of Pi and The Nativity Story, is hauntingly beautiful and understated,
like variations on a theme in the tragic symphony of Jack's life. The soundtrack carries a theme that plays hide and seek from opening to ending credits, like the thoughts Jack can not, and perhaps does not want, to purge from his mind or in which he wishes to drown.
While The Way Back is a challenge to watch it is also
rewarding, warm and even occasionally funny.
The path that Jack walks is a rough road with an uncertain destiny, and though it is occasionally painful to travel with him, it is a worthwhile journey to take.