SHORT TAKE
Disaster: the Musical opens (tonight) January 24, 2020 at ACTS Theatre, [GET YOUR TICKETS HERE]  through Groundhog Day (February 2, 2020) with evening performances at 7:30 and matinees at 3. It is a hilarious take off of disaster genre movies, especially The Poseidon Adventure.
WHO SHOULD GO
With slight reservations – anyone. Aside from a few off-color, stress related words, which are difficult to hear amidst loud music, ensemble conversation and special effects noise, the play is appropriate for any age which does not mind loud sounds and music.
LONG TAKE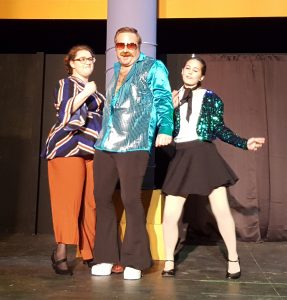 I love disaster movies. The excitement, the drama, the special effects, the sappy songs. I even love the formula. Meet an unlikely ensemble group, usually: an older married couple, a sick child, a sleazy selfish person who will get their comeuppance, a religious figure, a dog, an entertainer, and at least one estranged couple who will re-bond through trauma. (SEE MY ARTICLE "CATACLYSM AS MARITAL THERAPY" HERE).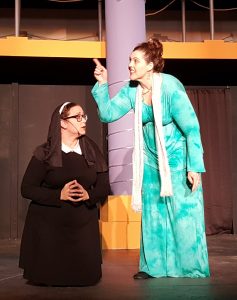 They will then endure escape room dynamics to survive fire (Towering Inferno), water (Poseidon Adventure), predatory animals (Jurassic Park), rickety climbing structure (various), etc and combinations of the aforementioned, all while evading whatever caused the calamity to begin with: earthquake, fire, tsunami, escaped dinosaurs, hurricane, whatever.
As preposterous as some of these scenarios may sound they have been a guilty pleasure of movie goers for generations. I, for one, once watched The Poseidon Adventure (the first one with Gene Hackman – yes, I'm that old) in the movie theater IN the front row at MIDNIGHT (when the tsunami hit the ship). They are a hoot.
There's something to be said for the opportunity to reestablish priorities – walking out of a theater knowing that while your dog may have eaten your only copy of your income tax return and the hot water heater is on the fritz, at least you don't have to ride out the zombie apocalypse in the basement of a burning bar (Shaun of the Dead) or survive an erupting volcano in a collapsed mine shaft (Dante's Peak).
I mean – count your blessings!!
The grand-daddies of disaster, the majordomos of misadventure, and the comptrollers of catastrophe, were: Airport (1970 – with a zillion sequels coming out in the latter part of that decade), The Poseidon Adventure (1972), The Towering Inferno and Earthquake (1974), The Hindenburg (1975), and Meteor (1979).
And following in those esteemed footsteps is DISASTER: THE MUSICAL. Mostly capitalizing on The Poseidon Adventure, this hilarious parody leans heavily on 1970's songs, costumes and the "disco culture" (such as it was) pervasively popular at the time.
Written by Seth Rudetsky and Jack Plotnick for Only Make Believe's fund raiser in 2011, the show was a hit and crept up from Off-Off Broadway to Broadway within a few years.
(And FYI Only Make Believe is a non-profit organization that creates and performs interactive theatre for children in hospitals, care facilities, and special education programs, operating under the core resolve that encouraging a child's imagination is a vital part of the healing and learning process.)
Our local performers at ACTS Theatre throw themselves into the Disaster characters with deliciously shameless enthusiasm. As directed by veteran
Kris Webster, no stops are unpulled and no scenery left unchewed.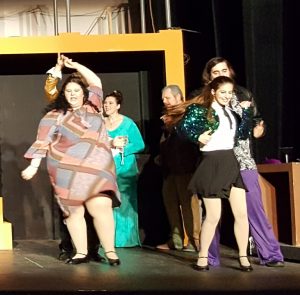 ABBA style, the music is cobbled together from popular songs of the era. Top 40 tunes like: "Knock on Wood", "Hot Stuff", "A Fifth of Beethoven" and "Three Times a Lady", are used in cleverly comic ways NEVER originally intended. I don't want to spoil anything for you so won't tell you all the songs, BUT when you go see Disaster, play a game – see what familiar 1970's hit song might be coming up next, depending on the circumstances at hand.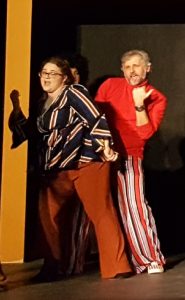 The cast is terrific and, despite the weird circumstances in which the songs appear, belt out these archaic tunes with an irresistible gusto that makes singing along difficult to resist. Much like the source material for this comic catastrophe, the cast list is studded with an abundance of familiar talented faces.
Zac Hammons (Dirty Rotten Scoundrels SEE REVIEW HERE) is first on, setting the stage figuratively with a prelude, then appearing often to literally set and reset the stage, athletically bullying into shape the plethora of scenarios needed for the play.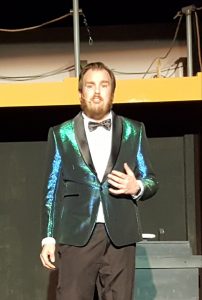 Jordan Gribble (The Giver and the scene stealing father from Bye Bye Birdie SEE REVIEW HERE), is lovelorn Chad.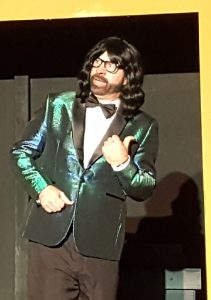 Mark Hebert (Arsenic and Old Lace SEE REVIEW HERE and Mamma Mia SEE REVIEW HERE) is Scott, Chad's clueless friend.
Kane Todd (Mamma Mia, Bye Bye Birdie) is Professor Ted Scheider, the disaster expert.
Taylor Novak-Tyler (Dirty Rotten Scoundrels, Clue SEE REVIEW HERE) is Marianne, Chad's old girlfriend.
Robert Goodson (Dirty Rotten Scoundrels, Clue) is Tony Delvechio,
the slimy casino owner everyone loves to hate.
Kelly Rowland (Arsenic and Old Lace, I Love You, You're Perfect, Now Change SEE REVIEW HERE) is Jackie, the entertainer and single mother with twins.

Ana-Claire Perkins hilariously bounces back and forth as both of Jackie's twins, Ben and Lisa.
Markie Hebert (I Love You, You're Perfect, Now Change, Spamalot SEE REVIEW HERE) is Sister Mary Downy,
a well meaning nun who has her own reasons for not wanting to go into the casino.
Kathy Heath (Steel Magnolias SEE REVIEW HERE, Arsenic and Old Lace) is Shirley Summers and
Matt Dye (Arsenic and Old Lace, Taming of the Shrew SEE REVIEW HERE) is Maury Summers,
the older retired happily married couple on their first real vacation.
At which point I have to note an in joke as SHELLEY Winters played a very reminiscent character in The Poseidon Adventure to SHIRLEY Summers here. Geddit? Shelley Winters/Shirley Summers….Hey I didn't make it up, I'm just bringing it to your attention.
Sonia Yetming is Levora Verona, a washed up disco singer trying to get back on top.
Trevor Chaumont is Jake.
Jessica Broussard is Tracy.
Rhett Goodner is listed as a stock "Wealthy Man".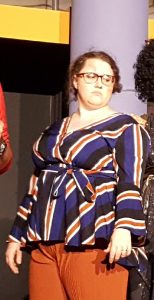 Krista Austin plays Rhett Goodner's character's wife.
Bobby Guillory,
Nikki Guillory
and
Noelie Puckett lend their support as various cast members and in the ensemble.
And special commendation to all the stage crew, without whose hard work this crazy carnival of calamity would not have been possible.
So for a comedic catastrophe of clever carnage, for a gargantuan gag fest of gore, and a deliciously droll delivery of devastation (OK, I'm done)…go see — DISASTER: THE MUSICAL at ACTS Theatre, [GET YOUR TICKETS HERE]. Then go pet the dog, call a plumber ….. and smile.
FOR MORE DISASTER PHOTOS GO:
and