SHORT TAKE:
Absolutelty fabulous, fun and funny rendition of the musical version of Dirty Rotten Scoundrels.
WHO SHOULD GO:
Older teens and up – nothing seen aside from one scantily dressed dance number but Freddy and some of the lyrics are crude and the main characters are essentially highly paid gigolos.
LONG TAKE:
The Odd Couple meets the musical version of The Producers with a touch of The Sting thrown in for good measure and you have Dirty Rotten Scoundrels, the musical showing June 2, 2018 through June 17, 2018 at the Lake Charles ACTS Theatre. (One Reid Street, 433-2287, for tickets click HERE.)
The premise is the same as for the 1988 non-musical movie.
Two con men with dipolar opposite styles compete for the same territory, Beaumont-sur-Mer on the French Riviera.
Lawrence Jamison (played in our local production by Louis Barrilleaux) is a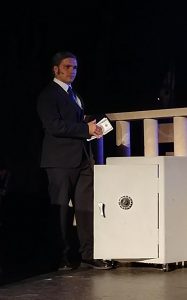 posh, refined British swindler of silly women – but truly a con — artist.
Hustler he might be, but also a man of elegant taste, an appreciation for the arts and a soft heart for the local charities. His motto is that he only gives the excessively wealthy and bored women what they want – a little excitement, and a bit of flair – and his to offer at a price. His is a con so well established in Beaumont-sur-Mer that a certain ennui has begun to set in and he longs for the early days of challenge.
In happens
Freddie (Robert Goodson) a crude, American shyster pick pocket who thinks it an accomplishment to bilk a sympathetic fellow train passenger out of the price of a meal.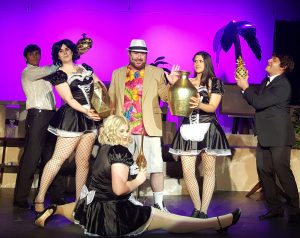 Hungry for Jamison's upper class perks, his motto is – I want it all and BIG!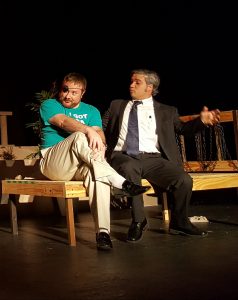 Without giving away too many of the deliciously funny details,
the two men become friendly enemies in a bet to win $50,000 out of the newly arrived ingenue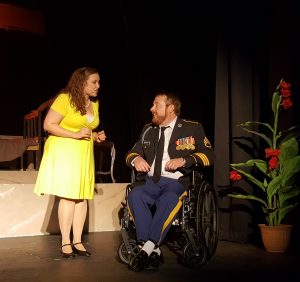 Christine (Markie Hebert who also served as producer). The first to accomplish this goal wins the exclusive and permanent run of Beaumont-sur-Mer.
Supporting these loveable flim flammers are
Andre Lawrence's corrupt and accommodating police chief (Zac Hammons), Muriel the heiress tired of wandering world (Aimee Mayeux), and
Jolene (Taylor Novak) one of Jamison's marks who becomes unexpectedly, inconveniently and amusingly possessive. Rounding out the cast is the ensemble of:
Heather Foreman, Jace Gibbons,
Brahnsen Lopez and
Ashley Mayeux who sing and dance through a multiplicity of parts.
Kris Perez Webster does a masterful job at directing this troupe. Just the casting of this play had to be ingeniously thought out as DRS calls for a cast of 30 but they accomplish it with only 9.
Even Markie and Zac, who have major supporting roles, perform double and triple duties where needed.
The timing, blocking and personalities were artfully coordinated.
The multipurpose stage is cleverly designed to function as everything from an outdoor rendevous to a
bedroom with but the wind quick change of props artfully moved by cast and coordinated by Katherine Cole the Stage Manager.
Sound and lighting are expertly managed by Markie's husband Clay Hebert.
The three leads aided by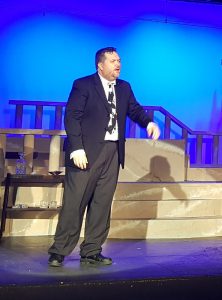 Hammons' often frustrated and put upon French gendarme
have wonderful chemistry and timing, and
their singing of even the quick paced and complex lyrics is strong and clear –
performing as though they have been together for years,
playing off each other with apparent effortlessness and a natural ease that belies the countless hours that went into this smooth and hilarious production. In most musicals, the plot is a thinly veiled excuse for the performance of catchy tunes, weakening the story and leaving the characters a bit vapid.
But in this rendition of Dirty Rotten Scoundrels the opposite happens.
While the first incarnation – A Bedtime Story with Marlon Brando and David Niven was charming and I LOVE the
1988 remake with Steve Martin and Michael Caine, the 2004 musical, written by Jeffrey Lane with music and (occasionally naughty but always character revealing and clever) lyrics by David Yazbek,
ENHANCES the characters,
fleshing them out and giving them fresh depth, even providing a new subplot for the police chief.
Fourth walls are broken,
witty and occasionally bawdy songs are sung with clarity and professionalism, and the cast moves themselves and the props like a winning baseball team, as a single internally familiar mechanism.
While really for the older teens and up because of subject matter and some
witty but ribald lyrics and gestures,
nothing is seen on stage and there is a certain moral compass which is followed.
So for one of the best productions ACTS Theatre has ever put on, go see Dirty Rotten Scoundrels the musical, playing now through June 17, 2018. Take Dad for Father's Day as laughter, after love, is the best gift you can give.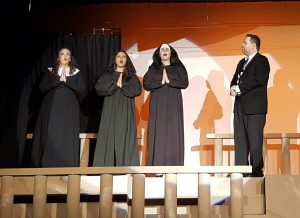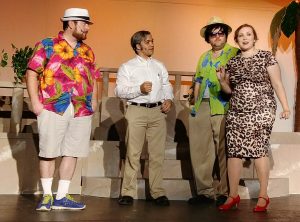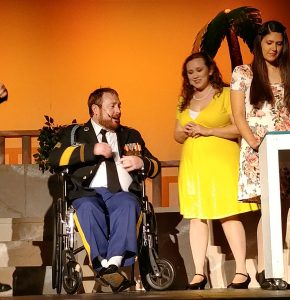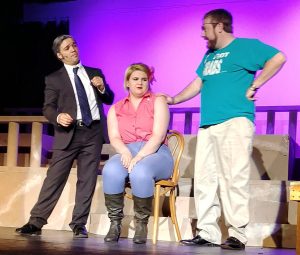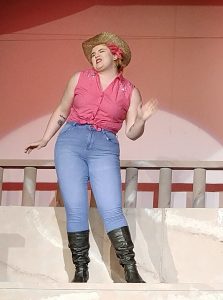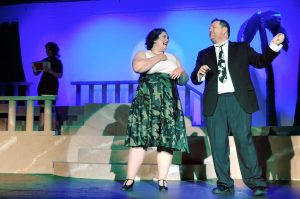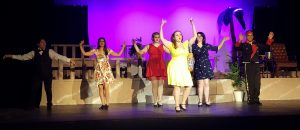 This Post Has Been Viewed 333 Times