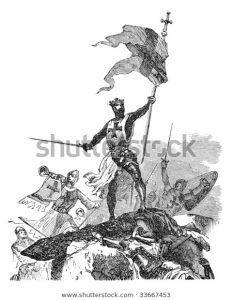 …AND NOW FOR SOMETHING COMPLETELY DIFFERENT (APOLOGIES TO MONTY PYTHON).
I'VE WRITTEN A: BATTLE TO THE DEATH, ROMANCE, COMEDY, COURT INTRIGUE, HISTORIC DRAMA, MURDER MYSTERY, AND BIOGRAPHY…AN ORIGINAL STAGEPLAY ABOUT THE LIFE OF WILLIAM THE MARSHAL, THE MAN WITHOUT WHOM ENGLAND, EUROPE AS WE KNOW IT AND LIKELY AMERICA WOULD NOT EXIST…BUT WHOSE NAME IS VERY LITTLE KNOWN FOR ALL THAT.
MY AWARD WINNING ACTOR-IN-RESIDENCE, LOUIS, HAS AGREED TO DRAMATIZE THE PLAY FOR ME AS A RADIO SHOW WHICH WILL BE UPLOADED IN WEEKLY(-ISH_) INSTALLMENTS.
SO PLEASE JOIN US AS YOU WILL – GROWL FOR BLOOD, LAUGH OUT LOUD, SWOON WITH ANTICIPATION, RALLY FOR THE WINNER, PONDER THE SIGNIFICANCE, AND MARVEL AT……..WILLIAM MARSHAL.
PART ONE
WELCOME TO LONDON 1189 – THE ROMANCE OF THE MILLENIUM IS ABOUT TO BEGIN…BUT FIRST A WORD FROM YOUR DOCENT TO THE MIDDLE AGES: