SHORT TAKE:
Clever, witty, well acted, anti-mystery which will keep you guessing to the end.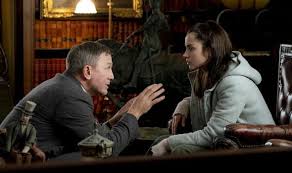 WHO SHOULD GO:
Mid-teens and up for: profane and blasphemous language, unscrupulous behavior, and some violence and a few disturbing images.
LONG TAKE:
First off I have to be careful what I say. I don't want to spoil any of this cleverly written murder anti-mystery.
If you are familiar with the old
Columbo TV series you'll know what I mean by anti-mystery. The anti-mystery is a plot format whereby the "mystery" is revealed in the first act. You know what is done, how and by whom, and in the classic charming Peter Falk vehicle the fun is in watching Detective Columbo as he "bumbles" around waiting for the killer to underestimate the savvy investigator and let his guard down.
Knives Out is similarly structured.
Act I of Knives Out reveals a great deal in the first 20 minutes, leaving the consequences for the remainder of the movie. But despite starting at the "end" the plot is so clever that there were still a lot of legitimate surprises in store – none from left field and all earned.
The title is a "sharp"-witted, double edged – uh – sword, referring not just to murder weapons but the emotional knee jerk reactions of the family members to each other not just as events unfold but in their "normal" every day relationships to each other.
A truly star studded film written and directed by
Rian Johnson, Knives Out will keep you guessing.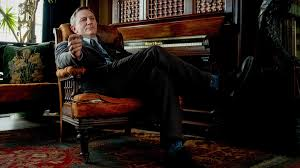 Daniel Craig definitely missed his calling. He made his name as James Bond beginning with Casino Royale in 2006, but his flare is for more humorous characters. His southern private detective, Benoit Blanc, is not a caricature but amusing in his juxtaposition amongst the New England snobby crazy rich Thrombey family. His timing is precise and his occasional quirks executed with style but without being distracting.
Christopher Plummer is a veteran actor of both theatre and film whose career spans 6 decades – including such varied stories as The Sound of Music, The Man Who Would be King, Oedipus the King, 12 Monkeys, Waterloo, A Beautiful Mind, Star Trek: The Undiscovered Country, The Man Who Invented Christmas and made recent cinematic news by stepping up to replace Kevin Spacey in All The Money in the World when Spacey was excised in shame from the cast of that movie. Plummer has portrayed Kipling, Oedipus, Scrooge, Sherlock Holmes, a Klingon general, Santa Claus, Julius Caesar, Tolstoy, John Barrymore, King Herod and J. Paul Getty. Here, in Knives Out, Plummer portrays patriarch Harlan Thrombey.
Wealthy, successful murder mystery (what else) novelist, he is found with his throat slit on the day after his 85th birthday party. (FYI Plummer was actually 88 during filming.) Suicide or murder?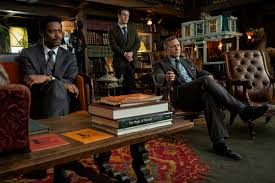 Police Detectives Elliott and Wagner (LaKeith Stanfield from Get Out and Noah Segan from Looper) work with Blanc to find out.
In life Harlan had been saddled with a crew of weak and dependent relatives.
Chris Evans, in an obvious distancing from his Captain America persona, is Ransom, the obnoxious entitled grandson. (Halloween Scream Queen)
Jamie Lee Curtis is cold and stiff Linda, Harlan's eldest.
Don Johnson (Miami Vice – the original, who made the five o'clock shadow a facial fashion statement) is Richard her socially clueless husband.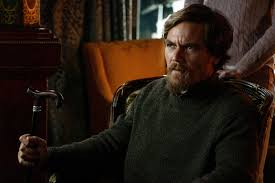 Michael Shannon (12 Strong – SEE MY REVIEW HERE) is Walt, Harlan's son and publishing employee who has otherwise never held a job in his life.
Riki Lindhome (The Big Bang Theory) is Walt's hanger-on wife.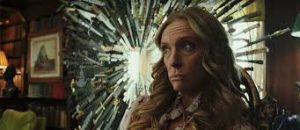 Toni Collette (Sixth Sense, and lots of other horror movies specializing in emotionally very unhealthy families) is aged hippie Joni, Harlan's widowed daughter-in-law.
Katherine Langford plays dependent, professional college student Meg, Harlan's granddaughter.
Jaeden Martell (It and St. Vincent) is Jacob, Harlan's reclusive internet-addicted grandson. All are a bit like zoo animals, both confined and supported by a keeper until they can not function in the outside world.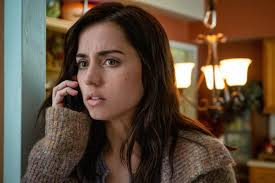 Ana de Armas (Blade Runner 2049 and the upcoming Bond movie with Daniels, No Time to Die, in 2020) plays Marta, Harlan's private nurse, through whose eyes much of the action is witnessed and whose very peculiar behavioral McGuffin provides a helpful plot anchor.
The cinematography by Steve Hedlin (San Andreas and Looper) takes advantage of cloudy days and dark passages to enhance the mood and theme of confusion – to make you doubt what you think you might know.
He also does not shy from taking harsh advantage of close shots that put characters in "lights" most reflective of their personalities.
The theme music by Nathan Johnson is a very classy dissonant original string quartet and the rest of the soundtrack has the familiar richness of a symphonic poem.
The acting is wonderful: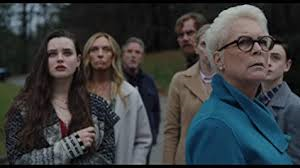 part caricature Clue characters part Agatha Christie – a fine ensemble group of players who walk that fine line effortlessly between realistic portrayals of dysfunctional people and outright hamminess. These are people you love to truly dislike but can't wait to see what they do next. And Knives Out will keep you guessing to the tip end.