SHORT TAKE:
Inspiring reenactment of the days before and of the watershed Battle of Midway during World War II, highlighting the selfless heroism and courageous dedication of men who committed EVERYTHING they had to fighting what  seemed to be a losing struggle with the Japanese Empire.
WHO SHOULD GO:
Mid teens and up as the violence is necessarily graphic and brutal. No sexuality but the language is occasionally rough and appropriate to the men and circumstances.
LONG TAKE:
SPOILERS!
Romans 5:7: "Indeed, only with difficulty does one die for a just man, though perhaps for a good man one might even find courage to die."
We all love action heroes who put their lives on the line in extreme moments to save family or friends in desperate situations: Bruce Willis' John McLane in the Die Hard series, Tony Stark in Endgame. Even the disaster "B" movies like Skyscraper and The Poseidon Adventure can be guilty pleasures, admiring (pretend) courage in the face of the (manufactured) crisis.
Now imagine HUNDREDS of these types of everymen, volunteers or drafted, trained certainly but no superheroes. But this was real. These men had real families and lives. The pain, the terror, the disfiguring injuries and sudden young deaths, the gut wrenching grief left behind, HAPPENED to people your grandparents knew – or TO your grandparents. Your own family histories, photos, private letters, and stories told at family gatherings are probably rife with tales of loss and sacrifice of young men who left everything behind, including their youth and many their lives, to protect their country and families.
The story of Midway begins on a warm December in Hawaii, where people planning outdoor church services and picnics with their families, are suddenly faced with split-second life changing and life losing decisions when, without  warning, planes tore out of the sky shooting at  friends and crewmates, ripping them to pieces. Few would have blamed any who froze or ran, but hundreds of these men seized the nearest weapon to shoot back, some hopelessly trying to simply buy time for others to reach safety, while the vessel they were on broke, sank or burned in brutish apocalyptic Hellscapes of screaming and smoke and explosions, with no possibility of escape.
That was Pearl Harbor and the movie Midway examines the fallout from this cataclysmic event and the eponymous Battle for our lives that followed in Pearl's wake. The Battle of Midway was the determiner whether the war would continue to be fought out in the ocean and around Japan and Europe or whether it would make its way to the shores of continental USA and be prolonged, possibly for decades.
Midway tells the story of the men who, at Pearl and during the Midway Battle, followed Christ's example, willingly offering up their lives for their fellow countrymen regardless of who they were, knowing only that they were in desperate danger.
All of the acting choices were inspired, the indigenous accents of the people being portrayed understated and realistic.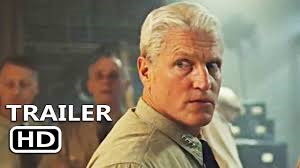 Woody Harrelson (2012, Zombieland, The Glass Castle) is the perfect Charles W. Nimitz,
bringing his familiar wary self confidence to this real life seasoned soldier, agonizingly cognizant he is in the fight of his country's life.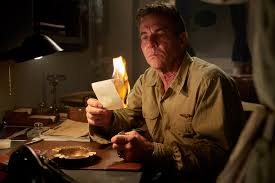 Dennis Quaid (Frequency, A Dog's Purpose, The Alamo) is the growly fire hydrant shaped tough guy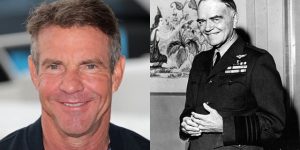 William "Bull" Halsey who leads from the front.
Patrick Wilson, (The Alamo, Phantom of the Opera) whose talents have been grotesquely underused in the fright flick Conjuring franchise, comes into his own as the intelligence officer
Edwin Layton, whose warnings leading up to Pearl had been ignored and who now was determined to put everything on the line to be sure his country was never under-prepared again.
Ed Skrein (Alita: Battle Angel, Deadpool) is the fighter pilot Dick Best,
who put his country's freedom and his fellow patriots before any consideration for his own personal safety.
Aaron Eckhart (Batman: Dark Knight, White House Down) is
Jimmy Doolittle who led the potential suicide mission into the never-before attacked Tokyo to strike a morale blow for America.
Nick Jonas (Jumanji: Welcome to the Jungle) is
Bruno Gaido, whose calmly philosophical personality and selfless heroism are brought to light on the screen.
Luke Evans (Hobbit trilogy, steam punk Three Musketeers, live action Beauty and the Beast) portrays Wade McClusky, decorated air group commander whose reasoned instincts and willingness to think outside the box became critical elements in the outcome of the Midway Battle.
All these actors brought to life real heroes, instilling their performances with the respect and dignity those historic military fighters deserve.
There are no last-minute saves or inevitable wins, no cliched characters though some cast members portray composites of real people, no politically correct soft pedaling, no feminist agenda.
This is historically based on the raw courage of the men who went toe to toe with a ruthless aggressor Empire, with only a handful of planes and the few patched up aircraft carriers which survived the Pearl Harbor sneak attack. These are the men who truly were the Thin Line between the west coast of America and conflagration by the Japanese Empire. The soldiers at Midway were the only thing standing between us and a brutal autocracy for whom the Geneva Convention meant nothing, and which slaughtered a quarter of a million Chinese as retribution for the aid given by a few dozen Chinese to a single American Squadron.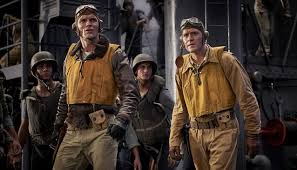 These men, many young and barely out of their teens, stood like the Spartans at Thermopalaye, with their homes almost in sight against an overwhelming Imperial military which would have shown no quarter, no mercy, no diplomacy and no compromise for anything west of the Rocky Mountains. Had the Japanese won at Midway there was a distinct possibility that everything from Seattle to San Diego would have burned, the citizens butchered or enslaved by the merciless occupying Japanese force, as they had done in China. As such, these desperate and disparate courageous men threw themselves against this juggernaut, with photos of their families tucked into the control panel, in planes technologically years behind the Japanese, flying missions which were often tantamount to suicide, with little regard for their own personal safety.
Writer Wes Tooke and director Roland Emmerich (Independence Day, The Patriot) show the stark savagery with which America was confronted, bringing to unvarnished relief the raw dauntless valor required of these American heroes. Robbie Baumgartner's (Argo, Hunger Games) cinematography puts you in the flying seats with the pilots as they dive bomb in and out of the sky, challenging the limits of human endurance against incredible G-forces to survive the onslaught of anti-aircraft coming from the Japanese ships. The soundtrack by Harold Kloser and Thomas Wander (Independence Day, 2012)  is inspirationally stirring and evocative not only of the selfless patriotism of the country behind this effort but evocative of the very plane propellers and stuttering guns which flew like under-weaponed knights against this massive Japanese dragon.
So go see this tribute to great American soldiers who stood between us and a sadistic pitiless foe, who risked and gave their lives, not only for the just, or the good, but following Christ's example, for every man, woman and child in America. Go see it, if for no other reason, than we owe it to their memory.