SHORT TAKE:
Family friendly (with provisos) pre-historic tale of an injured and lost teen who partners with a wolf for his perilous journey home.
WHO SHOULD GO:
With cautions, anyone.
AND IF YOU LIKE THESE REVIEWS PLEASE SUBSCRIBE! THEN YOU'LL GET EVERY NEW REVIEW SENT STRAIGHT TO YOUR E-MAIL!!
GO TO THE BOTTOM OF THE LEFT HAND SIDE AND TYPE YOUR E-MAIL IN – IT (SHOULD BE) THAT EASY. ANY PROBLEMS PLEASE SEND ME A COMMENT AND I'LL DO MY BEST TO RESOLVE YOUR ISSUE.
LONG TAKE:
SPOILERS (but only for those who have seen no trailers)
A boy and his dog – a classic pairing that dates back all the way to the Roman legend of Romulus and Remus, who were raised by a she-wolf, and written into classics such as Kipling's Jungle Book and London's Call of The Wild. Movies have been made about this dynamic relationship from the
family friendly Lassie franchise featuring such luminaries as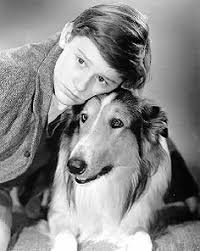 Roddy McDowell to the
R-rated cult favorite oddity starring
Miami Vice's Don Johnson, when he was himself a puppy, called
A Boy and His (telepathic) Dog.
Alpha is yet another installment in this litany of (how my friend Franklin describes all movies as) a love story with a twist. And I am a sucker for a well done dog movie.
The trailer for Alpha, as is unfortunately the case with most movies nowadays, gives away more than it should. So if you have seen any trailers there will be no additional spoilers. However, I did not find, having seen the trailer and the previews of scenes, take away from the suspense, or enjoyment of the movie.
The premise is about a teenage boy, Keda (Kodi Smit-McPhee, the new Kurt Wagner/NightCrawler), the only child and son of Chief Tau (Johannes Johannesson, Lem Lemoncloak from Game of Thrones), is taken on his right of passage into manhood buffalo hunt.
He is injured,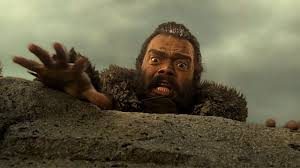 separated from the tribe, and left, thought dead.
In a series of miraculous but plausible events he survives and begins his long and extremely perilous trek home, finding an unlikely partner in a wolf he calls Alpha,
portrayed by Chuck, a Czechoslavakian Wolfhound.
Set 20,000 years ago, in what would eventually be known as Europe, unlike other movies about prehistoric man, Alpha appropriately portrays these characters as perfectly recognizable, modern-looking humans, only without our tech. They are intelligent,
with a close knit family structure, established spiritual philosophy and able to communicate complex thoughts with a detailed language. They're courageous problem solvers, in a defended village, who live in large dome-shaped thatched and mud reinforced wigwams – perfectly recognizable modern humans only without the modern conveniences.

I really like the dynamic portrayed between the wise and gentle, big and burly father as he attempts to train and teach his much gentler son to be the next chief of their tribe.
It is a universal, even cliche, conflict and eventual resolution between the expectations of a loving father and the inherent predispositions and abilities of an anxious to please son, played out in what I thought was a new and interesting way.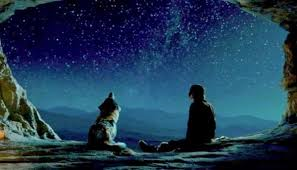 And I thought especially well played out how the father's teachings provided the boy with invaluable assistance to confront the overwhelming challenges when on his own, how the boy used his father's wisdom, in combination with his own unique approach and instincts, to confront the harrowing trials he had to endure through his long, seemingly impossible journey home – how the unprepared boy, faced with almost certain death, embraces his father's lessons to meet these unplanned tests.
Both the audience and he realize along the way, that if he survives his adventure, he will become the capable man and leader he otherwise would not have been.
A number of movies have been made about prehistoric man. The introductory music and landscape for Alpha reminded me of the first 15 minutes of Kubrick's 2001. And the premise of a long silent journey of hazard over primitive terrain without hope of outside rescue I found very reminiscent of Quest for Fire.
But this is where the similarities end.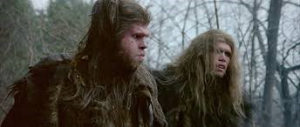 The characters in Quest for Fire were brutish, and almost comically animalistic as they fell out of trees and laughed at injuries they inflicted on each other, taking food and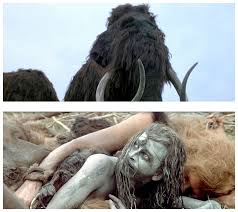 sexual favors in behavior more akin to a tribe of gorillas than a tribe of humans.
Quest for Fire, though well made and interesting,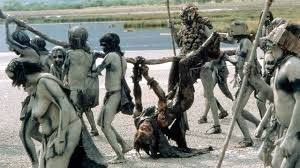 was a very adult film full of graphic cruelty and casual sexuality, portraying humans as projections of the unproven and largely discreditable Darwinian fallacy of a descendance from apes, which nonetheless is still forced into our schooling system.
It was refreshing that the makers of Alpha saw pre-historic homo sapiens as virtually identical to our current men,
in all of the fundamental ways that unite us as humans.
Though Alpha does include some violence, most of it happens very quickly, and either in the dark or off screen. In addition, there are a few scenes with maggots and dead rotting animals. As a friend of mine noted, however, nothing you would not see on a hot summer day when you go to take out the trash in my hometown of Lake Charles, Louisiana.
Depending, of course, as always, on parental discretion and the temperament of your child, I would even venture to say this movie could be appropriate for the very young child,
especially if they like dogs.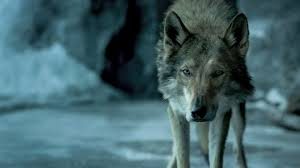 I would not recommend it for a child who was upset unduly by jump- scares, or gross out images.
The cinematography is gorgeous, even occasionally breathtaking, in the panoramic vistas of undeveloped Canada, masquerading as prehistoric Europe.
So, go check out Alpha. Would make a wonderful first date movie for people who like dogs. And don't discount this even for the youngest members of your family, but do check it out first.