SHORT TAKE:
Lighthearted romp from the point of view of a discarded Bond girl.
WHO SHOULD GO:
To paraphrase a Bond title: For Adult Eyes Only. Ears too. Language, violence and adult situations but surprisingly and thankfully little inappropriate sexual content.
AND IF YOU LIKE THESE REVIEWS PLEASE SUBSCRIBE! THEN YOU'LL GET EVERY NEW REVIEW SENT STRAIGHT TO YOUR E-MAIL!!
GO TO THE BOTTOM OF THE LEFT HAND SIDE AND TYPE YOUR E-MAIL IN – IT (SHOULD BE) THAT EASY. ANY PROBLEMS PLEASE SEND ME A COMMENT AND I'LL DO MY BEST TO RESOLVE YOUR ISSUE.
LONG TAKE:
You know all those girls who have been bedded and shedded by the Bonds over the last 26 years?
To paraphrase a line from Lion in Winter – you could populate a fair city with the fair number of girls who have borne with Bond.
And neither we nor he ever hears from them again. Now imagine that one of them does NOT go quietly into the night.
Mila Kunis (Jupiter Rising, Oz the Great and Powerful and Black Swan) is Audrey, the heartbroken reject of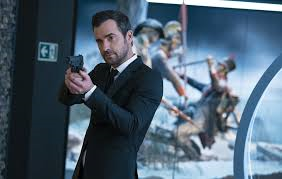 Drew (Justin Theroux) who quite literally loved her and…left.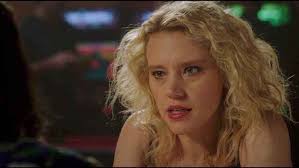 Kate McKinnon (pathetic gender swap Ghostbusters) is Morgan, her more than slightly insane best friend. The two women are very ordinary people.
Audrey is kind of quiet and underestimates her own abilities but, egged on by Morgan, takes it upon herself to seek revenge on Drew by burning all of his stuff. Little does she know this includes a trophy which contains something that could get them all killed. And since Audrey's angry vindictive ex-girlfriend texts, mostly written by Morgan, are being monitored by a number of different lethal interests, everyone converges on the shocked Audrey and Morgan.
Through what Audrey admits is plain dumb luck they escape to begin the most unplanned of adventures.
One of the things I enjoyed about The Spy Who Dumped Me was that neither of these women had any special abilities, but simply reacted the way any one of us normal mortals might – screaming, running and trying to simply get out of the way.
No planned heroics, no endurance of torture, just: "Get me the Heck away from all of this." But fortune has other ideas. Luckily for them, they have a few Guardian Angels: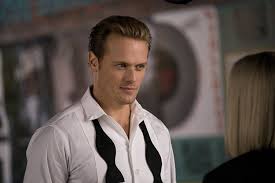 Sebastian (Sam Heughan)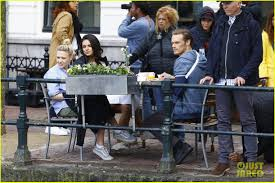 a friendly agent and Morgan's marvelously unflappable parents –
Arnie, a very successful trial attorney (Paul Reiser, who has a resume which includes the unlikely duo of both Mad About You and Aliens) and
Jane Curtain (SNL veteran, Coneheads and Third Rock From the Sun). When informed their daughter has killed someone, Arnie assumes blasely, "Self defense, right? We can fix that."
If I were to use one word to describe why I liked this movie it would be "balance." I loved the tone of the movie which balanced just the right amount of realism with comedy.
It followed the straight vertical "rules" of a Bond movie with its intrigue and mystery, guns and car chases, superhuman feats of deering do and gorgeously athletic men and women, but smoothly incorporated the odd angles of the "everyman" perspective. Audrey and Morgan want to do the right thing
BUT would very much like to drop this entire mess in someone else's hands.
The characters are all a lot of fun.
I thought the yin and yang of Audrey's mousey start with Morgan's literal bouncing off the wall worked really well. Morgan kick starts Audrey's odyssey and Audrey keeps Morgan from running off too many cliffs. Like a human Push Me Pull You from Dr. Doolitte, they made a great pair that kept the tone light but exciting. Kunis is beautiful, McKinnon kinetic, Reiser and Curtain are warm and funny,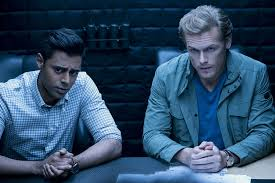 Heughan is just the right combination of cool and unsure of his new "partners of necessity".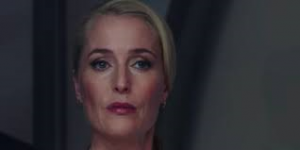 And Gilian Anderson (X-Files) has a small role as Wendy, their version of "M".
There's nothing deep and meaningful about The Spy Who Dumped Me, but it is a treat to watch.
I would not want to spoil the plot any more than I would want to remove the chocolate chips out of your freshly baked cookie.
BUT – let's just say: Forget
Julius No,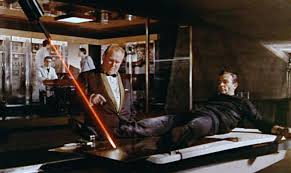 Auric Goldfinger,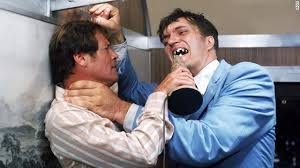 Jaws and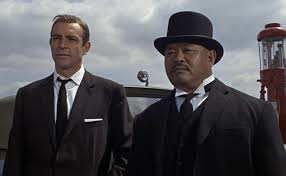 Oddjob.
Instead, perhaps Drew should have suggested the famous Double "O" watch out for some of the women he left behind. Hell hath no fury like a woman who is dumped.
This Post Has Been Viewed 79 Times