SHORT TAKE:
In a word Crazy Rich Asians is … adorable. 1950'S style American rom com – mix of fish-out-of-water and Cinderella – set in Singapore.
WHO SHOULD GO:
I'd have to say this was a very good first date movie. For older teens and up because of a little bit of language mostly from Awkwafina and the idea that the two main characters are sleeping together and not married, as well as some of the shenanigans that Nick's friends get up to, especially when at the wedding and the bachelor party. Nothing grotesque but really for an older crowd.
AND IF YOU LIKE THESE REVIEWS PLEASE SUBSCRIBE! THEN YOU'LL GET EVERY NEW REVIEW SENT STRAIGHT TO YOUR E-MAIL!!
GO TO THE BOTTOM OF THE LEFT HAND SIDE AND TYPE YOUR E-MAIL IN – IT (SHOULD BE) THAT EASY. ANY PROBLEMS PLEASE SEND ME A COMMENT AND I'LL DO MY BEST TO RESOLVE YOUR ISSUE.
LONG TAKE:
I have long admired Oriental movies because of their "throwback" attitude which heavily favors family, marriage, and a "clean", profanity-light script. Jackie Chan movies and the Bollywood entries like
Spyder (click on the name for the review) being excellent examples. Though made by Warner Brothers and considered an American film, the cast of Crazy Rich Asians is mostly Chinese (the first such movie released from a major American company since the
Joy Luck Club in 1993). And CRA follows the same template.
CRA is one of the cutest movies I have seen in a long time. The premise is that a young Chinese couple, Nick (Henry Golding) and Rachel (Constance Wu) go to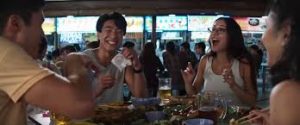 Singapore for Nick's best friend's wedding. While an intelligent accomplished woman in her own right, Rachel is the daughter of a single working-class mom. Up to this time Nick has lived modestly, even attending a YMCA which, according to Rachel, smells bad, so Rachel thinks he is just a working class stiff like herself. In the course of the trip over, Rachel discovers Nick is extremely wealthy, from a celebrity family, and considered royalty in Singapore. The first class tickets with champagne and a full sized bed on the overnight flight are dead giveaways. If anyone remembers the old 1981 Dudley Moore-Liza Minnelli movie
Arthur, they would find a lot of similarities, only Nick is not an alcoholic and Rachel is not a shoplifter. The superficially polite but
snobby, cruel friends,
his vicious ex-girlfriend,
the poor girl's plain talking friend and ally,
the conflicts, and the ultimate resolution, are all variation of this familiar Moore-Minelli theme. And in truth, BOTH movies really harken back to
Pride and Prejudice, the story of a young woman who marries for love DESPITE, not because of, the fact the object of her affection is rich and she is poor. (Nice of her to forgive him that little peccadillo, eh?)
I love the clever title.
Does it refer to Nick's family being "crazy rich," as in Tony Stark rich?
Or does it means that rich Asians tend to be crazy? Or both? Probably both.
As I mentioned, CRA harkens back to the values and rhythms of the old 1950s romantic comedies.
Honor, marriage, family, hard work, altruism, and a Judeo-Christian philosophy are all virtues to be admired and make the main characters successful. Even the Warner Brothers logo looks pretty retro.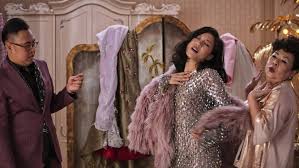 Crazy Rich Asians has a very Frank ("It's a Wonderful Life") Capra-esque feel to it with its simple straightforward storyline,
a certain romantic idealism, and the presumption in the goodness of our main characters. Perhaps it would be one of Capra's lesser works, but definitely has that wonderful Capra aftertaste to it which makes you walk out of the theater feeling good.
The story is populated with a plethora of interesting
side characters both nice and treacherous. There is Nick's controlling mother
Eleanor (Michelle Yeoh), Nick's preternaturally kind sister
Astrid (Gemma Chan), Rachel's very eccentric best friend
Peik (Awkwafina from the awful Ocean's 8),
Nick's flamboyantly lovable cousin Oliver (Nico Santos, one of the few non-Chinese, as he is Filipino), and
Lisa Lu as the
matriach and Nick's grandmother.
Lisa Lu's film pedigree is the most impressive of the cast, dating back to 1958. Primarily in
TV all the way back to Shirley Temple's Storybook, her diverse small screen career has covered ground from Cimarron City to The Odd Couple. She has also been in a number of ecclectic and well known films including 1988's Academy Award sweeping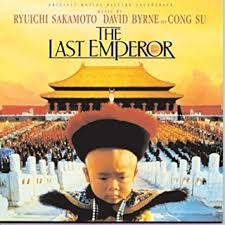 The Last Emperor,
the blockbuster 2012, and the critically acclaimed
Joy Luck Club.
MAJOR SPOILER
There's really only one sour note in this charming tune – and that's the subplot concerning Astrid and her self-described "commoner" husband Michael (Pierre Png). The relationship problems felt awkward and crowbarred in, as if to chide us with the caution that love is not always the fairytale we'd like it to be. But the set up is not fully convincing and the "pay-off" unsatisfying. If we are to be persuaded that Michael would cheat on someone as gorgeous and alluring, affectionate, considerate and kind as Astrid, we must be given more than his casual annoyance of her shopping habits. In a film with a similar set up –
Funny Lady, the Fanny Brice bio-pic sequel to Funny Girl, when Brice's second husband, Billy Rose, leaves the famous Ms. Brice for another woman, there is reason.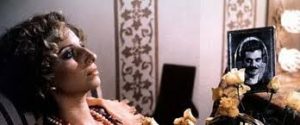 Fanny, for one, had taken off on a ludicrous jaunt to reconnect with her first husband, Nicky Arnstein. When Fanny returns, she finds Billy in bed with someone else. Billy gently explains to Fanny that while he still loves Fanny, this other woman looks at him, Billy, the way Fanny does at Nicky. OK – THAT'S a good reason to be unhappy in your marriage. I'm not saying that they did not BOTH act like complete idiots instead of healing their marriage, but it is a satisfyng REASON which the audience can understand, even if not agree with. Michael, in Crazy Rich Asians just comes off as a disposable random McGuffin.
Aside from that, Crazy Rich Asians is a lovely, funny, sweet movie.
There's no big agenda, no underlying score to settle with any demographic or socially (ir)relevant issue, like the kinds of time wasters pumped out by the likes of Michael Moore, which clog up our cinemas today. Crazy Rich Asians is just a good, old-fashioned, funny modern view of Chinese life in both America and in Singapore set against the background of a lovely romance.
And if you, like I do, want the cinemas to be graced with more movies like this in the future – GO SEE Crazy Rich Asians… Or is it Crazy-Rich Asians? Perhaps CRAZY Asians who happen to be rich? As opposed to rich Asians who are NOT crazy?
This Post Has Been Viewed 105 Times