I can't remember the last time I told someone this about a movie but if you plan to see the new movie Terminator: Genisys DO NOT WATCH THE TRAILERS! Also avoid even seeing pictures of the movie and don't even look too hard at the poster. And it goes without saying do NOT talk to your chatty friend who LOVES to tell endings until after you have seen this movie.
I am going to – obviously – avoid telling you anything that will give pertinent facts away. I will tell you this was a surprise plot. Up to now I think my favorite Terminator of the series was Number 2. The first was a very innovative sci fi story.
Boy meets girl. Boy is from future to save girl from deadly robot also from future. Terminator 2 takes place about 14 years after the first and puts in some clever twists.
New boy, son of original boy and girl, original girl, and surprise guest go up against a new terminator from the future out to kill everybody.
Then there were three and four which were, in order, kind of boring in the former place (not a small trick when it is about the end of the world) and creepy and depressing in the latter.
It is tough to review this newest addition (or perhaps a better word – and you'll see what I mean when you see the movie is – EDition) to the "family" without giving anything away. I will tell you that while Genisys is a stand alone it could not have existed without straddling the shoulders of at least the first two movies.
If you have not already I recommend you see numbers 1 and 2 before seeing Genisys. If you HAVE seen them at some time and you are a hard core sci fi buff (or just have some time to kill while healing up from getting your wisdom teeth removed or lying on the beach on a vacation) it would be worth it to watch them again before seeing newest one. Three and four are optional though I submit that the first two and the last look even better when compared to how badly a franchise can be screwed up.
I looked carefully at the available pictures for Genisys to find one that would not give anything away for those few – those happy few – who will go in not knowing anything about the movie, and I think it is safe to say that it is no spoiler to reveal that there is a TERMINATOR in the movie. Cue signature percussion DAH-dum—–dum-DAH-dum.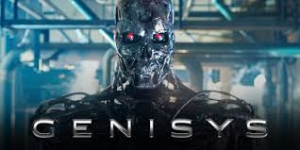 WARNINGS: There are a few significant profanities and a smattering of smaller offenses in this movie but no sex. There IS full Monty nudity of both genders though it is neither gratuitous nor salacious and with the tactful positioning of cameras nothing inappropriate is seen. And – in case you having been living on an island and never even heard of these movies – they are quite violent. Most of it is, however, cartoonish in fighting with robots and some sci fi "icky" stuff. Older teens minimum definitely, but, as usual, check it out yourself first. Screenit.com is always helpful.