SHORT TAKE:
Ford v Ferrari does for the professional car race what The Right Stuff did for the space race. Fascinating insight into the art of the beasts' designs and the intense skill of the men who push the limits of human endurance to risk piloting these genius feats of American engineering into record breaking speeds and distances.
WHO SHOULD GO:
Mostly mid to older teens for profanity, including blasphemy, and sudden automotive violence. No inappropriate or gratuitous sexuality.
LONG TAKE:
Ford v Ferrari, directed by the eclectically talented James Mangold, (including films as diverse as Logan, and Kate and Leopold) tells the tale about the challenge to the long time champion Ferrari  by the underdog American Ford company in the grueling 24-hour Le Mans race in 1966.
Previous racing movies like the crowd pleasing
Grand Prix in 1966 and the disastrous MacQueen vanity bomb
LeMans in 1971 relied heavily on made up soap opera plots against the backdrop of the famous races. The more recent cinematic venture,
Rush (2013), while covering the story of two real life competitors, leaned on the scandal and juicy personal troubles of the men.
Ford v Ferrari, like the cars it features and the men who drove them, is a different breed. Ford v Ferrari, written by the team of: Jez Butterworth, John-Henry Butterworth, and Jason Keller, is far more reminiscent of The Right Stuff, focusing on the goals these brave and determined men wished to achieve. Where astronauts like Armstrong, Grissom, Glenn and Yeager dreamed of going out into space, drivers  like
Ken Miles (Christian Bale – Batman: Dark Knight, Henry V, Midsummer's Night Dream, Prestige) and designer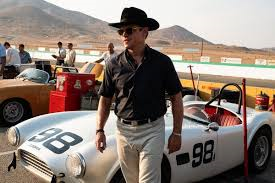 Carroll Shelby (Will Damon – Good Will Hunting, Bourne franchise, The Martian) were committed to going flat out.
Carroll Shelby, most famous for bringing the Mustang to life for Ford Motor Company, spoke to a group of people on the eve of Ford's launch into the racing business. He recalled that his father told them if he found something he loved to do for a living he would never have to work a day in his life. He then goes on to say that there are some people who go beyond that, and find something that compels them so strongly that they must do it or die. Ferrari versus Ford is the story of two such men,
Shelby and Miles whose groundbreaking work on the development of the racing car brought innovations in speed, efficiency and safety to the motor vehicles we drive 50 years later. Their determination and courage to break records and accomplish what others only dream of is inspirational and exemplifies the American spirit of the 1960's and gives example of what America does when her people put their minds to it.
Christian Bale's British Ken Miles allows this versatile method actor to relax into something closer to his native accent than is his usual.
Bale is, like Charlize Theron, Meryl Streep and Dustin Hoffman, one of those brilliant actors who don't mind looking rough and ugly to benefit a performance. If you don't believe that you should take a look at The Machinist. In Ford v Ferrari, Bale portrays Miles accurately as sweaty, dirty and plain, with the weather-beaten rough sunburned face of a man who spends his time either underneath the car or outside behind the wheel.
Damon's performance as Carroll Shelby is one of quiet strength and subtle restraint.
There's great chemistry between these two men and you thoroughly believe them to be closer than brothers bonded by a common passion.
Unlike other racing movies, Ford v Ferrari has the courage of its convictions in putting the machines, technology and the race in the forefront of the story, leaving the personalities and the corporate manipulators as a colorful background.
I understand very little about how cars work and despite the mountains of (perfectly appropriate) technobabble and jargon in the script, I understood clearly everything that was going on, including the hazards risked, the challenges endured, and the accomplishments achieved by these men and their crews.
Miles is at once brash and obnoxiously violent, not suffering fools, and at the same time gentle and philosophical with his son and wife.
There is a beautiful subplot that runs as a thread throughout the movie in the warm and close relationship between Miles and his son, Peter
(Noah Jupes known for his outstanding performance in A Quiet Place). Peter was constantly at Miles' elbow and went on to a career in car design, manufacture and racing. There seems to be a genuine rapport between Bale and Jupes.  The scenes with Miles and Peter provide many of the quiet gentle themes and take aways to this otherwise often loud and brutal movie.
There is also good chemistry between
Bale and Caitriona Balfe (beautiful Irish model known for Money Monster and Now You See Me) who plays Miles' wife Mollie. Balfe's Mollie is supportive and understanding of Miles' obsession but practical and no-nonsense when the occasion requires. Their tender moments feel very natural, with Bale and Balfe's performance together making believable that this lovely woman would be devoted to this tough beef jerky of a man.
The machines, which provide the freedom of incredible speed, imagined and sculpted by the men devoted to the craft, demand a terrible price. Along with native skill and hard won knowledge it takes the sangfroid of acceptance of one's own brief mortality to truly master the racing art. The drivers, designers and machinists accept that and know it takes a special fearlessness to undertake command of this breed of car. Ken Miles exemplifies this perfect blend of talents, expertise, aesthetic comprehension, and raw courage.
There are a number of character cameos:
Jon Bernthal (The Accountant SEE REVIEW HERE and Peanut Butter Falcon SEE REVIEW HERE) portrays Lee Iaccoca, (later known for his part in the development of the Mustang and reviving the Chrysler Corporation), at the beginning of his career with Ford.
Tracy Letts, an accomplished writer and theatre actor known for the movies Lady Bird SEE REVIEW HERE and 2019's Little Women, portrays the blustering but determined Henry Ford, II.
Josh Lucas (2006 Poseidon and Glory Road) is the weaselly Beebe, a composite of the worst of the corporate suits system.
Remo Girone portrays Enzo Ferrari.
The cinematography by Phedon Papamichael is outstanding, taking you right into the "cockpit" of the driver's seat, helping you feel the enticement of the driver's adrenaline rush without feeling claustrophobic. The music by Marco Beltrami & Buck Sanders  echoes the sound of pistons while adding an Aaron Copeland feel of freedom and a jaunty '60's cockiness, all adding up to a musical recreation of the personalities of the two main characters.
If you are familiar with this history this movie will bring what you know to robust life. If you are not familiar with the history, do NOT look it up before you see this film because to give away too much would be  unfair to this  movie about racing cars which is more than the sum of its parts. So two checkered flags to Ford v Ferrari.