AUDIO OPTION FOR REVIEW OF JUMANJI: THE NEXT LEVEL
SHORT TAKE:
Clever latest installment in the Jumanji franchise.
WHO SHOULD GO:
Mid-teens and up because of unnecessary profanity, including blasphemy, as well as some extreme cartoon gory violence.
LONG TAKE:
Paraphrasing Benjamin Franklin the way my high school teacher did with any recalcitrant students: "Experience is a hard teacher but some will have no other." This seems to be a thematic motto of the Jumanji franchise (and in that group I would include Zarathustra). Like a harsh fairy godmother teaching in The Wizard of Oz school of learning things, the Jumanji game seeks out unsatisfied people to grant their wishes … but makes them earn it.
The General Studies program at the Jumanji School of Insanely Hard Knocks focuses on maturity, altruism, loyalty and the priorities of friendship and family which can overcome any obstacles no matter how off-the-wall: from eagle size mosquitoes to malicious bands of monkeys, carnivorous hippopotami and lethal semi-sentient poisonous vines,
bonding comes from teamwork, accepting others weaknesses, and making the best use of your own strengths to help those you love.
Excellent lessons to learn and, as Mary Poppins might have said, it helps that the sugar to make the medicine go down is wildly funny scenarios, and great actors who are very good sports and don't mind taking pokes at their own famous reputations.
The original Jumanji and its two sequels excel beautifully in all of the above points. Zarathustra, (the step-child of the group, as it uses a similar scenario and themes but is not strictly part of the Jumanji franchise) follows in those footsteps as well.
For those not up-to-date, Jumanji is a wild game of crazy challenges:
stampedes, instant localized monsoons  which fall only where you are, monster crocodiles, a homicidal big game hunter of people, malevolent monkeys — and places you IN the game. Not virtually, but in the real world. In the original Jumanji the creatures came into our reality.
In the subsequent Jumanji: Welcome to the Jungle, the players are pulled into the game and manifest as Avatars. Spencer, a slight bookish boy with no appreciable upper body strength becomes Dwayne Johnson. Bethany, a narcissistic "Valley" girl becomes Jack Black. Martha, a girl with no inherent athletic abilities becomes Karen Gillan with preternaturally gymnastic fighting skills. And Fridge, an egotistical football player becomes the much shorter and weaker Kevin Hart.
This latest Jumanji, Jumanji: The Next Level mixes it up, starting only a few years after the first reboot.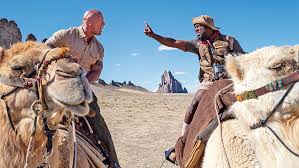 All the original team: Fridge, Bethany and Martha have gone to college, done well and look forward to a reunion. Spencer is in a funk, and finds himself longing for the days when he was the size of Dwayne Johnson with extraordinary powers of strength and speed. The temptation gets too much and without consulting his worried friends goes back into the game.
I don't want to tell you much more and spoil things so I will shy away from specifics.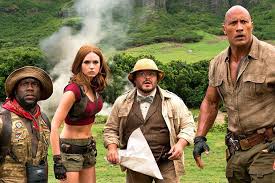 But I will say Next Level has all the humor and inventive scenarios of the original, keeps to the same themes, brings back all the familiar faces but does not just rehash the old. There are lively and justifiable (for that universe) variations which make Next Level as new and intriguing as the very first 1995 incarnation.
The acting is A level and a lot of fun. Not an enormous amount of subtlety but each of the actors do a wonderful job performing multiple characters outside of what you might think is their comfort zone. Returning are: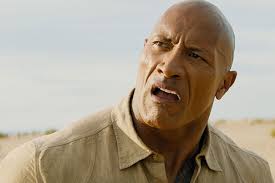 Dwayne Johnson (burly muscle in WWE, and the likes of Scorpion King, GI Joe and Fast and Furious) who truly shines in comedies like Get Smart, The Other Guys, The Tooth Fairy and here in Next Level, where he shamelessly and hilariously makes fun of himself as Dr. Bravehouse/Eddie and Spencer. I was genuinely impressed at the enthusiasm with which he launched into characters way outside of his usual fare.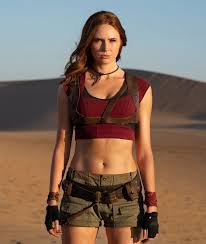 Karen Gillan returns as Martha/Ruby Roundhouse as well as Fridge (you'll see). She was most notably known before this as Matt Smith's Dr. Who's companion Amy Pond and here does a marvelous job with not only multiple personalities but an authentic American accent.
Kevin Hart (The Upside SEE REVIEW HERE) is delicious as Fridge and Milo.
Jack Black is delightful as Bethany and Fridge. In addition there are some wonderful small role/cameos by: short, growly voiced iconic comedian
Danny DeVito (TV classic series Taxi, Throw Mama From the Train, Romancing the Stone, Twins) as Eddie;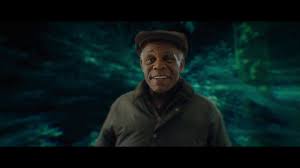 Danny Glover (Lethal Weapon franchise) as Milo; original Jumanji veteran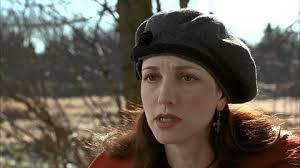 Bebe Neuwirth as Eddie's friend Nora; Jumanji: Welcome to the Jungle reprise
Nick Jonas (memorable in Midway SEE MY REVIEW HERE) as Alex; and
Awkwafina (Crazy Rich Asians SEE REVIEW HERE) as Spencer and Eddie (again – go to the movie to see what this means).
Portraying the young versions of the "real" people are:
Morgan Turner as Martha, Madison Iseman as Bethany,  Ser'Darius Blan as Fridge, and
Alex Wolff as Spencer.
Colin Hanks (Tom's oldest son) plays grown up Alex.
The soundtrack by Henry Jackman channels Lawrence of Arabia and Star Wars in very clever and appropriate moments, as if unable to resist the retro and multi personality motifs that the actors get to play.
Jake Kasden, writer/director (Jumanji: Welcome to the Jungle) who is of significant lineage (son of the famous writer/director Lawrence Kasden who brought us both Indiana Jones, many of the Star Wars reboots, and The Big Chill), with cinematographer Gyula Pados, and the other writers Jeff Pinkner and Scott Rosenberg, do a terrific job creating multiple extreme scenarios.
I was especially impressed with the realism in a ridiculously harrowing one with … let's just say geometry was important.
I would love to recommend this for all ages.
And while there is no sexuality, the writers unwisely decided to "enhance" a couple of the characters' personalities with a smattering of profane and even blasphemous language: (*cough cough* Danny DeVito, Kevin Hart, Jack Black). Therefore I would recommended only to mid-teens and up and then only those who will have the sense not to parrot-repeat things they should not. That is a shame because it is the only limiting proviso to this otherwise charming film.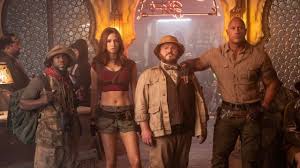 JUMANJI!!!!