AUDIO PODCAST OPTION OF THE UPSIDE REVIEW
SHORT TAKE:
Wonderful and beautifully acted movie, based on a true story, about a quadriplegic and the unlikely friendship he forms with an untrained and world-wise ex-con who is hired to be his caretaker.
WHO SHOULD GO:
Mid-teens and up only – for language, topics of conversation, a bit of  bawdy behavior with a couple of paid female companions, and some realistic though mostly unseen necessaries involving the care of a paralyzed man.
LONG TAKE:
The Upside is a remake of the French film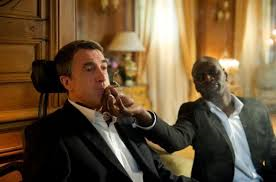 The Intouchables. The story is based on the real relationship between the wealthy quadriplegic
Philippe Pozzo di Borgo and his caretaker Abdel Sellou. In the movie, respectively, the characters names are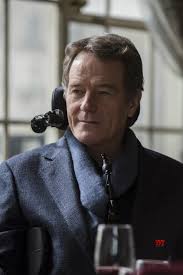 Phillip Lacasse, (Bryan Cranston most famously of Breaking Bad) and 
Dell Scott (Kevin Hart most recently of the Jumanji remake), the latter a down-on-his-luck ex-con who is behind in his child support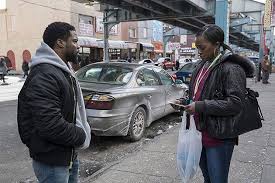 and broke. Though Dell has no skills in taking care of anyone, let alone a disabled man, Dell's blunt, un-indulgent and pragmatic personality appeals to
Phillip who is weary of having everyone walk eggshells around him and treat him like a fragile hothouse flower. Each man has been broken in their own way by their own mistakes.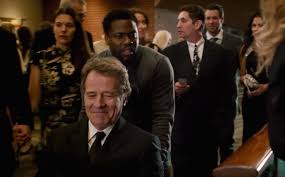 One would not, on first glance, think that a movie about a man so severely disabled and a caretaker with a ill-functioning moral compass, would be funny.
But it IS very funny — and very human, as well as delightfully inspirational. Everyone faces obstacles in life and Dell and Phillip exemplify the near extremes of challenges, respectively, of upbringing and the physical.
Courage is not the lack of feeling fear but of experiencing every painful moment of it and pressing forward anyway.
And this is what Dell and Phillip learn to do with the aid of each others' examples as well as their friends and family, even when those supports are initially pushed away.
Everyone will be able to related to at least some feature of these brave men's disadvantages.
Cranston is brilliant in the kind of performance I haven't seen since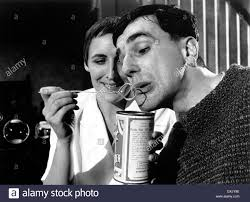 Daniel Day-Lewis in My Left Foot or
Joaquin Phoenix' Don't Worry, He Won't Get Far on Foot. Cranston performs the entire movie using only facial gestures and the occasional head gesture, but you quickly forget his movement limitations in Cranston's compelling and versatile performance.
The normally frenetic Kevin Hart modulates his talents into the breath of fresh air that Phillip desperately needs. The two friends together make up one really good man. And they teach each other to face their fears and face the world with courage, determination and a renewed sense of purpose.
Nicole Kidman, in a turn that is way better than her teeth grittingly breathy and campy
Atlana in Aquaman, here in Upside is absolutely adorable as Phillip's
fussy and protective executive assistant, Yvonne.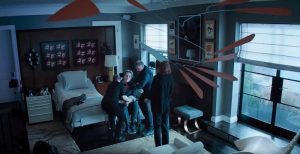 Much of the movie takes place in Phillip's apartment, and I couldn't help thinking that this could easily be converted into a lovely theatrical play.
The songs incorporated into the structure of the script are delightful and as eclectic as the combination of
Dell's and Phillip's personalities. Tunes range from Nat King Cole and Aretha Franklin to Rigoletto and Carmen.
The background soundtrack is intense and reflects the longing of the characters to be better men regardless of their ultimately superficial limitations. The movie, especially considering it is based on a true story, is inspirational.
I highly recommended this movie but for mid-teens and up only because of language, topics of conversation, mostly unseen illicit sexuality, and some quite humorous and genuine situations brought about by the circumstances of Phillip's infirmity.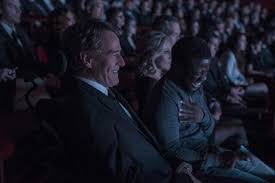 So, major kudos to Hart and Cranston for tackling this project with such tact, respect and skill, and hopefully some award wins for Cranston, at least, in this captivating, charming, and truly compelling story of a beautiful platonic friendship and the strength those unlikely friends give each other.
This Post Has Been Viewed 429 Times