SHORT TAKE:
Upbeat and joyous musical comedy cobbled from the wildly popular songs of ABBA, about a young woman who invites three men who might be her father to her wedding and the lighthearted ensuing fallout therefrom.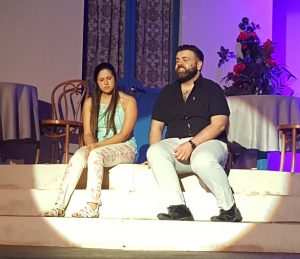 WHO SHOULD GO:
There is a bit of light innuendo played for comic buffoonery and a slight bit of mild language but it is the premise of the story that makes this really for mid-teens, with appropriate informed parental discretion, and up.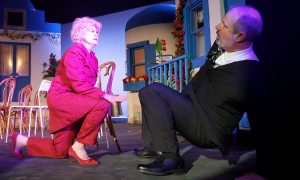 ALSO – there's LOTS more pictures on their way which I'll be adding and even changing over the next day or two – so check in again SOON!!
Also also – we incorporated as many pics as we could into the text of the blog but we couldn't put them ALL so we have put DOZENS more at the end of the blog and MORE will be added in the next few days – so CHECK OUT PAST THE END OF THE BLOG FOR MANY MANY MORE PHOTOS!!!
LONG TAKE:
If you find yourself feeling down this weekend, boy have I got a cure for you. There is not a prescription in existence that will cheer you up the way Mamma Mia! will. And I challenge anyone to not find themselves helplessly and happily tapping along to the catchy, memorable and upbeat ABBA tunes.
Like the title of Shakespeare's "Scottish play" the name ABBA is not technically supposed to be mentioned, but as a member of the audience, in case you didn't know, Mamma Mia! is based on the music of this "unnamed" band,
a Swedish pop group which exploded onto the musical scene in the late 1970's and whose music is now ubiquitous from movies to elevators all over the world.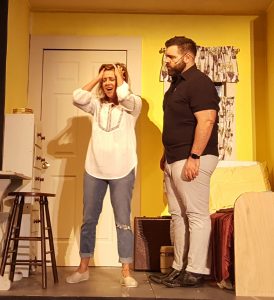 Inspired by the theatrical possibilities of The Winner Takes it All, that song stands as the center showpiece of the plot written by Catherine Johnson.
Opening this Friday, May 31 and playing through June 16 where TICKETS ARE AVAILABLE at Lake Charles' ACTS Theatre, 7:30 pm June 1, 7, 8, 14 & 15 with Sunday Matinees at 3 pm on June 2, 9 and 16, Mamma Mia is almost an opera buffa.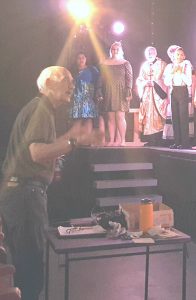 Directed by veteran thespian
Walt Kiser,
Mamma Mia! jumps like musical parkour,
from song to song,
avoiding dialogue almost completely.
Why say something when you can SING IT!
And a more joyous heartfelt set of songs you would be hard pressed to find anywhere.
Even the saddest of the songs will make you smile with their deliciously sappy romanticism. Mamma Mia! dances from Honey, Honey to I Have a Dream, Dancing Queen, SOS,
Super Trooper and of course Mamma Mia, as the play lyrically tells its story.
Sophie, a young bride-to-be, has been raised by her single mom, Donna, on a Greek Island.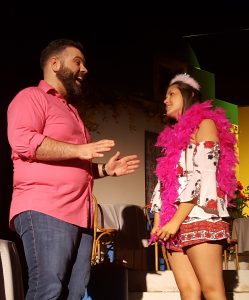 Desperate to find out who her father is and wanting his presence at her wedding, 20 year old Sophie peruses her mother's diary, and discovers that Donna had had one wild and crazy couple of weeks … about 20 years before. So, behind her mother's back, Sophie sends a wedding invitation to the unknowing lucky pater familias    — all three of them – Sam, Bill and Harry.  The three unsuspecting men, clueless to their possible fatherhood, show up and the awkward situation escalates comically with every musical number.
The set is in authentic Athens blue highlights, the costumes brightly colorful, the singing strong, and
the cast infectiously enthusiastic.
Paula McCain, who recently added her considerable acting talents to McNeese's The Crucible, leads as Donna.
Heather Foreman, fresh from ACTS' Dirty Rotten Scoundrels, LCLT's Bye Bye Birdie and McNeese University's Songs for a New World, captivates the audience as Sophie, bringing beautiful youthful exuberance to
The Name of the Game and
Lay All Your Love on Me.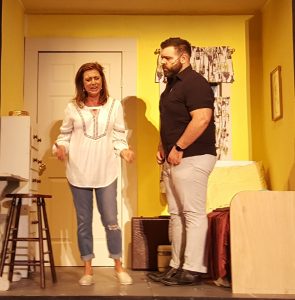 Casey Doucet, who also serves as musical director, plays Sam,
Donna's first "one who got away", bringing the same commanding poignancy from ACTS' Shrek to his half of Mamma Mia's star crossed lovers, Sam.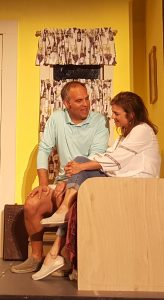 Michael Ieyoub is Harry and
Mark Hebert is Bill, who endearingly and humorously play the other two Dad candidates.
Krystal Smith as Tanya and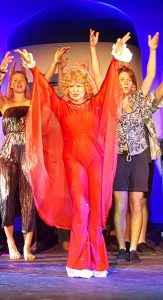 Veronica Williams as Rosie take the stage as the singing/dancing best friends of Donna, belting out the likes of
Super Trooper and
Take a Chance on Me.
Sky, Sophie's fiancé,  is played by Joshua Peterson.
Louis Barrilleaux is Pepper the lecherous bartender,
Kane Todd is Eddie, Donna's assistant,
Diki Jines is their Catholic priest, and
Anita Fields-Gold is the local island's watchful kindly dowager.
The amazingly talented dancing troupe of
Gracie Myers,
Joley Fontenot, Eli Prudhomme,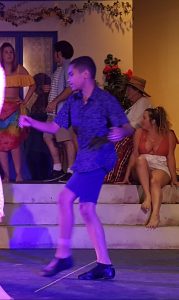 Jay Prudhomme, and
Hannah Daigle
periodically steal scenes as they punctuate the
emotions and songs with near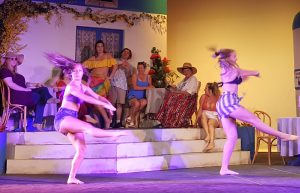 acrobatic choreography.
Kelly Rowland and

Lori Tarver are Sophie's
best buds and bridesmaids, Ali and Lisa, aiding with Honey, Honey and others. Rounding out the ensemble and lending their voices and dancing skills, are:

Alaina Goins,
Amber Zuniga,
Kristine Alcantra, 
Teresa Marceaux,
Taylor Novak-Tyler,
Ashley Dickerson, 
Zach Benoit, and
Dan Sadler.
Brahnsen Lopez is stage manager. Producers are Diane Flatt and Mark Hebert. 
Lauren Fontenot is their choreographer and Kris Webster the costumer.
So come to ACTS Theatre,
to sing and dance your blues away, with the troupe from Mamma Mia!
MORE ON A SUPPLEMENTARY POST FOR MAMMA MIA!