AUDIO PODCAST OPTION OF MY ARTICLE BEING STUCK IN ONE PLACE ISN'T ALWAYS A BAD THING
I am kind of a homebody. I love staycations, contemplating a fire in our fireplace, watching a home movie and enjoying the ability to pause for a snack or bathroom break (even with TP being a growing scarcity), or just reading a book with a cat in my lap. BUT nothing makes me want to leave faster than being told I CAN'T leave.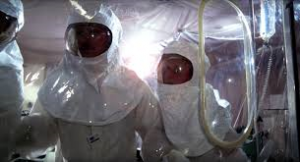 And our governor has decreed that there is now a MANDATORY requirement to VOLUNTARILY self isolate. 
Putting aside the inherent oxymoron, I more than understand everyone else's anxiety.
So I decided, rather than fret over this bizarre situation, to suggest a few movies about being stuck in one spot.
Now, as you peruse my choices, know that I am aware of other movies which might seem more obvious.
SPOILERS
Three I would NOT recommend at this time: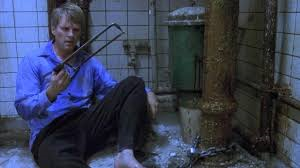 Saw invites a guy to hack his foot off.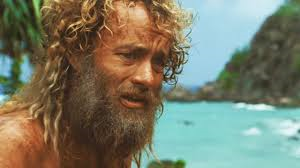 Cast Away is an a-theized version of Robinson Crusoe. I'm not saying Cast Away openly advocates for an atheistic philosophy, but the original Robinson Crusoe, on which the writers draw heavily in concept, was about a spiritually damaged man who comes to realize his enforced isolation as Providence. Crusoe uses his time as an opportunity to rediscover his relationship with God. On the other hand Cast Away is just about Tom Hanks surviving on an island.
Buried is just too grim to talk about.
So without further ado these are what I think are five great movies that show BEING STUCK IN ONE PLACE ISN'T ALWAYS A BAD THING.
REAR WINDOW
This classic gem from Alfred Hitchcock stars the icon of cinema, Jimmy Stewart, in one of his historically memorable performances as a man with a broken leg, before the age of ubiquitous air conditioning, internet, cell phones or streaming movies, stuck in his apartment during a hot summer and bored out of his mind. The only things he has to occupy himself with are peeping at his neighbor across the way from his apartment and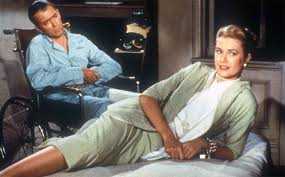 the occasional visits from his girlfriend Grace Kelly. Point of trivia and irony: One neighbor is played by Raymond Burr. Two years later Burr would become Perry Mason, the eponymous lead in an extremely popular courtroom drama TV show, in which this part brilliant lawyer part inquisitive detective, would weekly successfully and justly defend an innocent man who everyone else thinks guilty.
Stewart's character peeps in on his neighbors and surmises from circumstantial evidence that Burr has murdered his wife. Getting anyone to believe him or prove it becomes a rather tall order as he is stuck in his apartment at a time long before the term handicapped access was even created.
The movie was later remade into a vehicle for the paralysed and wheelchair bound Chris Reeves, who, in an act of sheer inspiring determination, not only lead but, incredibly, directed the film. While I have not yet seen Superman's version, it is on my bucket list.
BEING STUCK IN ONE PLACE MIGHT HELP YOU SOLVE A MURDER!
APOLLO 13 (1995)
WHO SHOULD WATCH:
This one has some profanity including blasphemy and a few instances of verbal sexual innuendo meant comically. Also, for those old enough to understand the jargon and circumstance, though the men involved face this grimmest of situations with calm and dignity, it is quite tense. So young teens at earliest, especially since younger crew who did not fully appreciate the gravity (or lack thereof) of the space hazards would likely get bored.
This is the telling of the historical and harrowing event which took place from April 11 through 17, 1970 known as the Apollo 13 mission, which was to have been the third lunar landing by the United States. When an oxygen tank catastrophically failed the mission parameters changed to simply trying to return the crew alive.
Even those familiar with the story will be on the edge of their seats as most of the movie is seen from inside the claustrophobically small cabin. Starring Tom Hanks (Beautiful Day in the Neighborhood, Sully, and many more terrific movies, many also biopics), Kevin Bacon (most famous for Footloose), Bill Paxton (Aliens, Twister), Gary Sinise (Forrest Gump) and Ed Harris (The Rock, The Right Stuff) – these men portrayed those who really DID have The Right Stuff with a courage, patriotism and dignity which helped a new generation understand why the space race is worth the risks we take.
BEING STUCK IN ONE  PLACE CAN HELP DEMONSTRATE THE COURAGE, DETERMINATION AND INGENUITY OF THE AMERICAN SPIRIT
SWISS FAMILY ROBINSON (1960)
WHO SHOULD WATCH:
Appropriate for the whole family.
This is a wholesome and inspiring CLASSIC Disney movie based on the Pastor Johann David Wyss' book about a family, anxious to start a new life in a far away home, who become shipwrecked on an island.
The story is of their ingenious survival for a decade with reliance only on their faith in God, each other, and the abundance of raw resources of the uninhabited land far away from any known charts. They tame wild animals, rescue a fair damsel, fight pirates, build a multistory home, and conquer their environment with a plethora of ingenious inventions.
BEING STUCK IN ONE PLACE WITH THOSE YOU LOVE TO CONQUER CHALLENGES CAN DEMONSTRATE YOUR STRENGTH AS A FAMILY
PASSENGERS
I know this movie has gotten a lot of flack over the years for lionizing Stockholm Syndrome and I might have agreed except for one thing:
SPOILERS
Jim gave Aurora an out. He repurposed a biobed into a cyro chamber for her.
I have a full review HERE.
WHO SHOULD WATCH:
Mid teens and up for mild profanities, some semi-comic bare buttocks, some stressful life threatening scenes, and an episode in which the main character becomes so depressed he contemplates suicide.
The story is about a colony ship that glitches 30 years into an 120 year trip leaving one passenger stranded and completely alone among hundreds of other people – who are all asleep in cryogenic chambers. Knowing he is condemned to die alone, after a year he becomes desperate and begins what can be looked at as a parable of marriage.
BEING STUCK IN ONE PLACE CAN TEACH YOU A LOT ABOUT YOURSELF, BOTH GOOD AND BAD
AIRPLANE (1980)
WHO SHOULD WATCH:
NOT FOR THE KIDDIES. Everything from bad language, fart jokes, crude humor and a pair of bare breasts almost LITERALLY thrown in for a moment JUST to achieve an R rating, it's a classic but for adults only.
OK Let's go full bore comedy here. This is the prince of parodies, the founder of funny, the superfilm of spoof. On the heels of a decade of airborne disaster melodramas, the Zucker Brothers and Jim Abrahams wrote a movie which incorporated as many clichés, parodies, homages and pokes at this genre as they could possibly stuff into one film.
Additionally it featured TV and cinematic legends like Robert Stack, Lloyd Bridges (father of Jeff and Beau), Barbara Billingsley (Leave it to Beaver), and Leslie Neilsen, who had previously been primarily in serious roles, as well as a host of other very familiar faces from old movies and TV Land shows, NOT to mention the Zuckers and Abrahams, the writers.
Especially for its time and place, especially for those of us who grew up in the 1950's and/or were disaster movie afficianados, this was a recipe for rare hilarity. It also stands the test of time. Even if you don't recognize any of the actors or references this will still tickle your funny bone with its outrageous dead pan deliveries, great timing, unexpected warping of clichés, and the wonderful actors totally committed to turning their comfort zones on their heads.
Many have tried to recapture this lightning in a bottle of mocking a very successful film genre, and many have met with a measure of success – Police Squad, Reno 911 (police TV shows), Disaster Movie (disaster movies), Vampires Suck (Twilight saga), Shaun of the Dead (zombies), Saturday the 14th (Friday the 13th), Spaceballs (Star Wars) –  even using and reusing Leslie Nielsen in some of the ventures. But Airplane was the grand daddy of them all – at least the ancestor with the most fame and clout for their efforts – leading the way with the guts to take on an established genre powerhouse and openly make fun of it.
BEING STUCK IN ONE PLACE CAN BE JUST PLAIN OLD FUNNY
So enjoy your time at home. We usually never have enough of it.  And relish this, what I genuinely believe we will come to later understand as precious moments to:
Be alert, be brave, appreciate your family, learn something about yourself and…laugh.