SHORT TAKE:
Mostly family friendly spoof on murder mysteries, based on the board game of the same name and translated from the eponymous movie, Clue, playing at ACTS Theatre for the next three weekends – October 11 – October 27, 2019 – get your tickets HERE.
WHO SHOULD GO:
Everyone. Aside from a little bit of mild profanity and some very light jabs at religion and alternative lifestyles, this is a family friendly show. There's no sexual activity, no real violence and the murders are part of the buffoonery and played for healthy laughs. Older people will get the jokes and kids will enjoy the slapstick.
LONG TAKE:
In 1945 Anthony Pratt invented a family past time based upon the idea of a murder mystery. He called it Cluedo but we all know it as
Clue. In the 1980's John Landis
(director of Trading Places, Oscar and National Lampoon's Animal House) became possessed with the idea of making Clue into a film. Despite being star studded and wielding a $15 million budget it flopped hard at the box office but has since become a cult sensation boasting of: a novelization, its own fan club, Youtubes coming to its defense, an off-Broadway musical, a campaign to remake it with Ryan Reynolds in the lead, and a live theatrical version.
Landis' Clue was the first of its kind,
a movie made from a board game. It starred some of the most talented comedians of the time: Tim Curry, (who lists this along with Muppet Treasure Island as two of his own favorite movies in which he was cast), Madeline Kahn (Blazing Saddles, Young Frankenstein) whose now classic dry description of how much she hated one of the other characters "flames on the side of my face"
left fellow cast mates struggling to maintain their professional composure during the scene and was the only ad lib allowed to stay in the tightly disciplined and rehearsed shooting schedule, Martin Mull (FM, Jingle all the Way and guest spots on a zillion TV shows), Christopher Lloyd (Back to the Future, and the classic TV show Taxi), Eileen Brennan (FM, The Sting, and another parody murder comedy Murder by Death), Leslie Ann Warren (Rodgers & Hammerstein's Cinderella, Victor/Victoria), and Michael McKean (Laverne and Shirley).
I mention all this to point out what big shoes the cast and crew for ACTS latest production of the theatrical Clue have to fill, and fill them they do.
The story concerns a group of strangers who gather at the summons of a mysterious stranger, aptly named Mr. Boddy, (no that is not a misspelling) to a spooky and isolated house on a stormy night for an evening of revelations. The guests get more than they bargained for. With characters named and colorfully costumed in keeping with the pieces in the Clue game, in a house laid out like the original Hasbro product, it becomes immediately apparent that there will be far more vaudeville than violence and more mugging than mayhem. Pratfalls and slapstick laughs are the coinage of the evening as fun is poked at the genre which has long been home to the likes of the far more austere Agatha Christie and Sherlock Holmes.
Stepping up to the plate for the inimitable Mr. Landis to direct is our own
Clay Hebert, veteran of decades of productions all over Lake Charles from McNeese to ACTS to Lake Charles Little Theater and even Hollywood, for whom this play has been a two year dream project.
Clever use is made of the stage in which quick changes and even quicker stage hands move props on and off to represent the many rooms of the house and in the board game: hall, library, study, etc.
Wadsworth, the butler and audience liason, is played by Aaron Webster ( just having finished a similarly sinister role in Arsenic and Old Lace for ACTS). Mrs. White is
Kelly Rowland (also from Arsenic) who can't seem to resist roles of sweetly homicidal ladies.
Dylan Conley is Colonel Mustard. Miss Scarlet is played by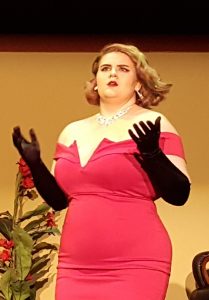 Taylor Novak-Tyler (Steel Magnolias and Dirty Rotten Scoundrels). 
Robert Goodson (Dirty Rotten Scoundrels, Spamalot) lends his unique brand of physical comedy to liven up Mr. Green.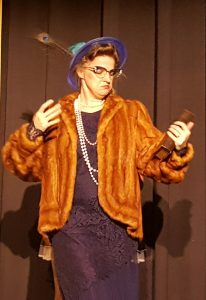 Stacy Solak (recently in Bye Bye Birdie) is a scene stealing Mrs. Peacock, and does double duty as aide-de-camp to Clay in the offstage role of assistant director.
Zac Hammons (Dirty Rotten Scoundrels) is Professor Plum. Yvette, the maid – not a board game piece but a character from the movie – is played by
Kaylen Peters. Similar to the way the Swiss Army Knife of performers who portrayed a multiplicity of characters was used in The 39 Steps,
Lauren Manuel and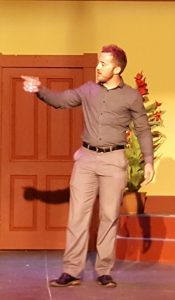 Lewis Paxton fill in variously for: Mr. Boddy, the Cook, the Motorist, the Singing Telegram Girl, and Police Officers.
Lending their respective wifely supports as well as extraordinary talents  to this production in general and Aaron Webster and Clay Hebert in particular are
Kris Webster and
Markie Hebert who functioned as co-producers.
A brave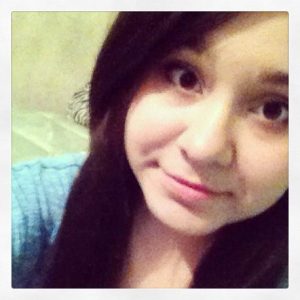 Catheryn Fredericks helps wrangle this motley crew of comedians together as the stage manager.
MILD SPOILER
Sorry movie fans –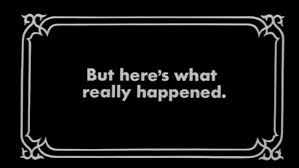 – there is only one ending.
So go join this humorously homicidal troupe as they give it their all to give you a ….. Clue.
TICKETS HERE.
BEYOND HERE BE POSSIBLE SPOILERS SO CONTINUE AT YOUR OWN RISK — OH WAIT THAT'S DIFFERENT BOARD GAME……