AUDIO OPTION FOR REVIEW TITLED JUDY – A HORRIBLE WARNING BEHIND THE CURTAIN
SHORT TAKE:
Harsh look at the woman behind the magic of Judy Garland, aka Frances Ethel Gumm, in her waning professional months, near the end of her life.
WHO SHOULD WATCH:
Adult fare ONLY. Vulgar and blasphemous language, sexuality, implied pedophilia, scenes of alcohol and drug abuse.
LONG TAKE:
One of the things I've learned in writing movie reviews is that, once seriously analyzed, you never look at these celluloid miracles quite the same way. Not necessarily a bad thing, just different.
Like when Dorothy gets a peek behind the Wizard's curtains. She discovers truths about him that perhaps she didn't want to know but at the same time makes him more accessible.
This can be especially true about biographies, and Judy, a screenplay by Tom Edge, in turn based on the play The End of the Rainbow by Peter Quilter, is a prime example of learning more about the creation of a fantasy than is good for that imaginary world's longevity.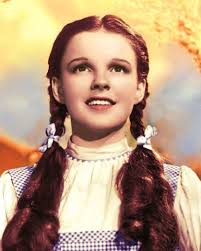 I knew Judy Garland primarily for her unforgettable performance as Dorothy in The Wizard of Oz.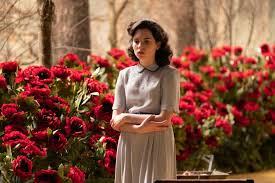 Judy gives a look into the industry that stole her childhood, made her feel betrayed by the adults who should have been protecting her, addicted her to pick me ups and barbiturates, and ultimately contributed to her death at a prematurely aged 47.
Renee Zellweger, (Miss Potter, Bridget Jones, Chicago) up for best actress for her astonishing performance in Judy, is mesmerizing.
Zellweger has captured the look and essence of Judy Garland. Not just the easy to imitate woman at the height of her career, but someone who was at the top of her game and now at the bottom of her own self-dug well, who, history dictates, will die in but months from a lifetime of physical abuse and addiction.
Yet she is also a woman who has moments of great dignity and kindness in comforting a disconsolate fan,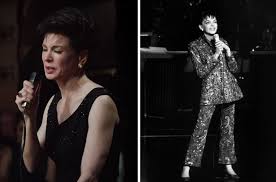 and sparkles brilliantly showcasing her incredible talent. Zellweger shines forth as brightly in Garland's singing as she demonstrates the desperate darkness of Garland's personal lows in the last months of her life.
Judy Garland blasted into America's consciousness with her role as Dorothy in The Wizard of Oz and never really left.
Zellweger looks, sounds and acts more like Judy Garland than Judy Garland. She demonstrates an incredible repertoire, performing Garland's iconic songs: The Trolley Song, Over the Rainbow, You Made me Love You, Talk of the Town, By Myself, Get Happy, San Francisco, Zing Went the Strings, Have Yourself a Merry Little Christmas, and Come Rain or Come Shine. These are worth seeing all by themselves.
But as good as Renee Z's performance is, the same cannot be said for the other performers or the rest of the movie as directed by Rupert Goold, (mostly known for BBC mini-series filmings of Shakespeare). I could not shake the feeling, even while knowing better, that this was a made-for-TV weekly weeper. The close-ups, the episodic nature of the scenes, and the mediocre, caricature acting of the other performers made for a lukewarm film at best.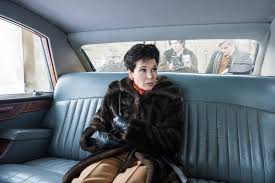 Renee Z appeared like a diamond sewn onto the waistcoat of a poorly fitting polyester suit from Walmart. The supporting structure is not terrible, and certainly serves its purpose but is nothing special.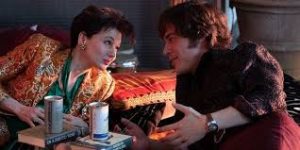 The background soundtrack by Gabriel Yared is bland fare, applying fluffy disconnected tunes to scenes, seemingly chosen from a standard library of emotion emoting jingles.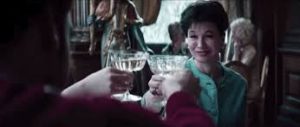 The cinematography, as I have indicated, harkens back to boob tube "Scandal-of-the-Week" bio fodder which used to be sprinkled into the weekly TV Guide.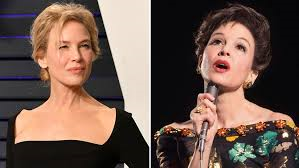 Judy's greatest virtue, aside from Renee Z's astonishing performance, is the horrible warning to parents who might have stars in their eyes. Releasing children into any industry without close parental supervision and protection is a disaster waiting to happen.
Miss Garland's father cheated on Garland's mother with men. Judy's mother, according to the screenplay, as well as the prima facia evidence of Garland's precipitous decline, sold her to the Hollywood System. Neither parent raised or responsibly watched over her. The child Garland (Darci Shaw) was tyrannically forced into eating and behavioral schedules torturous, inappropriate, and abusive to her slight frame. She was given pills to help her sleep and pills to wake her up so as to accommodate the brutal filming schedules.
There were allegations of sexual advances from older men including Louis B. Mayer (portrayed by Richard Cordery from About Time and Les Misérables). In turn, Judy grew up pill addicted, fragile, cynical, and desperate for the attention of men. She crashed four marriages and died three months after marrying her fifth husband,
Mickey Deans (Finn Wittrock – La La Land, Unbroken, Noah).
Garland struggled desperately to be a better mother for her three children, Liza from her marriage to Vincent Minelli, and Lorna, and Joey, with Sid Luft (played by Rufus Sewell – Hamlet, The Illusionist) but they have suffered from the sins of their parents as well.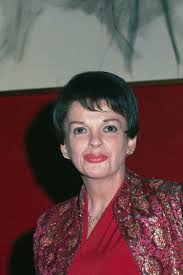 Ms. Garland died at the age of 47 looking like she was the wrong side of 70.
Liza Minnelli, Miss Garland's oldest child, expressly disapproved of the script and I can understand why. Not only does it dig up dirt on poor Miss Garland like dirty underwear on a laundry line, but it serves no end but to satisfy curious titillation. Further, it tarnishes the idealized image of the little girl who went to Oz with which we all grew up.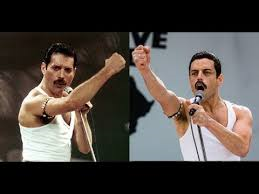 In Bohemian Rhapsody Freddie Mercury admitted to his failings and, despite his sufferings, carried on, tried to make amends with those he had hurt and soldiered on writing music with his band until days before his death. Ms. Garland, as shown in Judy,
continued binge drinking, even showing up drunk to sold-out performances, resulting in her being booed off stage more than once. She fought for her own preferences over what was obviously in the best interests of her children.
She was often unappreciative of the help others tried to provide her, and was eventually fired by people who loved and respected her talent when even they couldn't tolerate her unprofessional behavior any longer. As a result she died penniless.
There is something to said for being a horrible warning. If keeping innocents out of the Hollywood System is the theme, it certainly serves that purpose and is worth viewing for that. But, having grown up with one image of Dorothy, there is a part of me who, having now peeked behind the Wizard's curtain, kind of wished I hadn't.
R.I.P. Judy.