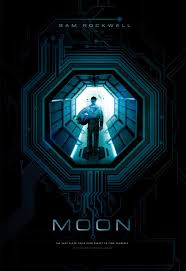 SHORT TAKE:
Thoughtful, low key and intriguing sci fi exploration of the definition of a human.
WHO SHOULD WATCH:
Adults only for language, graphic depictions of radiation sickness and the topics of death, loneliness and the marketing of human life.
LONG TAKE:
Sam Rockwell is an amazing actor. I have sung his praises in other outings like
Three Billboards Outside Ebbing, Missouri, (SEE RADIO SHOW HERE and the REVIEW HERE) and his stint as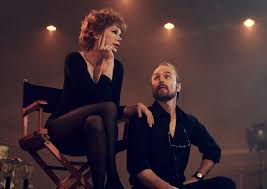 Bob Fosse in the miniseries Fosse/Verdun. But my favorite performance of his will always be the first one I ever saw him in,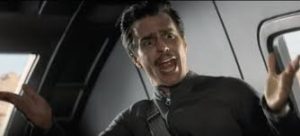 Galaxy Quest, the parody / love letter to Star Trek.
SPOILERS BUT AS FEW AS POSSIBLE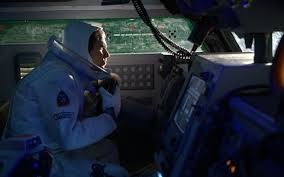 So I was duly intrigued by a story that would see Rockwell go back out into space. In Moon he does just that. Moon is a tour-de-force, almost a one man show.
I warn you I'm going to be a bit disingenuous about this movie because I do not want to spoil it anymore than I have to for the sake of the following analysis. Moon is about a man and a clone. I will tell you that the cleverly written script leaves "Easter eggs" around giving hints.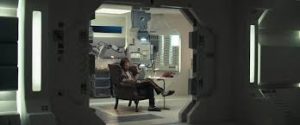 Set in 2035, the story initially explores an examination of how one copes alone on a solitary mission for an extended period of time. Moon then, by turns, becomes an examination in psychology, a mystery, a buddy movie, and eventually a thoughtful consideration of what it means to be a human with the soul. This last led me to realize that Moon could easily be, whether that was on the mind of the filmmaker or not, an analogy for the in vitro created embryos, especially those abandoned as excess or unwanted by the sperm and egg donors who should have accepted their responsibility as parents.
Sam Bell is alone on a space station.
His mission contract is for 3 years, monitoring the mining output of extremely valuable *helium-3 from the Moon.  Sam's only connection to Earth is from one-way video messages of his wife and baby daughter.
His only companion or foil for his comments is GERTY who looks more like a Welcome Wagon than even a robot and is voiced by the now infamous Kevin Spacey, who's measured tones, (giving the devil his due), attempt to offer Sam what limited comfort of which it is capable.
Unlike other writers who agonize over choosing just the right name for their characters, Jones did not, apparently, give it much thought. Lest you were wondering, GERTY is not an acronym but just a name, perhaps, as has been speculated by admirers of the film, chosen for Christopher E Gerty, a NASA aerospace engineer, or perhaps for its similarity to the first five letters on the top line of a standard keyboard – QWERTY.  Sam, the main character's first name, is the actor's first name. The harvesters are named after the four authors of the Gospel: Matthew, Mark, Luke and John, which one might think brings a gravitas of meaning, but Jones, himself, has said they were only chosen because he wanted four names that went together.
Sam Bell becomes desperate for any kind of human interaction, longing for personal communication, but forgets that one should be careful for what one wishes as information can be as heartbreaking as it is educational.
Rockwell does a terrific job, even landing his performance in a list of one of the top 10 most egregious Oscar snubs. Rockwell's Sams are at once the exact same but completely different. One Sam is simply further down the road than the other and Rockwell does a magnificent job of making them completely distinguishable, while at the same time leaving the door open for alternative interpretations, such as: is Sam Bell really only losing his mind? (Rest assured, the movie will eventually answer all the pertinent questions). But during the course of the movie Rockwell's dynamic performance leaves all possibilities viable (pun intended).
The scenes on the surface of the Moon are well done and very believable, especially when considering Moon's mini budget of $5,000,000 and scant shooting schedule of 33 days in Shepperton Studios.
The director/writer Duncan Jones preferred models to CGI so employed Bill Pearson, the supervising "animator" for Alien, who was happily at loose ends because of a writers' strike, to create the rovers and harvesters .
First time feature director, Duncan Zowie Haywood Jones' only other claims to fame up to this time were being a commercial director and the son of famous rocker David Bowie. The film even opens with the line: "Where are we now?" the title of one of his father's songs.
Jones wrote Moon as a vehicle for Sam Rockwell. Jones had been interested in casting Rockwell as a villain in another film, Mute. While Rockwell liked Mute and was tempted, he was tired of playing bad guys. So Rockwell challenged Jones – that if Jones wrote something of the same quality which would trust him, Rockwell, in a leading role, he would do it. So Jones did — and Rockwell agreed.
The soundtrack by Clint Mansell is reminiscent of Philip Glass. Dissonant string chords, heavily rhythmed but mostly without regular tempo, are occasionally interspersed with simple childish tunes which would be at home in a child's jewelry box.
The effect is one of both low level, anxiety driven tension and what a quiet but hostile space environment might sound like were it anthropomorphized to conduct an orchestra. The overall result is both unsettling and lulling.
In philosophizing about where on the spectrum of humanity lies clones, there must come a reckoning as to the significance of other "artificially" created human life.
As the conclusion in the favor of those not "born of woman" becomes more and more obvious, there is an inevitability for any thought conscientious person to reach the same judgement concerning those children whose conception took place in a petri dish – the in vitro embryos bred and then left discarded as "extras" and "backups" then ultimately … forgotten to death. The "where" one obtains life is not important. They – both clones and science-driven and conceived embryos – are undeniably human.
When Edward Rutledge protests against John Adams' assertion that slaves are Americans, John Adams points out, appropriate to that particular historic juncture, in the brilliant musical 1776: "They are people, and they are here. If there's any other requirement, I haven't heard it," regardless of how they arrived. Similarly, I would point out, the only prerequisite to being considered human, with all of the attendant God given rights and dignities, is to be — a human.
Doesn't matter how you arrived: sexual interaction, artificial insemination, petri dish, cloning, or (in the case of extended sci fi examples) transporter accidents – a human is a human and should be treated as such.
Moon makes this point beautifully and with great understatement. And Rockwell is the classy and compelling purveyor of that message. So to paraphrase Horton: A person's a person, no matter how he got here.
*Helium-3 is a real thing – also called tralphium or helion, it is a light stable isotope of helium which is rare on Earth but is speculated to be more abundant and mineable from the Moon.