I'm going to do something I have never done. I'm going to review a movie I HAVE NEVER EVEN SEEN AND HAVE NO PLANS TO EVER SEE!!!
I was really looking forward to seeing Silence, about the missionaries who went to Japan and courageously stood up against the persecutions of the anti-Christian government in the 17th century. I sought out the review of Silence by Bishop Barron first as I often get far more out of movies after listening to his take on them and given the topic thought it best if I watched him BEFORE seeing the movie instead of afterwards. I am grateful I did.
SPOILERS….you've been warned.

Silence is about two Jesuit priests (Andrew Garfield and Adam Driver) who go looking for their mentor (Liam Neeson) in Japan due to rumors he gave up the Catholic faith. They can't believe it and want to clear his name, even at the risk of their own deaths.
1.
The mentor DID renounce the Catholic faith to save his skin/because he genuinely lost his faith – whatever. Not exactly an inspirational or virtuous character and I'm disappointed in Neeson, who is supposed to be a practicing Catholic, that he would parade this flawed example onto the big screen.
2. 
The main young Jesuit, played by Garfield, GIVES UP HIS FAITH. He renounces the Holy Mother Church, takes a Japanese wife and spends the rest of his life, with Neeson's character, as a government drone. Only at the end is he shown in his coffin HIDING a crucifix. WORSE than too little too late, it is apostacy.
I was appalled upon learning this. It's JUST the way the atheists and new agers and liberals WANT us to treat our faith – as something shameful or to be kept, if at all, very very quiet and to ourselves, privately so it doesn't BOTHER anyone.
3.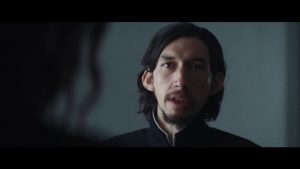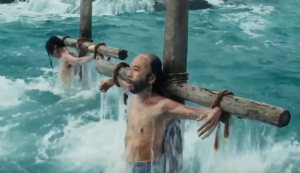 THE LAITY  AND FATHER GARUPE ARE THE TRUE HEROES. The small fishing village which shelters the visiting Jesuits keep the faith going for YEARS, even before the two young Jesuits show up, in the face of horrific governmental persecution. When it is discovered that Jesuits are among them they torture and kill the villagers but the VILLAGERS DO NOT RENOUNCE THEIR FAITH!! Neither does Father Garupe, who dies with the villagers, but precious little film time or attention is given to him. They are the true heroes.
DO NOT BOTHER TO SEE THIS MOVIE. ITS ANTI-CATHOLIC PROPAGANDA DISGUISED AS CATHOLIC FAITH HISTORY IS DISGUSTING.
Even if this movie is based upon a real person who turns his back on the Catholic Church, WHY would millions be spent lionizing this person and ignoring the hundreds and thousands of people who died under torture protecting and upholding the Faith? Because the makers of this movie represent the idolators of the god Political Correctness and wish to trivialize the Truth.
I am SICK of being told, as a Christian and more specifically as a Catholic that I should KEEP MY PLACE, in the back of the political and societal bus. To keep my faith privately hidden away and not have it influence or instruct any of my day to day interactions. All in the name of the lefts' god – Political Correctness. ENOUGH!!!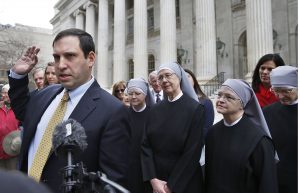 I will not be SILENCED when Little Sisters of the Poor are forced out of their vocation because the liberals and liberals' precious Obamacrap wish the nuns to push contraceptives and baby murdering abortificants on patients.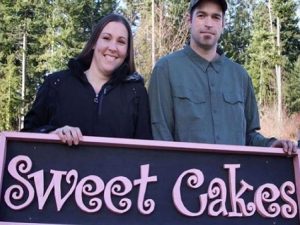 I will not be SILENCED when mom and pop bakers are forced out of business by socially abusive people who require their sexual fetishes be advertised on cakes.
I will not be SILENCED when judges try to force out the 10 Commandments from public displays. I will not be SILENCED when liberals lie about the definition of the separation of church and state when all the while THEY are the ones mandating their state run "religion" of environmental wackoism and cult of abortionism.
I will not be SILENCED when extremist Muslims TODAY are committing genocide on entire Christian populations.
MAY THIS MOVIE'S THEATERS RUN TO AN EMPTY THEATER OF ………….. SILENCE.
BE COURAGEOUS AND DO NOT BE SILENCED BY THOSE WHO WISH TO CONDEMN THE TEACHINGS OF OUR JUDEO-CHRISTIAN GOD TO …………….. SILENCE.