SHORT TAKE:
Adult VERY black humor musical based on the cult horror classic Evil Dead trilogy.
WHO SHOULD GO:
Adults ONLY with a taste for macabre comedy and who wish to encourage the efforts of our newest theatre group, Black Market Theatre, to put on more nouveau plays that Lake Charles might not otherwise get an opportunity to see.
AND IF YOU LIKE THESE REVIEWS PLEASE SUBSCRIBE! THEN YOU'LL GET EVERY NEW REVIEW SENT STRAIGHT TO YOUR E-MAIL!!
GO TO THE BOTTOM OF THE LEFT HAND SIDE AND TYPE YOUR E-MAIL IN – IT (SHOULD BE) THAT EASY. ANY PROBLEMS PLEASE SEND ME A COMMENT AND I'LL DO MY BEST TO RESOLVE YOUR ISSUE.
LONG TAKE:
I have seen the social commentary that was
Night of the Living Dead, the parody of zombie movies
Shaun of the Dead, the apocalyptic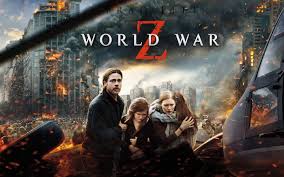 World War Z and the over-the-top comedy
Zombieland.
Now as my eighth grade social studies teacher used to say: "You can bury me face down because now seen everything!"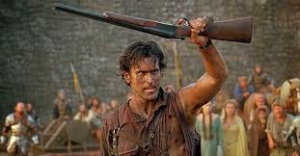 Evil Dead the Musical is based upon the parody zombie horror flick of the same name that became a cult classic in the 80s starring the otherwise pretty much unknown Bruce Campbell.
Evil Dead the Musical plays through Halloween at our own
Center Stage here in Lake Charles, at 3426 Ryan next to the Mellow Mushroom, and is being put on by some very familiar faces out of the McNeese University Theatre Department. Buy your tickets HERE.
Three husband/wife teams contribute to the mayhem which put this show on.
Jessa and William Lormand direct and Jessa plays Cheryl, sister of the intrepid hero, Ash. William doubles in the band which plays live music along with Bryce Louviere and Daniel Fontenot.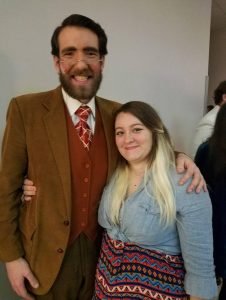 Ash is Timothy Smith and his bride Sarah is Linda, appropriately, Ash's love interest.
Lara and Luke Connally, who have appeared in numerous productions around town, including Kiss me Kate and The Secret Garden, play, respectively, Annie, daughter of the ill-fated scientist and Jake, the ill-fated hillybilly neighbor who foolishly guides them to the cursed cabin. Tyler Brumback and Amy Phillips, who have portrayed love interests on stage before, most notably in The Secret Garden,
play Scott and Shelly, the bawdy weekend roommates. Ed and the voice of the possessed moose head (you've got to see it to know what I'm talking about) is
Joey Boyette, another veteran of local theater.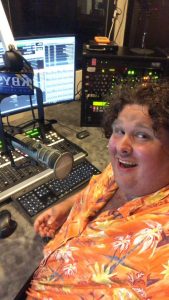 KBYS' own radio personality Curry Burton is the Voice of Knowby. And Nikki Guillory plays a deadite.
The premise is that 5 college students, with far too much time on their hands, set out for a weekend of debauchery at an abandoned cabin in the woods.
Things turn REALLY ugly when it turns out the cabin belongs to a scientist who unwisely set loose demons with an ancient book of the dead. Beset by demons and attacked by trees in need of an exorcism, one by one each of our intrepid heroes are dispatched and zombiefied,
(from the movie) until only Ash is left standing with a sword in one hand and a chainsaw for his other hand.
If it sounds gruesome…it is. But it is all done very lightly. Evil Dead the Musical is to zombie horror stories what
Bullshot Crummond was to the detective genre, a vehicle to poke fun at every trope ever written.
Everything is as far over the top as possible, from the gore to the raunchy jokes to the gratuitous profanity. Even one of the songs has a title and chorus which prominently features the "f" word.
All is performed by our locally grown thespians with all the ridiculous enthusiasm and robust absurd abandon you might expect from a group of very talented actors given leave to ham it up in a zombie vaudeville.
This is a very adult show. The venue itself requires identification to prove that you are 18 or older just to get in, as liquor is served on the premises. Although nothing explicit is seen, there are a lot of sexual gestures and references as well as a lot of blasphemous profanity. Those extremes are deliberately gratuitous as part of the parodic elements of the comedy.
The show is not for everyone, but if you could enjoy a combination of
Rocky Horror Picture Show with
Shaun of the Dead, while keeping the other above cautions in mind, then head out for our local production of the hit play Evil Dead the Musical. Having a chance to see these very nice, seemingly normal people portray these extremely bizarre parts is reason enough to go support the efforts of this troupe. Black Market Theatre has obviously put in an enormous amount of effort to bring this play to Lake Charles. And if we want to see more off-beat and unusual productions come to Lake Charles then, if you are of the right temperament and age group, you should go support the Black Market Theatre's foray.
A final warning, this is a public venue that allows smoking and when I got home I had to wash every stitch I had on, from my sweater to my pony-tail holder. So be advised, if you have any respiratory problems, this could be a serious health issue for you.
So KUDOS! to the Black Market Theatre Group (connect with them by clicking their name) for daring to put on such a boldly different production and thanks to Center Stage for being good sports and agreeing to host this venture. I look forward to future adventurous collaborations at this newest addition to Lake Charles' theatre venues put on by this newest Lake Charles theatre company.
JUST SO'S YOU KNOW:
As a point of interest, Evil Dead hit the cult circuit in the 80s as a breakout movie for Bruce Campbell. Anyone interested in this genre might find a similarly avant-garde film starring the same Bruce Campbell which both parodies the mummy movie concept and does legitimate respectful homage to, of all people, Elvis Presley.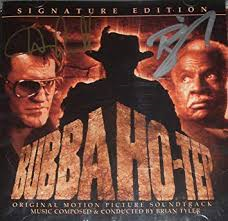 The movie is Bubba Ho-Tep and is of the same rough cloth somewhat bawdy and gory comedy.
However, it is set in a nursing home, and respects the limitations of its indigenous characters. Bubba Ho-Tep might be described as the mild flavor version to the Evil Dead "slap your mama"-style spicy horror movie. Bubba Ho-Tep actually even has a certain gentle charm and intelligent theme to it about growing old without growing insignificant; and
God finding a purpose for you even when you no longer believe you have one yourself. Heady stuff for the same guy whose iconic earlier character features a chainsaw replacement for a hand.