SHORT TAKE:
Fantastic production of Shakespeare's most popular romantic comedy – Taming of the Shrew at Lake Charles Little Theatre from November 8 thru November 24, 2019 Get your TICKETS HERE!
WHO SHOULD GO:
Anyone old enough to sit through a fun and energetic full length play.
LONG TAKE:
Language immersion is a great way to learn a foreign language in all its many delights. Sous vide is a water immersion technique which gourmet chefs use to produce delectable meats. And Lake Charles Little Theatre presents a verbally and visually delicious, completely Shakespearean immersion experience, starting Friday, November 8, 2019, in their production of Taming of the Shrew, directed by 26 year stage veteran and Professor of Theatre Arts at McNeese University,
Charles McNeeley, and stage managed by the tried and true staple of Lake Charles Little Theatre, Dan Sadler.
Taming of the Shrew is a love story with a twist, where the immovable object meets the unstoppable force and a most unusual courtship gets underway. Katherine, beautiful, rich and unmatchably pugnacious, must, by her mother's decree, be wed before her demure younger sister Bianca can walk up the aisle. Providentially arrives Petruchio, set to expand his existing inherited fortunes to a wealthy woman, he launches into a bawdy, rousing, explosive battle of wills with the woman he is determined to make his wife.
Original period music written by David Ifland sets the mood in the theatre.
Artist (Sean Hinchee, who also comes forth as the Haberdasher) and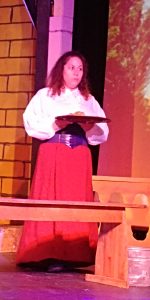 Fruit Vendor (Ashley Vidrine who also plays Josephine, a servant in Petruchio's house) populate the stage providing the opening peep through this 16th century window from the comfort of your cat-bird seat. Funny, exciting, and romantic, this is Shakespeare's most beloved battle of the sexes. The performers throw themselves – sometimes literally – into their roles, as actors enter down aisles, embrace the stage in force and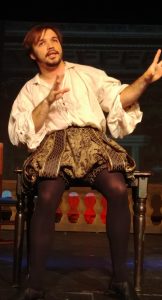 occasionally even break the fourth wall.
Raye Floyd, returning to the stage for the first time since middle school, is in full on fiery Liz Taylor mode.
Her rough Katherine meets her match only in 
Petruchio, Louis Barrilleaux', fresh from leads in Dirty Rotten Scoundrels and Arsenic and Old Lace, whose wildly commanding and eccentric personality is undaunted by the formidable Kate. Shakespeare's witty banter is used to its full as these skillful thespians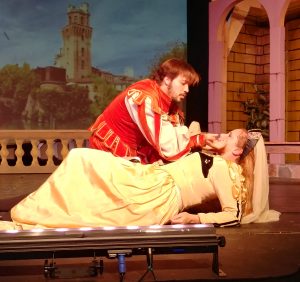 wrestle their way through this classic, combative and comedic courtship.
The supporting cast is also brilliant. Petruchio's attendant, Grumio is played by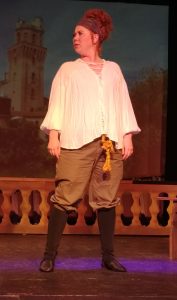 Kassie Coltrin, channeling both Puck and Tinkerbell as she reacts to the insane antics of her master and new mistress. Lucentio's
Antonio Dre (Bye Bye Birdie) and
Anna Sternaman's Bianca establish an instant chemistry that make their airing an inevitability.
Rebecca Harris (Arsenic and Old Lace) skillfully meets the challenge of Lucentio's attendant, Tranio, as she is required to
portray a character who portrays yet another character.
Dylan Conley (Arsenic and Old Lace) plays the rebuffed suitor Hortensio with comic frustration.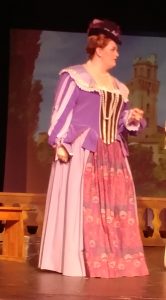 Taylor Novak-Tyler (Dirty Rotten Scoundrels, Bye Bye Birdie) is completely relatable as Baptista, the put upon parent of these two very different daughters. Rounding out the cast is a wonderful ensemble of veterans and newbies.
Andres Germosen method acts as the comedic and elderly Gremio, third suitor to Bianca.
Biondello, one of Lucentio's servants, is Rylee Hall. Jeffrey Underwood performs as both
Curtis, a servant of Petruchio and Vincentio, father to Lucentio.
Aimee Mayeux (Dirty Rotten Scoundrels) does double duty as both Hortensio's rebound wife, the Widow and as the Tailor. Philomene and Petrah, both servants of Petruchio's house are played, respectively, by Alex Hebert and Neveah Brown.
Matt Dye, on-air personality for KKGB, sports mavin and Sowela professor, does a cameo as the Merchant who pretends to be Vincentio.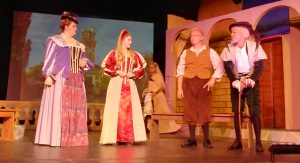 The costumes are stunningly detailed and gorgeous. The backdrop warmly evocative of the time and place of 16th century Padua.
Several roles normally played by men are performed by women due to the practicalities of the available cast. They make themselves completely at home in the oft rough and tumble vaudeville antics  inherent in the action.
This is completely in keeping with Shakespearean tradition inasmuch as Shakespeare had the reverse problem, for cultural and legal reasons of the time, having to employ men for women's roles. 
It is one of the many genius' of Shakespearean plot and dialogue that Will S's universal stories, which strike deeply into the fundamentals of human nature, can be portrayed across cultural, gender and chronological lines with ease.
The cast conveys the often complex dialogue with virtuosity as the iambic pentameter comes trippingly off their tongues in a way which, with their actions and emphasis, make the Shakespearean heightened language easy to understand even for the novice.
So go see Taming of the Shrew – this funny, romantic, explosively energetic, delightful period piece of deliciously Shakespeare literature at the Bard's story-telling best, at Lake Charles Little Theatre from November 8 through November 24, 2019. Get your TICKETS HERE! Get them early as you'll want to see this unique romance more than once!