"….not only would I recommend this rather awful film series but had I the authority I'd be tempted to make it required watching for teens."
To quote my favorite expression from the re-booted Dr. Who series, oft spoke by Dr. River Song: SPOILERS!!!!
I'm not a big fan of sappy stories. I've watched more than my share but it's not my favorite genre. There are a few exceptions. Jane Eyre was my favorite book as a kid. Helped that George C Scott did an amazing movie version back in 1970. But Jane Eyre is less romance than it is a tale of righteousness over romping – that's my story and I'm sticking to it.
And I did see Titanic a couple of times over the years but frankly enjoyed the rather droll How it Should Have Ended animated satire more.
Which brings us to the Twilight series.
Is the movie badly acted? Why, yes, the acting is terrible. Kristen Stewart's whispering, sniveling, gasping response to EVERYTHING has become a cliché of pitiful thespian skills. The Everything Wrong With… Twilight is hysterical and worth watching for their "Breathing, Laughing and other Bella Noises Bonus Round" alone. IMPORTANT CAVEAT – while I LOVE the "Everything Wrong With…." series on youtube.com, it is chock full of sexual innuendo and raw language, the latter of which is, while bleeped, pretty obvious.
Is Twilight well written? I'll let you judge:
Edward Cullen: I don't have the strength to stay away from you anymore. Isabella Swan: Then don't.
Edward Cullen: Uh, yeah this is my room. Isabella Swan: …No bed? Edward Cullen: Ah no I don't, I don't sleep. Isabella Swan: Ever? Edward Cullen: No, not at all. Isabella Swan: Ok, hmmm, boy you have so much music, what were you listening to. Edward Cullen: It's Debussy. Isabella Swan: Clair de Lune is great.
Edward Cullen: I hate you for making me want you so much.
And these are from us.imdb.com as memorable quotes. Need I say more?
So, it's sappy, badly acted, awkwardly written, ham handedly directed but——-not only would I recommend this rather awful film series but had I the authority I'd be tempted to make it required watching for teens."
But, you might reasonably ask…………..WHY!?!?!?!
BECAUSE – This movie advocates powerfully for some of our modern culture's most vitally important but least present virtues and makes those virtues irresistible to the very demographic audience who most desperately need to witness them.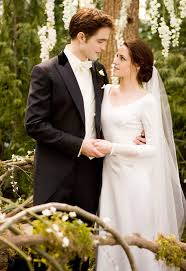 Edward is a 100+ year old vampire in love with the atheistic Bella. (Quick quiz: Edward is played by Robert Pattinson. What other iconic movie series does he appear in?) Edward is in a family of vampires who have sworn to abstain from human blood, led by the beneficent and altruistic father-figure, Carlisle. I could and probably will add Carlisle to the Back to the Father series but that's for another post. Bella is a child of the current age anxious to demonstrate her affections for Edward and not afraid to make those feelings obvious. Edward ——– refuses.
Not only does he refuse but states that:
1. He will not put her IMMORTAL SOUL in danger, especially as he is already worried about his own given that he is now a vampire, and
2. He will give in to her amorous desires ONLY after they are married. It is Bella who drags her feet on matrimony, having watched her distant-cop Dad and hippie free love mother destroy their own marriage through self absorption and cluelessness. But Edward is true to his word all the way (so to speak). And, atypically for a modern movie, nuptials are NOT had until the nuptials are — well performed by a minister at the end of the third book. Yes, dear friends there are FOUR books and FIVE movies!!
Now let's think about what Ms. Meyers has written. Her story involves a vampire. And vampires have been analogous to sexuality since the inception of the idea was made popular by Bram Stoker 118 years ago. Twilight proposes, if a VAMPIRE – who is the very embodiment of lust – can restrain himself for moral reasons for the woman he loves, then Mister-taking-his-girl-out-to-this-movie, so can you. If Edward can keep himself from both Bella's blood and bed, then you, oh mortal boy, no matter how much you may tell your girlfriend you love her, should too. Because NO one can emote more than the Bella-Edward characters about how devoted they are, how much they love each other, how thoroughly they would die for each other than this sappy over the top couple. Furthermore Edward is abstaining for the right reason – for Bella's soul, and he is clear and blunt about this DESPITE Bella's insistence that she does not believe in God.
I can just hear the after movie conversation – "If EDWARD can restrain himself then YOU should be able to, too! Don't you love me as much as Edward loves Bella?" And the more the young man may try to convince his lady friend that he wants to show his affection for her, the more he will be hoisted by his own petard of love. I can't help but chuckle.
The second reason I would advocate for this movie strongly comes in the form of the unbelieving Bella. In the fourth book/movie she discovers, soon after the honeymoon, that she is what everyone thought impossible – she has been made pregnant by Edward.
Edward had promised to make Bella a vampire, against his own better judgment, after they are married. Bella wants to start their honeymoon as a human. So subsequent to the mortal/vampire coupling and before the vampire changing process can begin, Bella finds herself with child. Rushing back to Carlisle, who is a doctor, they are told that a full term pregnancy will be terminal for Bella.
Bella, the atheist, in a welcome about face to her up to now single minded obsession with Edward, decides to die for her baby. And in a surprising but believable character shift, the life respecting Cullen family, so desperate are they to keep Bella alive, try emphatically to convince Bella to abort. Up to now Bella has almost worshipped the Cullens. But not only does Bella successfully fight them on this, she enlists the assistance of the one Cullen who hates her, Rosalie.
Rosalie is a vampire who was turned by Carlisle, in what he thought was an act of mercy, when he found Rosalie left for dead after a brutal attack. While grateful for the rescue she has grieved the loss of her ability to bear children ever since. (Why male vampire have sperm which are alive enough to impregnate women but women vampires do not have living eggs is never explained, but is convenient to the plot, so just go with it.) And she hates Bella because Bella is voluntarily throwing away what Rosalie rightly sees as a blessing. So when Bella asks Rosalie for help to protect the unborn baby, Rosalie is more than willing to stand guard.
Bella alienates ALL the Cullens who love her and welcomed her to ally herself with the one Cullen who would be happy to kill her — all for the sake of her unborn child, whose continued existence is guaranteed to kill her.
You really can't get a more pro-life scenario than that. With that one decision I became rather fond of the up-to-then rather annoying Miss Bella. You can't help but respect a woman readily giving up: the love of her life, the approval of the only real family she has ever had, and her best chance at immortality she believes she has, since she does not believe in an afterlife and the Cullens doubt they will be able to change her to a vampire after the birth of her child in time to save her — well, not life — but continued existence.
As it so happens they do, of course, save Bella, or it would have been a much shorter book, there would have been no fifth movie and the series would not have been NEARLY as popular with the teen crowd as it is.
So —- having created characters and a love story rivaling in the youth popularity pretty much every love story since Gone With the Wind and Love Story combined, Ms. Meyers makes a lust-representing vampire chaste, THEN turns a self-absorbed and atheistic modern female into a self-sacrificing pro-life mom.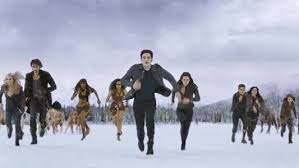 Then I'll go you one better – now this is a big spoiler so be warned. At the end of the series there is a climactic battle between the Cullens and their allies against the Volturi – bad scary vampires who want to take away or kill the Cullen child for her powers. But vampires from all over the world are enlisted to come to the aid of the Cullens. Those coming to fight side by side with the Cullens include: your traditional 1,000 year old vampires who snack on people as a matter of course, other "veggie" vampires who abstain from human blood, and…werewolves. OK they aren't your run of the mill werewolves, but more shapeshifters as they can change at will and are around to PROTECT humans rather than eat them, but these guys DO change INTO wolves.
Now many of the ancillary reasons these disparate groups have for fighting the Volturi include: vendettas against the Volturi, desire for autonomy from the Volturi, respect/affection/old debts owed to the Cullens. But all are drawn primarily under one simple principle: to protect the life of —- a child. An innocent whose one life is properly seen as more important than the dozens of grown ups who have pledged to protect her.
And you wonder why I endorse this series of books/movies? Stephanie Meyers takes virtues we need more desperately in this culture than Bella needs Edward – chastity, protection of the unborn child, and protection of child against the forces of evil – and plants them right into two characters who have fired the imagination of the very demographic part of our culture which needs to hear this the most – the teen and twenties. From a pragmatic view to culture change she has done an enormous good.
God bless you Ms. Meyers. I own and have read every page of all your books and have sat through every single minute of all five movies – it's the least I could do to thank you.
Answer: He was in Harry Potter and the Goblet of Fire as the ill-fated Cedric Diggory.
Photo credits: empireonline.com, amazon.com, fanpop.com, arkansasbride.com, iamnotastalker.com, twilightfanpage.blogspot.com, twilightsaga.wikia.com, dailymail.co.uk, geeksofdoom.com, wordsfueledbylove.com, iTunes.apple.com