Robert Downey, Jr. (Hank Palmer) contends with Robert Duvall (Joseph Palmer) in a head to head son-father contest in The Judge. The story revolves around the contentious relationship between Downey's and Duvall's characters. Hank is a very successful high priced criminal lawyer. Joseph is a renowned small town tough judge. At opening, Joseph Palmer – the Judge – has just suddenly lost his wife to a stroke and Hank comes in for the funeral. The reunion with these two is anything but cordial and the tension between them could have plucked out the high note in Mozart's Queen of the Night aria. Hank makes a hasty post-funeral retreat. But before Hank's plane has left the runway he gets a panicked call from his brother. Joseph has just killed a man with his car. Accident or vengeance? Hank becomes his father's attorney and it's not a pretty situation. BUT – the movie is filled with heart, humor and humanity.
I won't give away any more than I have to but there is a brilliantly written moment in the film I must mention for this piece. During a hurricane quality storm – poetically sympathetic – Hank and Joseph STORM (and I DO intend this quite apt pun) out of the shelter and into the family kitchen to have it out verbally during the height of the maelstrom. During this auditory altercation we find out that Joseph sent Hank to reform school. Downey's youthful history included drinking, drugs, and almost killing his brother in a car crash. The script (thanks to Quotes from us.imdb.com) speaks for itself (though I have taken the liberty of asterisking the rather colorful adjectives and invectives):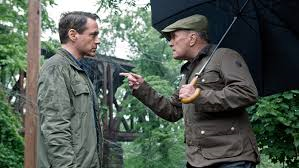 Judge Joseph Palmer: Is that all you wanted, Henry, was a kind word? An 'atta boy? Then to use your words, you should have come the ***** home! We all waited, quietly, but you never came. Okay? And I was the one she'd <the mom> blame, because you wouldn't come home. Me. Now, was I tough on you? Yes. How'd you turn out, Henry? Waiting tables? A bum?
Hank Palmer: You put me in Juvenile Detention… you sent me to ******* Vanderburgh!
Judge Joseph Palmer: [Interrupting] No, no, no, no, no, you put yourself there.
Hank Palmer: Did I?
Judge Joseph Palmer: Yes.
Hank Palmer: The prosecutor recommended community service. That was your call!
Judge Joseph Palmer: No, no, no, it wouldn't have helped you!
Hank Palmer: I didn't need help, I needed you!
Judge Joseph Palmer: You were high, you rolled a car with your brother in it! He had a major league career ahead of him, a 90 mile-an-hour fast ball, and he runs a turnip shop! You crippled him, you stole his future, and you call me an *****?
Hank Palmer: What do you want from me? I was 17 when that happened. I was 17.
Judge Joseph Palmer: Oooh, "I was 13, I was 17." You were headed down the wrong path! I did what I thought was right.
Hank Palmer: [Holding back tears] You know, I didn't just graduate from law school, I graduated first in my class… I was first in my class… I did really well, dad.
Judge Joseph Palmer: You're welcome.
Hank "blames" his father for sending him to reform school as a youth. Instead Joseph – the Dad – KNOWS that when Hank was a youth that he, as Hank's father, had to make that hard choice and apply some extremely tough love. Even as an adult Hank didn't understand. What they did not bring up in the conversation was that Hank was now also a father, so this lesson is a difficult one to face. What Joseph did was absolutely critical to Hank. But it was also something your average mom is just not hard wired to do. I doubt my own ability to have the fortitude to do this and I have personally witnessed mothers who were similarly not equipped to make that kind of terrible, terrible but essential decision. That is what a good father does. He is the bad guy who must make the gut wrenching RIGHT decisions for which everyone will blame him later, but from which he can only pray his child will learn.
Next Up – The Blacklist – Even Girl Scouts Get Lost Without a Moral Compass
Photo credits in order: filmenow.com, screenrant.com, nytimes.com, standard.co.uk
This Post Has Been Viewed 80 Times