SHORT TAKE:
Modern day fairytale comedy about the upheaval resulting from a magic lamp at a Senior's assisted living apartment complex. On stage by the Impromptu Players at the Wooten (aka The Impromptu) Theater in DeRidder through March 14, 2020.
WHO SHOULD GO:
Aside from a few mild tongue-in-cheek references to … elderly intimacy, anyone can go. There's no bad language, no disrespect to God or country, no inappropriate behavior and just a tiny amount of slapstick violence.
LONG TAKE:
Fantasy adventure heroics are usually the purview of the young. Barbara Pease Weber's plays fly in the face of that cliche. Weber writes for those whose lifetime of experiences provide a more mature perspective on these familiar stories. Plays like Weber's: Foolish Fishgirls and the Pearl, and The Witch in Apartment 204 (sequel to Senior of the Sahara) tackle supernatural characters from the point of view of the seasoned citizen. Sahara does the same.
In Seniors of the Sahara, Sylvia Goldberg and her friends, residents of an assisted living complex,
must deal with the fallout from Sylvia's unknowing purchase of the classic Genie's Lamp and the nefarious character, Savalass, who has followed her trail to get it back at all costs. Sylvia ultimately must decide whether to re-embrace a full life with all of the dangers and pitfalls inherent therein, or stay inside her safe and routine, socially expected, dowager bubble of normalcy.
The refurbished West Brothers Building re-opened as the Wooten Theater in 2004 – a culmination of thousands of volunteer hours over two years and a $250,000 loan paid off with a challenge grant orchestrated by John Wooten in memory of his parents.
Clever use is made of Wooten's intimate stage by director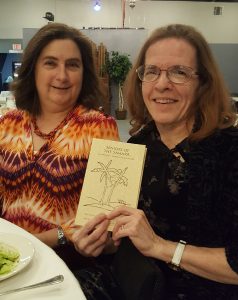 Maria Sanchez, her assistant Lille Robertson and producer Anna Wiggins. Blackouts instead of curtains allow for more room to expand on their two detailed sets, which were designed by Guy Bordelon and aided by Ken Harlow's lighting and sound.
The cast have the easy camaraderie of friends whose shared experiences make them willing to tackle everything from burglars to romantic setups together. The chemistry amongst the quartet of matrons is natural and funny. Shirley Houin, as Sylvia, must face the brunt of the humorous hazards.
Linda Bottoms makes her stage debut as Mabel Millstein, busybody and self-appointed yenta. Neda Robertson is Fannie Green, adventurous widow with more than a little hoolah left in her hips. And Denise Robertson is Thelma Wachter, the egger-on-er and only married member of the group who is the proverbial mouse who wants to play while her cat is away.
Katrina Houser does double duty as Herman, Mabel's cousin, who likes Sylvia but will settle for anything in skirts, as well as a peddler in the opening scene. Mario Carrillo is the wicked Middle Eastern previous owner of the lamp, Savalass, who will do anything to get it back. And Tommy Lang imbues Eugene, the geriatric genie, with the adorable personality of a sangfroid spirit.
My husband and I went to one of the dinner theater gala performances. Along with the performance, the dinner was delicious and served by the most charming teens whose volunteer efforts were to encourage tips which would go to fund their Youth Theater Summer Camp.
It was hard to tell who had the most fun – the amused audience, the vivacious volunteers, or the energized entertainers.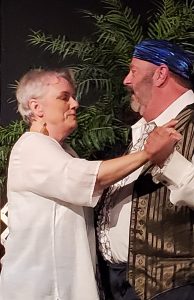 Seniors of the Sahara is a good reminder that you're never too old to step out of your comfort zone for a new adventure. While all is played for laughs, there is great wisdom snuck inside the wisecracks and peculiar circumstances in which Sylvia and her friends find themselves.
So step outside of YOUR comfort zone if you have to – and go get your tickets QUICKLY as the show only runs through March 14, 2020 with, as of March 7, 2020, only one more dinner performance:
Please call (337) 462-2751 to make your reservations TODAY.