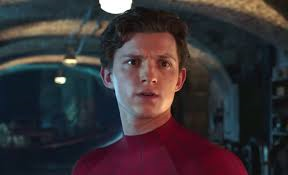 AUDIO PODCAST OPTION OF SPIDER-MAN: FAR FROM HOME REVIEW
SHORT TAKE:
Terrific newest contribution to the Marvel cinematic Universe, FFH is supposedly the last movie of Phase III which began in 2008 with Ironman. It is also the third of, hopefully, many more Marvel-version Spider-Man movies, its quality credited as much to the perpetually youthful and delightfully appealing Tom Holland version of Peter Parker as it is to the clever writing, great music and amazing special effects.
WHO SHOULD GO:
With some cautions, pretty much anyone. But be advised, while the story is clean and the romances innocently portrayed, there is a bit of language, and the violence, while cartoonish, is often intense and could frighten very young children.
LONG TAKE:
What if super powers and access to billions of dollars of tech were given to a kid – a really great and very intelligent kid who was humble and wanted to do the right thing but still was – a kid. You'd have Spider-Man: Far From Home. Spider-Man: FFH is one of the best coming of age stories I've ever seen – coming of age, as in a youth being faced with circumstances that allow or force him to step from the safe confines of childhood out into the deeper, more treacherous waters of adulthood.
Although the movie stands firmly on its own, the more Marvel genre films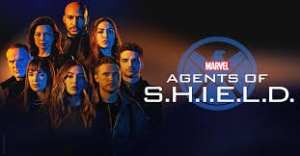 (including TV's Agents of Shield) since 2008's Ironman, with which you are familiar and the more you know about Marvel, the more you will enjoy Spider-Man: FFH.  Visual, verbal and circumstantial homages to that larger universe abound.
SPOILERS FOR FFH AND OTHER MARVEL MOVIES (mostly referential but I don't want to ruin anything for anyone – so be warned)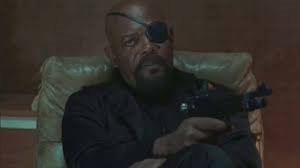 Spider-Man: Far From Home burst forth with a crisis for which Nick Fury wishes to recruit Peter Parker.  Now while in our modern culture it may seem unreasonable to ask a 16 year old teenager to step up in the way Fury wishes, keep in mind that there is abundant precedent for this in our own human history. Henry II, father of Richard the Lion Heart was forced, by the untimely death of his father Geoffrey of Anjou, to lead his troops against competitor armies for the possession of England and a big chunk of what we now consider France, when he was only 17. (P.S. Henry won). However, regardless of what the inimitable Mr. Fury demands, Peter doesn't want anything to interfere with his school European trip and planned courting of the aloof M.J. – not even the potential end of the world.
Along with this humorous and all too human motivation of the main character, which is one of the wings that propels this story, FFH has a smart underlying theme cautioning objectivity to media – a very "meta" concept given the massive green screens used by the film makers in EVERY Marvel movie.
Tom Holland is again, and still, wonderful as the absolute best and perfect Spider-Man – all youthful confident enthusiasm but with an irresistibly humorous boyish naivete.
Zendaya (Greatest Showman) portrays her own unique "Goth" brand M.J. without becoming annoying.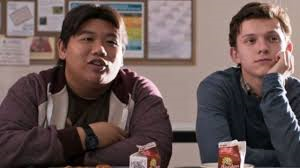 The adorable Jake Batalon returns as Peter's best friend Ned.
Jon Favreau reprises his role as Happy Hogan, providing the much needed father figure Peter lost in Endgame.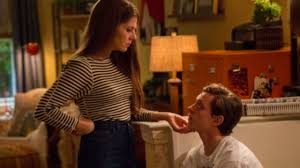 Marisa Tomei is great as Peter's youthful Aunt May (who says Aunt May has to be old, gray and grandmotherly!!).
Jake Gyllenhaal plays Mysterio/Quentin Beck, the unknown factor in the plot. And there are a few cameos I would hate to ruin by divulging here but suffice to say they are well placed and fun.
The movie opens with the bang you would expect from any Marvel movie, touches briefly and with some amusement on the practical effects of the "blip" which "undusted" everyone from the end of Infinity War, then carries the audience on the crest of the story wave through to the end,
leaving clever bread crumbs along the way, and beyond to all THREE end credit scenes (guess they were making up from not having a proper end credit Easter Egg after Endgame).
And, again, leave it to Marvel to have the perfect blend of story character arc,
humor, and tension all placed against a complex backstory which fits with all the other movies like one of the overlays which made up the secret blueprints Tony cobbled together clandestinely in the cave where he had been held hostage in the first Ironman movie.
The colors are bright and vibrant, as they should be for a movie based on a comic book. The story is clean and wholesome,
the romances gentle and age appropriately innocent, but the dialogue does contain a small handful of words you would not want younger children repeating.
The violence is cartoonish but can be very intense. However, if they can handle any of the previous Marvel movies released since 2008 they can handle this one.
The music by Michael Giacchino is, at turns, bright and lively, romantic and lyrical, and tense and suspenseful, but always maintaining that Marvel hero-flavor.
Spider-Man: FFH works on multi-levels – as a classically formula-ed Marvel action adventure,
as a cautionary talent of believing too quickly what you THINK you see because it is in the media, and
as the story of a genuinely good young man on the cusp of becoming an adult who must choose when and how to grow up.
So swing right over at your earliest opportunity to see your friendly neighborhood – Spider-Man: FFH.