AUDIO PODCAST OPTION OF "ODE TO JOY – LOVE STORY WITH A TWIST" REVIEW
SHORT TAKE:
How do you manage a romance if being happy makes you pass out? This is the conundrum with which a cataplexic man struggles when his perfect woman unexpectedly appears.
WHO SHOULD WATCH:
Mature older teens and up for language, comedic miming of sex, and attempts by the main characters to physical intimacy, though there is no nudity or anything graphic.
LONG TAKE:
What do Sherlock, Deadpool, Big Bang Theory, Saturday Night Live and a Bob Fosse docudrama have in common? The best of the supporting cast of each of these film projects in an adorable little rom com, directed by Jason Winer and written by Max Werner and Chris Higgins called Ode to Joy.
A friend of mine has often teased that EVERY movie could be described as "a love story with a twist". But Ode to Joy really is.
SPOILERS
Martin Freeman, (Watson from Sherlock) is Charlie, a man who suffers from a neurologic condition called cataplexy, a condition in which any strong emotion, but for him especially joy and happiness, will cause him to — basically faint. Watching a cute cat video could render him unceremoniously unconscious, and while it may initially seem funny, the movie points out how dangerous, both physically and emotionally, the condition can be for those who actually suffer from this condition.
The script is based upon a radio interview (which you can listen to HERE) with a man named Matt Frerkin, himself a neuroscientist, who discovered he had this condition after becoming unable to move whenever he experiences strong emotion.
So Charlie keeps himself in constant emotional check, leading a quiet life as a librarian — until the girl of his dreams storms in.
Jake Lacy (featured as Gwen Verdon's second string love interest in the mini-series about the life of Bob Fosse and Gwen Verdon, Fosse/Verdon) plays Cooper, his watchful but fun love 'em and leave 'em brother.
Morena Baccarin (Deadpool's fiancee) is Francesca, the woman who breaks into Charlie's well encapsulated life.
Melissa Rauch (the loud but loveable Bernadette from The Big Bang Theory) is Bethany, a mousy eccentric woman, who rounds out the quartet.
Jane Curtain (an SNL charter member) is Francesca's Aunt Sylvia, who is full of life despite her terminal illness.
There's more than meets the eye to this un petite affaire de coeur.
At one point Charlie yells at his brother, plaintively wondering if he understands what it is like to live every day afraid of making a fool of yourself. The answer is, of course, yes. Everyone does. We all have our burdens to bear. And when anyone falls in love, as Charlie has, they expose themselves to the ultimate vulnerabilities.   It doesn't take cataplexy to make you aware of the potential hurt and humiliation, rejection and risk of falling – in Charlie's case literally – head over heels. Charlie's cataplexy is merely an extreme physical manifestation of the chance we all take with that bold step out to admit we love.
What can leave us more exposed than being unconscious, especially unbidden and unexpectedly? And that is a perfect analogy for the leap you must take in a commitment. You lay your life, your heart and your unconditional willingness to accept rejection out on the floor, undefended to whatever might happen beyond your control. God, Himself, takes that risk with every human's Free Will when He offers us Grace and unconditional Divine Love. Though there are consequences to turning our back on this Love, God never ceases to offer that Love. And ultimately this is what Charlie realizes he must do to pursue the good of another – genuine Love, Love without a sense of entitlement, what Plato would call philia born of eros, or a Catholic might call Charity – in order to find true — Joy.
There are scenes in which Charlie experiences true Joy, but is not "Happy" in the emotionally excited way which most of us think of as "happy" or which would trigger his cataplexy. Charlie, during these scenes, is noticeably joyful, pointed out by the other characters, even while we the audience members know he is sad, as Charlie attempts to bring Joy into the life of someone else even at his own expense.
He unwittingly discovers what is true Love, even though neither his friends or even Charlie really understands this.
As for Francesca, she is a woman who prefers to set herself up for romantic failure. Having lost her mother to hereditary breast cancer and on the verge of losing her beloved Aunt to the same disease, she tends to keep things superficial, moving frequently and choosing shallow men uninterested in a permanent relationship.
But Francesca too instinctively knows true Love and Joy as, though sad, she Joyfully visits and helps her Aunt, who she describes as her best friend. And counseled by her open-hearted, Bucket List accomplishing Aunt Sylvia, Francesca also wrestles with the idea of what it means to Love and commit.
It occurred to me that the characters were what an adult version of Inside Out might look like from the mind of someone "in love" who matures from adolescent infatuation to true altruistic Love.
From Francesca's often unfettered enthusiasm and Cooper's libido, to Bethany's confused obliviousness, Charlie's hyper-awareness of his vulnerabilities, and finally the wisdom of Aunt Sylvia who, more than most, understands the ephemeral preciousness of life and the importance of altruistic Love, they rotate about each other examining the question of the importance of living well and FOR someone you love – even if you have to risk pain and loss.
The music by Jeremy Turner is simple, the cinematography by David Robert Jones uncomplicated, but the story is neither. Although Ode to Joy is in that familiar niche of quirky romantic comedies with some unique obstacle to the main couple's happiness, Ode to Joy is also an intelligent and clever story which surprises, offering quite a bit to think about.
The language is occasionally adult with completely unnecessary profanity. And  two unmarried couples try to go to bed together, though no nudity and ultimately, and wisely, nothing happens because of — comic reasons.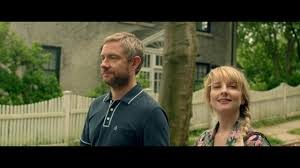 My only real complaint about the movie is it leaves the outcome of one of the characters unresolved and unaddressed, especially frustrating as that character was unfairly treated and earned a conclusion.
But overall Ode to Joy was – a joy to watch. So if you have a rainy afternoon to spend with someone you love, you could do worse than spend it watching and talking about this lovely little film with the big heart that is an Ode to Joy.