SHORT TAKE:
A biographical look at the final reunion tour of Stan Laurel and Oliver Hardy.
WHO SHOULD GO:
This is family friendly – anyone can watch who is interested in Laurel and Hardy or even just a behind the scenes look at a theatrical legend.
LONG TAKE:
Stan and Ollie is about an arranged marriage that goes well for quite some time until a betrayal derails the relationship for fully 16 years. The marriage to which I refer is the professional relationship between the two geniuses of comedy Stan Laurel and Oliver Hardy.
Starting at the turn of the century in vaudeville they knew more about how to make their audiences laugh than anyone in the business except perhaps the Marx Brothers. Their mismatched, on-screen combination of slapstick, malapropisms and good-natured hostilities set the format for bromance comedies for decades and generations to come.
Linked together by Hal Roach while independently under contract to his studio, they made hundreds of movies and shorts together over decades. The riff comes when the stronger willed Laurel fights the studio machine to get better terms for the team but Hardy does not have the courage to back him up. Though they continued to work together after the dust up there remains bitter baggage and a distance in their friendship. The arc of the movie picks up almost two decades later as their careers are waning and they embark on a European tour in hopes of rejuvenating their box office appeal as they wait anxiously for word from a producer on financing for a Robin Hood parody they are writing.
In the movies, Hardy  played the blustering bully to Laurel's shy sometimes weepy and conciliatory foil. However, contrary to their screen personas, Hardy was actually a meek and anxious-to-please gambling addict, while Laurel was the engine of the duo: ambitiously creative, insightful, and the lead writer.
The production values and rhythm of Stan and Ollie is a bit like a TV movie-of-the-week but the acting is excellent. Reilly and Coogan, respectively, get everything from accents to body language and singular physical quirks right as Misters Hardy and Laurel, both in their on and off screen personalities – which, admittedly, seemed to blur even for the real people involved.
My dad, who was 40 years older than I was, loved Laurel and Hardy, having seen the original shorts in the movie theaters when they first came out. There were many a late TV night spent listening for the signature tune of Marvin Hatley's "Dance of the Cuckoos" preceeding the
ludicrous antics and long drawn-out sight gags which always had my father in stitches. Truth be told, with a few exceptions, I found their humor a bit dry and dated but loved watching my Dad enjoy them even more than I enjoyed watching the duo's formulaic comic gags. As a result I can be pretty objective.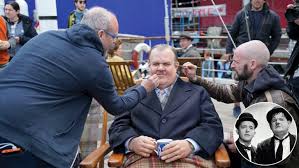 And the evocations by John C. Reilly (Chicago and the voice of Wreck-it Ralph) and Steve Coogan, respectively, as Oliver Hardy and Stan Laurel are spot on.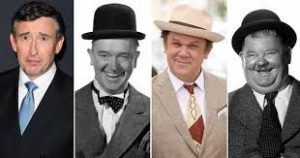 It's fascinating to watch their portrayal of the real men who could and would kindly switch their alter egos on for even the most transient and spontaneous audiences – at parties, for checking hotel clerks, at bars, at the race track, and for passing fans.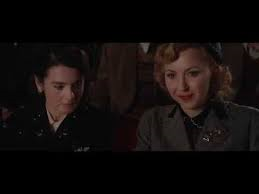 Shirley Henderson, most famously known as Moaning Myrtle from the Harry Potter series, sweetly plays the furrowed brow
Mrs. Hardy, who fusses after "Babe," as Hardy was known to his loved ones, like a mother hen.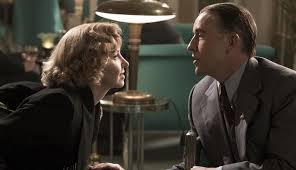 Nina Arianda, though born and raised in New York, taps into her Ukranian heritage for her  Russian-accented portrayal of the tough but staunchly devoted Mrs. Laurel.
And Rufus Jones plays Delfont, their manager during this, their last hurrah.
It's a compelling story and I only wish they had presented the beginnings of these famous icons of comedy from their first meeting, much as Yankee Doodle Dandy followed the relationship of George M Cohan with his partner Sam Harris from first handshake to retirement.
Much like looking behind the magician's curtain, while there is a sadness to be disabused of the mystery as well as a satisfaction of curiosity to see where the "magic" comes from,
in exchange there is also the endearingness of intimacy which comes from a deeper understanding of the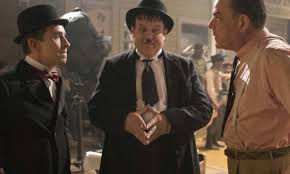 motives and methods of the men when we take — a peek behind the smiles. Find Stan and Ollie on Amazon.com.