AUDIO PODCAST OPTION OF AQUAMAN REVIEW
SHORT TAKE:
Super cool and buff version of Aquaman/Arthur Curry who must challenge his bellicose brother Orm for the underwater Kingdom of Atlantis to prevent a war with the human race.
WHO SHOULD GO:
Mid-teens and up for some language, a great deal of cartoon violence which might be scary for younger children, the topic of adultery and a LOT of cleavage.
LONG TAKE:
When I was growing up, Aquaman was arguably the lamest
superhero on the block. Justice League re-presented Jason Momoa (the ill-fated Khal Drogo in Game of Thrones) 
  as a long haired hard-drinking
rockstar/biker-dude Aquaman and it WORKED! This watery super hero has all the battle finesse of the Hulk and the smart aleck attitude of Rocket from Guardians of the Galaxy. He was fun to watch and the highlight (with Gal Gadot's long cameo as Wonder Woman) of the otherwise fairly anemic Justice League movie. This new installment to the struggling D.C. Universe reestablishes Aquaman's origin as a comic book hero.
The
bright vibrant colors, a complex but nonsensical plot,
the ooh aah largely unexplained but visually exciting weaponry and pseudo technology, the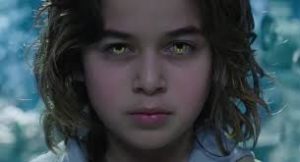 characters with semi-magical abilities, the scene-chewing hammy handed acting from even the likes of
 an over-breathy Nicole Kidman, and the posturing dialogue all underscore the comic book source material.
The story begins as Queen Atlanna (Kidman) of Atlantis flees an unwanted arranged marriage with a king we never meet.
Wounded but still pretty battle-feisty she washes up on the shore of a lighthouse keeper, Tom Curry, 
(Temuera Morrison) with whom she falls in love. Several years later, she has born Tom a son,
who they name Arthur, purportedly after the hurricane raging about them at the time, (foreboding anyone?) but obviously as a nod to Camelot, one of the many derivative references used to cobble together the script. Atlanna is soon forced, for the sake of her baby and his father, to return to Atlantis.
The Once and Future King Arthur, (of the ocean not Camelot), is trained periodically by visits from Vulko
(Willem Dafoe).
Fast forward to Arthur's Biblical 33rd year and a war is set to break out between the about-to-be-blindsided human race and Queen Atlanna's younger and legitimate son, Prince Orm
(Patrick Wilson, mostly known for supernatural scariest like The Conjuring and Insidious series), who blames his mother for having brought shame to their family by bearing a half-breed bastard with a human. Orm strives to bring Unity to the nine Realms of Asgard, I mean the Seven Kingdoms under the ocean. He also wants revenge on the human race for the human waste dumped into the ocean. (Can anyone say Captain Planet?) No mention is made, of course as to: how the Atlantians and their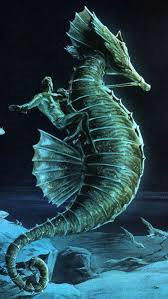 hordes of sea critters handle their bathroom issues any differently, the fact that the dumpage is biodegradable, that the ocean is incredibly vast, Atlantis is pretty darn far from any coastal areas, and the other six realms don't really seem to have any bone to pick with the human race. Sounds like Orm simply has mommy issues and brother envy to me.
Princess Mera, (Amber Heard, mostly eye-candy in previous films such as The Playboy Club and Magic Mike XXL) the daughter of King Nereus
(Dolph Lundgren, as the rough tough guys in Rocky IV, Creed II and The Expendables franchise – keep in mind this man has a chemical engineering degree!), seeks Arthur out to stop the war by encouraging Arthur, the eldest son, to take his place as the rightful King. Arthur is reluctant as he aligns himself with humans and seems sure Atlantis is a nice place to visit but doesn't want to live there. He is also mad about the fate of his mom … but I won't give any spoilers here.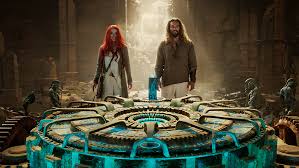 Mera and Arthur set out to find a special Excalibur-like Trident whose power is so strong it will not only defeat baby brother Orm, but bring all the realms together in a peaceful coalition. The rest of the movie is taken up with so many quests, including: duels, long treks through wastelands,
battles with armies of inhuman monsters, underwater labryinths, and lessons in humiility, that Hercules' patience would have been put to the test.
The whole thing is a big, bloated, but ultimately fun hoot. I can see why it was a huge hit in China.
A lot of time is spent in meaningful stares, 
posturing in action figure stances, and dramatic appearances. There were times when the stilted language,
bright colors and poised settings made it easy to envision the comic strip frames each scene could have been inspired by.
There's no hanky-panky, although Atlanna lives with Arthur's father out of wedlock, eschewing her obligations and fiancé. Arthur, in turn, spends most of the movie having
"managed to get his shirt off" (thank you Galaxy Quest). There are a handful of minor profanities, which parents of minor children might not want repeated, and topics of war, adultery, and murder which parents might deem inappropriate for younger children. So, honestly, not much worse than your average Grimm's fairy tale.
The CGI in the early scenes with Nicole Kidman and Temuera Morrison is pretty creepy. While not Tron: Legacy-level disturbing nor Henry Cavil's Justice League Superman-mustache ridiculous, it's distractingly noticeable. And CGI Willem Dafoe, in the training scenes, looks cut directly from a high-quality video game.
The music is darker and more ominous than it should be for a kids' superhero movie, but then the topics of adultery, murder, treachery, betrayal, and incitement of global warfare are all pretty dark topics as well.
The character of Arthur / Aquaman is the highlight of the show, with his genial, protective giant personality, who rarely takes anyting completely seriously.
With the size of Drax, the impulsive nature of Peter Quill, the fighting skills of Gamora, and the snarky attitude of Rocket, his D.C. hero is almost the entire Marvel Guardians of the Galaxy crew in one.
The bright vibrant colors in almost every scene clues you, right away, that we are here for a comic-book good time. And, ultimately, what do you want? As I have admonished before in other blogs about similarly themed movies: this is not Hamlet, or Chekov. It's a superhero movie. Enjoy.
This Post Has Been Viewed 127 Times