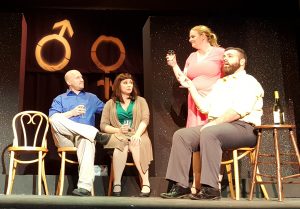 SHORT TAKE:
I Love You, You're Perfect, Now Change is a very very funny musical comedy revue about dating, marriage, men, women and relationships.
WHO SHOULD GO:
For adults in general and married couples in particular. Might be an awkward first date but is positively a MUST SEE for married couples.
AND IF YOU LIKE THESE REVIEWS PLEASE SUBSCRIBE! THEN YOU'LL GET EVERY NEW REVIEW SENT STRAIGHT TO YOUR E-MAIL!!
GO TO THE BOTTOM OF THE LEFT HAND SIDE AND TYPE YOUR E-MAIL IN – IT (SHOULD BE) THAT EASY. ANY PROBLEMS PLEASE SEND ME A COMMENT AND I'LL DO MY BEST TO RESOLVE YOUR ISSUE.
LONG TAKE: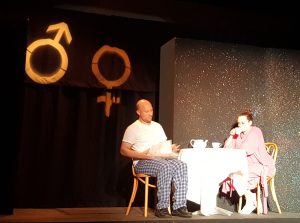 I Love You, You're Perfect, Now Change is the latest play showing at ACTS Theatre from August 3 through 12 at 7:30pm, and Sunday matinees at 3:00pm. I was privileged to get permission to attend the dress rehearsal and must say it was some of the most fun I have ever had in the theater!
A musical comedy revue of twenty skits with over 40 characters and costume changes, are played by four very gifted actors. Clay and Markie Hebert, Kelly Rowland and Casey Doucet make up the intrepid quartet who sing and act up a storm of laughs and a few bittersweet tears.
They all have AMAZING and powerhouse voices with NO INDIVIDUAL MICROPHONES! They sure don't need them. I would have sat for 90 minutes and enjoyed listening to them sing random songs out of any Broadway collection but each of the diverse vignettes is fitted with a catchy song crafted specifically for the tone of the short story it tells sung by its own unique characters. The wide story range stretches from poignant to snarky to slapstick to tender and all will make you smile as they lead you, not only from the beginning of relationships through their maturities, but guide you through every possible emotion a romantic might have.
Clay Hebert does double duty as director, aided by his assistant
Ashley Mayeux. Clay was most recently in Godspell. Markie Hebert was the female lead in Dirty Rotten Scoundrels. Casey Doucet just won an ACTA for his Shrek in the play of the same name. Kelly Rowland is a powerful mezzo-soprano with a flare for comic timing. There is a fifth member of the troupe who is not seen but heard.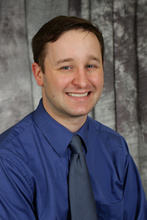 Andrew Steiner delights the audience with live piano accompaniment, expertly blending these four strong voices.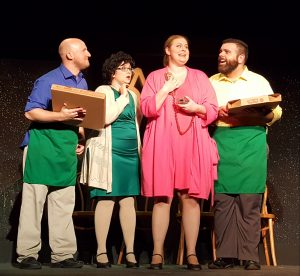 This is a hilarious send up on the loneliness and difficulties of dating, the challenges of marriage, the tragedy of divorce, and the optimism that it is never too late to find love. With twenty musical vignettes presented for your approval, there is something for everyone involved in the marriage adventure.
Kelly Rowland and
Casey Doucet portray an ecclectic collection of characters who are, at turns: hilariously ridiculous, heartwrenching, and adorable.
Clay and Markie Hebert also have a wide variety of personalities to perform, but the scenes where Clay and Markie play man and wife are especially charming as they are married in real life with three little boys. So, for them, this play isn't an observation but a strange kind of out-of-body experience, as they humorously have an opportunity to re-emerse themselves in the excitement, pratfalls, heartbreak, frustrations, and soul fulfilling contentment that highlights the different stages of dating, and varied relationships, with the hope of culminating in the lifetime marital committment.
Make your plans quickly as you'll likely want to see this gem more than once and it only runs through August 12. Get your tickets at ACTS THEATRE
This Post Has Been Viewed 156 Times