SHORT TAKE:
Lively, charming, upbeat, family friendly musical comedy based loosely on the departure of Elvis for the Army draft at the height of his popularity.
WHO SHOULD GO:
Anyone and everyone can and should attend this fun 1960's retro musical.
OPENING LAKE CHARLES LITTLE THEATRE THROUGH APRIL 28, 2019 – BUY TICKETS HERE.
LONG TAKE:
1958. And at the height of the career of one of America's most famous singing icons, during the age of the mandatory military service – he was drafted. Elvis' fans about lost their collective minds. His manager of questionable ethics, "Colonel" Tom Parker, turned down multiple offers by multiple branches to have Mr. Presley assigned to cush duty in the entertainment special services. Not only did he not want his prize cash cow to sully his reputation as a "celebrity wimp out," but more importantly, if Elvis had served as an entertainer, the military branches would have had FREE access to those recorded performances in perpetuity. So off to the army, as a regular Joe, Elvis went, where he served honorably and with some distinction, rising to the rank of Sergeant and qualifying as an expert marksman upon his discharge.
In 1960, a parody musical based loosely upon the personalities, if not the exact details, of Presley's historic departure for boot camp and active duty opened on Broadway.
The story is of a financially desperate mama's boy, Albert,  about to lose his first big singing client, Conrad Birdie, to the draft. He and his emotionally desperate girlfriend, Rose, who he has strung along for eight years, hatch a plot to turn chicken feathers into chicken salad by turning Conrad's departure into a publicity stunt.
They choose one of the thousands of rabidly fanatic members of Birdie's fan clubs, Kim MacAfee of small town Sweet Apple, Ohio, at random for him to bestow a last pre-induction kiss on national television.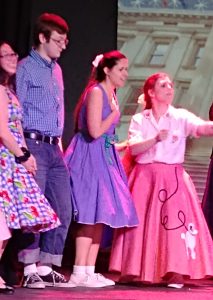 The insanely anticipated event turns Kim, her jealous boyfriend Hugo,
her straight-laced overwhelmed parents, Doris and Harry, all the other fan members, and her town of Sweet Apple, not to mention the nation, on their respective ears.
And so the stage is – literally – set for the hilarious nostalgic musical comedy, Bye Bye Birdie, playing at Lake Charles Little Theatre  (from April 13 through April 28, 2019 – shows start at 7:30 with Sunday matinees starting at 2 pm).
Directed by stage veteran Randy Partin, the set is simple with scene changes accomplished with moved furniture, sign changes and backlit photos.
This is to keep the focus on and leave ample room for the joyous and energetic song and dance filled plot,  choreographed by Karly Marcantel.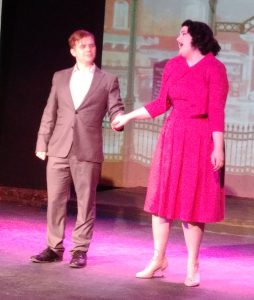 Albert is played with Phil Silvers-like restrained comedic panic by Cameron Scallan, singing and dancing such universally known tunes as "Put on a Happy Face" with Dick Van Dyke (who played this role both on stage and in the movie) style.
Rose is Taylor Novak as the put upon brains and backbone of the company as she belts out boisterous numbers like the catchy "Spanish Rose".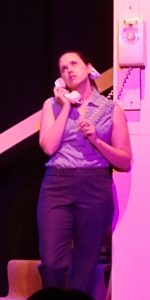 Heather Foreman finds just the right comedic balance in the contradictions of the wide-eyed, naïve and budding Kim, with clear and innocent conviction, as she beautifully serenades the audience with songs like "How Lovely to be a Woman" while donning Tom-boy duds, singing "One Boy" to Hugo while swooning over Conrad, and "What Did I Ever See in Him?"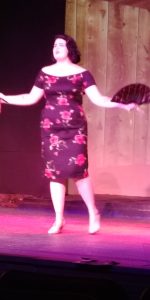 These leads belt out sometimes
challenging tune and patter lyrics
with infectious enthusiasm.
The main supporting characters are Ashley Dickerson as interfering pushy mother Mae;
Jordan Gribble,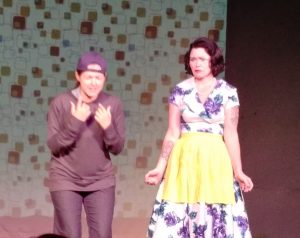 Amber Netherland and Cole Becton as Kim's family;
Antonio Dre as Conrad, and Wiliam Stanfield as Hugo.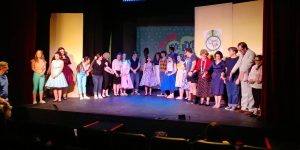 There is a large cast and an ensemble of players who make up the groupies, bar patrons, parents, community members, news reporters and sundry other denizens of this funny and musical retro story.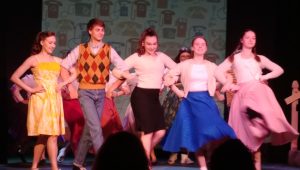 The styles are poodle skirts and pompadour hair. The songs are clever and catchy. All the performers sing and dance their hearts out for this tongue-in-cheek romp.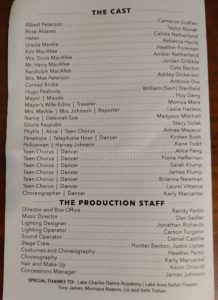 So for some clean, musical retro fun – go see Bye Bye Birdie before this wonderful play says "Bye Bye" to Lake Charles.