Every daughter, some day, has to face the fact that her father – her hero, her protector, her guide through life, her knight in shining armor, her story teller and provider – is human. The Glass Castle is an incredibly beautiful parable of a child's arc from hero worship through reality check to genuine appreciation of the good man and father he has been their whole life. Jeanette Walls lived this parable – albeit an extreme version – and tells about it in her autobiographical novel turned film.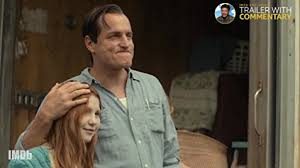 Her father, Rex Walls is very intelligent, fiercely loyal and protective, devoted husband and father. Doting, creative, skilled, anxious to spend and share every moment of his life with his children. Unfortunately he is also an irresponsible alcoholic whose drinking loses him job after job, forcing his family to live a nomadic life in a series of decreasingly appropriate homes.
Rex is a class tragic hero – a noble man with one serious flaw which brings down himself and everyone around him. His wife has either personality or mental issues as she blithely spends all her free time and attention painting while her children go without food for days.
The four children, as a result, essentially raise each other.
The movie is seen through the eyes of the second oldest daughter, Jeannette. When we first meet her, she is a successful and wealthy journalist who finds that circumstances, and her parents decision to follow her to New York, forces reminiscences of her childhood and teenaged years to the surface. Her and her siblings' life experiences growing up ranged from magical to tragical as Rex spun yarns of plans we know he will never fulfill but which his children believe in wholeheartedly — for a while.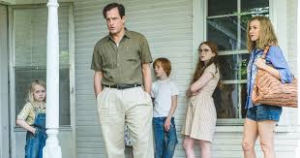 The tragedy emerges with the slow realization by Jeannette, his favorite child, that Rex lives his entire life as a could've-been. The title Glass Castle comes from the enduring myth Rex creates of building a home made of glass through which they can always see the outdoors and, most importantly, the stars at night.
He talks of and draws working blueprints on and off for decades but never actually completes any significant steps towards accomplishing this goal. Sadly, Rex was gifted, trained, creative and intelligent enough to probably really build it had he been able to stop drinking. But, despite one several month period of abstinence, drinks himself towards death – the death of himself as well as his dreams.
The Glass Castle has brilliant visual as well as interpersonal metaphors. For example, the site of their planned "castle" home is, piece by piece, eventually neglected, forgotten and finally made into the family garbage dump. The image of a glass castle itself is a brilliant analogy for the preposterousness of Rex' lifetime plans, the transparency with which Jeanette bares her honest and self aware soul and family warts and all to her audience, the concept – unspoken – of the emperor's new clothes which are nothing more than fabrications made of spun words which a trusted child will eventually expose, and finally the fantastic dream which Rex had for his children of a magical childhood which he would never provide.
Harrelson is positively amazing in this role which could have gone wrong so many ways: too much and he would have been a jester to be ridiculed. Too little and he would have just been pathetic and contemptuous. But Harrelson at once conjures a character who is adorable, somewhat frightening, occasionally cruel, the ideal father, and a parental nightmare – all together and sometimes all in the same moment. Harrelson's performance would have deserved an Oscar – if the Oscars were the legitimate award they once were and not the politically correct token they have become.
Brie Larson does a heartbreaking job of portraying the grown Jeanette Walls – forced to put up emotional walls (Jeanette's last name a GIFT of verbal analogy with which she was born) and
Naomi Watts is solid as the selfish self-indulgent facilitator mother who has mental and emotional issues of her own.
But serious kudos also belong to Ella Anderson who plays the young Jeanette who travels from adoring believer in all of Rex' plans and the last to lose faith in him to the disillusioned angry young woman who unites her siblings in a contract to escape from the deteriorating reality of their parents' lives.
While there's nothing more zealous than a convert, as MY father used to say, there's nothing more vengeful than a betrayed devotee. And the young Ella lays the groundwork for the character of Jeannette with which Brie Larson follows through and the baton passing from Ella to Brie is a masterful and convincing accomplishment.
But for all of the depressing moments in this sometimes difficult to watch film, there is an underlying foundation of optimism and a deep abiding love between Jeanette and Rex which can not help but break through like sunlight dappling through fall colored leaves. Rex' betrayals of her trust is the source of Jeannette's biggest disappointments but his unconditional uncompromising love and belief in her is the wellspring of her strength. Go see The Glass Castle – a tragic love story between a father and daughter ………….. then go hug your Dad.
This Post Has Been Viewed 435 Times