SHORT TAKE: Clooney's failed attempt to walk in the shoes of the Coen brothers, Suburbicon is supposed to be a noir comedy in the line of Fargo but sinks under the heavy handed weight of Clooney's attempt to be socially relevant.
LONG TAKE: Years ago the Coen brothers wrote a darkly comic script about a quiet average suburban family who descends slowly and inexorably into evil and ultimately madness beginning with one bad decision. That script lay fallow until George Clooney – alumni of multiple Coen films, including two of my favorites –
Hail, Caeser! and
O Brother, Where Art Thou? – decided to film it.
BEYOND HERE BE SPOILERS:
The premise of the main story deals with the disintegration of a family subsequent to a robbery which results in the death of the paraplegic mom, Rose (Julianna Moore). As the story unfolds, like the gradual rotting of a supporting beam to a house, the unnatural complacency of the husband, Gardner Lodge (Matt Damon) during the break in, the displays of grief amongst his friends and family that he obviously does not share, the quick injection of the twin sister Margaret (also Julianna Moore) into the mother's place all begin to develop the smell of what Big Daddy from Tennessee William's Cat on a Hot Tin Roof might have referred to as "mendacity".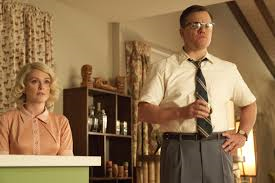 That is – the husband and the deceased wife's sister are lying and definitely up to no good. Much of this growing tragedy is seen through the eyes of their 12 year old boy Nicky (Noah Jupe).
What struck me about the machinations of Gardner was the "Banality of Evil" – a phrase coined by Hannah Arendt – the ease with which otherwise ordinary decent men can be lured into committing great evil.
At its best moments, Suburbicon reminded me of the movie Good – starring Viggo "Aragorn" Mortensen and Jason "Lucius Malfoy" Isaacs. Good is about a decent ordinary man named John Halder (Mortensen) who is slowly lured, one simple, poorly chosen decision at a time, into having his mother euthanized, betraying his best friend and family to hideous deaths, and becoming a functionary of the Nazi party, ending in the weight of his guilt pushing him into madness. Good is a tragic tale of the noble man whose flaw of stunning self-interest destroys him and everyone around him. Good is a fascinating movie heartbreakingly told with complexity and depth of purpose. But – at the deliberate risk of being punny – Suburbicon is NOT Good.
There is an especially telling scene in Suburbicon where Lodge calls his son, Nicky, into his office. Nicky, by witness of a number of incriminating events subsequent to his mother's murder, has already inferred his father and aunt's complicity. Aside from the terrible vulnerability a child would feel, he has been betrayed by his father in the most fundamental of ways.
His father has not only failed to protect their family but he has opened the door to permit evil and chaos wreck their will upon their home.
So driven is Lodge by his own mortally self-indulgent passions, that he has tried very little to even pretend sympathy or connection with his son throughout this ordeal. Knowing his son's suspicions Lodge enters the bathroom where Nicky is bathing – metaphorically and physically vulnerable – to cajole then berate Nicky into agreeing that what he knows – he does NOT know. Then in a later scene he lectures his son on his failings, rationalizing the boy's grief and suspicions on being undisciplined and coddled by his dead mother.  Lodge's thinly veiled justifications for his own abominable deeds reek of the casual self justifications offered by the Nazis at Nuremberg.
This is as dark a story as one might tell and in the hands of the Coen brothers who directed equally dark themed topics like Fargo through the medium of humor they become multilayered stories which make you wiser for having watched them. But wherein the Coens guide their films through those grim forests with the lightening lantern of humor, Clooney takes himself too seriously and drives the Coen scripted screenplay to murky depths. The trailers advertise a black comedy. What we get is a noir which attempts and fails humor like someone who uses a hand buzzer in a funeral line.
To underscore Clooney's heavy handedness he adds to the Coen script a clunky grafting of the real life incident of the Myers family in Bush, Pennsylvania in 1957, wherein a black family's entrance into an otherwise white suburban community results in two weeks of harrassment culminating in a neighborhood riot. Clooney is too intent on castigating the memory of early white suburbia as uniformly viciously racist based upon a single isolated incident, rather than craft the Aesop-like Coen tale to which we are used.
There is some small merit to the historical event's inclusion to the Coen brother's film as a macrocosm of chaos, as it were, to the microcosm of the family's disintegration. In addition, as a clunky plot point, the riots act as a convenient McGuffin to explain why the neighbors don't notice the insanity unfolding in the Lodge's home. But Clooney cannot resist the urge to overlay his own obvious disdain and suspicion of middle class America upon the story all the while in an act of hypocrisy more wryly amusing than the movie, patronizingly presents the beseiged black family not as individuals but as de-personalized racial symbols. Neither adult has a first name and the father does not even have any lines. The only personality given to the black family is through their son Andy and only then through his friendship with the white Nicky Lodge child next door.
Samuel Goldwyn once famously said to an idealistic screenwriter with visions of teaching the public a socially meaningful lesson: "If you want to send a message, call Western Union." Clooney would have been wise to heed that advice.
Hopefully Clooney will learn, if he directs any movies in the future, from the admonition that Edmund Kean allegedly gave upon his death bed: "Dying is easy, comedy is hard."
As a side note – if anyone was wondering – I looked for a connection to Satyricon – the story whose obvious title similarity screams for comparison – and really couldn't find much – aside from the fact Satyricon in all of its manifestations from Roman literature to Fellini – were just bawdy house sensualities with about as much deep meaning as your average porno film. I suppose it is possible the title was simply intended as a warning that this story might start out as an innocent  look at suburban life in the 50's but will become an excuse to roll around in undiluted profane sexuality and raw graphic violence and bloodshed.
This Post Has Been Viewed 115 Times