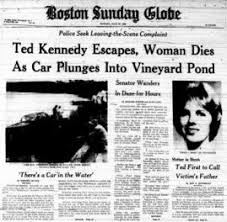 SHORT TAKE:
Historic drama based upon the information in public knowledge surrounding the murder of Mary Jo Kopechne by Teddy Kennedy.
WHO SHOULD GO:
Only adults. The language is raw, the topics unsavory and the behavior of the main characters despiccable.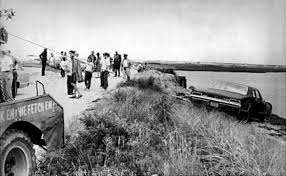 However, it is an expose of the disreputable goings on by the Kennedy pseudo-Mafia Clan during the 1960's so worth a look for the corruption, hypocricy and disgusting activities into which the Kennedys dove head first. Apparently the people involved took the aphorism to heart: If you can't be a good example, be a horrible warning.
LONG TAKE:
Before getting into Chappaquiddick…. figuratively as I have no intention of taking a swim, I thought I might make two points: the first is a reference to another movie and the second describes a thousand year old family dynamic.
In the 1987 drama Broadcast News, about TV journalism, Aaron played by Albert Brooks is concerned about the trustworthiness of William Hurt's character Tom. Knowing Jane, his best friend, played by Holly Hunter, is falling in love with Tom, Aaron gives Jane a warning. In an interview, Tom is filmed breaking down in tears while interviewing a young woman who had been the victim of a date rape. The young woman's recollection of the event cuts back and forth to Tom's emotional but dignified reaction. Knowing Jane would refuse to question Tom's sincerity, Aaron asks her to consider one simple fact: Tom only had one camera.
In 1199, John, son of Henry II and Eleanor of Aquitaine, was coronated King of England. The youngest of five sons, John was never expected to rule. His oldest brother, William, died of a seizure at three. Henry III died of the flux (dysentery) on rebellious campaign against Henry II. Richard died on the Crusades. Geoffrey died in a tournament accident leaving one son, Arthur who was imprisoned and left to die. John, both spoiled as a prince and ignored as unimportant – called Lackland as it was never thought he would own land – was not trained to rule, but only shooed off to manage some lands in Ireland – which he did badly, and was arguably the most corrupt, debauched, incompetent, ill prepared and venal ruler England ever had. But, nonetheless, the crown was placed upon his head because, refusing to consider any but the immediate male descendant of Henry II, John was assumed to be the rightful heir – irrespective of his lack of character or training or fitness for the position.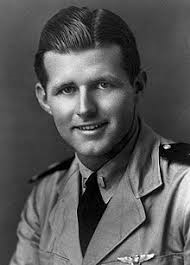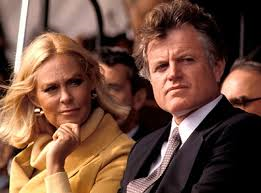 Teddy Kennedy was the youngest of four brothers. It was never thought he would be a candidate for President. Joe, Jr. died in action during World War II. John and Robert were both assassinated. Teddy had five Sisters, but at that time, much like in King Henry's era, it would have been unthinkable to place a crown on a daughter's head when a male heir was available, no matter who that heir might be.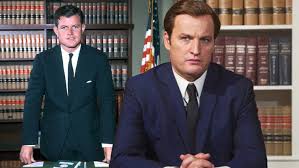 The movie suggests that Teddy Kennedy himself recognized that he was the spare, the "also ran", the leftover, the one who no one thought would be put in a position of power, but who had been instead, like John with Ireland, given the political position of Senator in Massachusetts as a token gift by his extraordinarily powerful family. Debauched, spoiled, incompetent, unprepared, one almost feels sorry for him being thrust into the position of having to run for the presidency, the position even he knew he was not qualified to hold, except that he flagrantly used his position to abuse others and ultimately to murder.
The night of Mary Jo Kopechne's death, Kennedy, by his own admission, and according to the movie, had been drinking and driving and ran off a bridge with Mary Jo in the car. According to his testimony, he does not remember how he got out of the car. But he did ultimately confess to walking away without notifying any authorities of the accident, leaving Mary Jo to suffocate in the overturned car without hope of rescue. Had he notified the authorities promptly, it is very likely she would have survived……That is assuming the story told in the movie is complete and accurate.
Make no mistake, the movie does not whitewash any of the behavior of Teddy, his legal staff and advisors, his father Joe, or his drunken friends and co-workers.
Teddy and his colleagues had spent the night drinking and carousing with those they nicknamed The Boiler Room Girls.
Supposedly working as secretaries and campaign assistants, it seems as though the Boiler Room Girls also had other duties to perform that night for these powerful and influential men, duties in which they quite voluntarily participated.
At some point following Mary Jo's death, Teddy, supposedly in a sudden attack of conscience, decides to confess his complicity in the incident despite available alibis willingly provided by others and anxiously swallowed by their fawning media. Of course, he also takes the opportunity to attempt to make himself the victim and affects an unneeded neck brace that even the media found ridiculous. Completely out of character, if this is to be believed on face value, the confession is at least a small point in Teddy's favor. A very very small point.
Given a suspended sentence, the only real penalty for him was the hit to his political career.
However, as his confession DID seem completely out of character, one must ponder if there was more to the story than even this expose movie tells. Does the movie come clean as to just one of the dirty secrets of the Kennedy Clan or is it but yet just a further complicit hiding of what really happened on the night Mary Jo Kopechne died?
The movie, in and of itself, is fascinating, well performed and well done. Shot with care to the details of '60's style, clothes, music, architecture, and attitudes – all carefully reconstructed, all harken back to a time that I remember as a child.
Jason Clarke, who cut his teeth in American television through a very rough show called Brotherhood, has used that platform to launch himself into bigger and better things, including the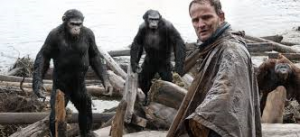 Planet of the Apes franchise, White House Down, and the
Terminator movies. Australian by birth, Clarke's restrained and convincing Boston accent is reminsicent of his time as Tommy Caffee in Brotherhood.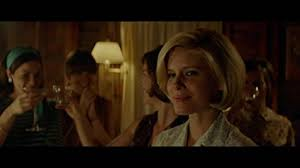 Kate Mara, previously in Fantastic Four and The Martian, as the ill fated Ms. Kopechne, is sympathetic.
Bruce Dern, a Hollywood constant in everything from comedies like The Burbs to sci fis like
Silent Running to dramas like
The Hateful Eight, plays Papa Joe, the patriarch of the Kennedys who, despite being almost immoble from strokes, still controls the dynasty.
Ed Helms, mostly known for comedies like The Office and The Hangover, takes a serious turn as the adopted Kennedy who acts as both trusted confidante and inadequate conscience-keeper of Teddy.
Clancy Brown, all 6 foot 3-1/2 inches of him, plays yet another in a long line of sinister characters, as Robert McNamara, the former Secretary of Defense under JFK who spearheaded the cover up and managed the fall out from the exposure of the Chappaquiddick murder.
The events leading up to Miss Mary Jo Kopechne's death took place the same weekend as the Moon Landing. This was either incredibly coincidental, collateral damage from the celebrations going on in connection with the landing, or very well planned, depending upon which view you take of the story this movie tells – whether you believe it is accurate or just another cover up for the benefit of what political functionaries believe is a willing audience.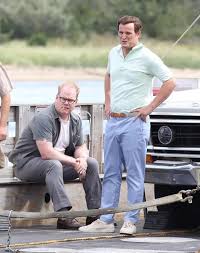 Chappaquiddick feels like a murder mystery but without the denouement of a Sherlock Holmes or Hercule Poirot.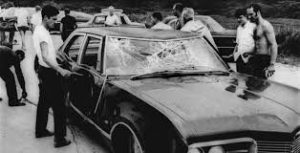 There are too many holes in the plot to be completely satisfying and one longs for a super detective to walk in, gather the suspects together and point unerringly at the guilty party or parties. But one question floats quite readily up to the surface of this cesspool.
If career politicians and their family and friends in places like Massachusetts or Arkansas, who feel they are routinely entitled, by birthright and political position, to exoneration from crimes like rape, murder, insider trading, selling access to the White House, opening our borders to foreign national criminals and terrorists, and incompetence bordering on treason by allowing an Ambassador to be slaughtered while ignoring pleas for help – then what ELSE are they lying about in order to further their careers?!? And shouldn't they go to jail as the rest of us peasants would? Will we, as voters, learn from history or be doomed to repeat it over and over and over again?
But MAYBE, perhaps, just possibly, it did all occur as the movie lays out. Pretty pitiful apology for a woman who was so unceremoniously dispatched and discarded by a powerful member of a political party which defines itself as protector of the little people. Extraordinarily meager payback for a young woman who was literally forgotten to death. Or is there a worse crime for which Teddy was guilty, for which the conviction of manslaughter was a slap on the wrist in comparison?
Let me leave you with a couple of final thoughts.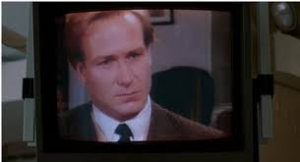 If you are still puzzling over the import of the single camera in Broadcast News, consider this: If Tom only had one camera, there is no way he could have cut back and forth between himself and the young lady. Therefore, Tom's quiet moving tears had to have been done at a later time and edited in. In short, they were faked after the fact. And despite Tom's protestations that he really DID cry at the time but had to "recreate" them for the video, Jane was devastated and their relationship was over. If he was willing to lie to her about that to advance his career, then what else was he faking to proceed up the ladder?
Similarly, there is a question begging to be asked which is imperatively relevant to Chappaquiddick.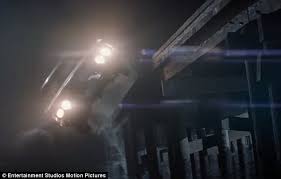 Mary Jo could not get out of the car. Evidence suggests she suffocated and did not drown. Is it possible that Mary Jo was already dead, already suffocated, when the car hit the water and Teddy was never in it when it was pushed or driven into the water? There was no way to definitively determine that immediately ex post facto because there was also no autopsy, despite the unusual and mysterious circumstances of her death, before a hastily organized and executed embalming and funeral.
But, admittedly, all that is speculation and circumstantial evidence.
So that is not the question I want to leave you to ponder.
But DO consider THIS: Just as Aaron had to point out Tom's perfidity by asking Jane to reflect on one simple fact, I leave you with a riddle.
The divers had to pry open the car to get at Mary Jo's body. There was no open window, no propped open door, no broken windshield. The car was flipped over on its hood and sealed up tighter than a drum when it was found.
So how did Teddy get out?
This Post Has Been Viewed 102 Times