SHORT TAKE:
Go to the Lutcher Theater in Orange, Texas to take advantage of all its theatrical delights.
WHO SHOULD GO:
Everyone, depending on the age appropriateness of the play being offered.
LONG TAKE:
Something Rotten has come and gone from the Lutcher Theater, but more about that later.
My husband and I have been to this lovely performing arts venue, the Lutcher Theater, many times. They are nestled in Orange, Texas at 707 W. Main Ave. and their season never disappoints.  You can get tickets here for the shows remaining season and for information for seasons to come.  We highly recommend you frequent this treasure. From the well chosen plays to the building itself,
where there are no bad seats, we suggest you discover for yourself the Lutcher Theater and all the theatrical magic it has to offer.
Recently we traveled to see Something Rotten. I mean, it isn't rotten. Well, the play we saw IS Something Rotten, but it is not, in fact, ANY kind of rotten. It really is, actually, wonderful. Nominated for dozens of awards, the play garnered Christian Borle the 2015 Tony for Best Featured Actor in a Musical. Cleverly conceived and amusingly told, Something Rotten's title comes from a line in Shakespeare's most well known play, Hamlet, when Marcellus, a soldier who has seen the ghost of their deceased king, warns that "Something is rotten in the state of Denmark." But the play Something Rotten is most definitely NOT – rotten.
Something Rotten musically tells the story of the two Bottom brothers, Nick and Nigel, who are rather good playwrights. However, they have the great misfortune of being contemporaries of, and therefore, competitors with — Shakespeare.
The tone is self-parody but the execution is erudite. While the whole thing is a hoot and laugh out loud funny in the witty lyrics and energetic pacing, it is steeped – DEEPLY – as you might expect, in Shakespearean language.
HOWEVER, EVEN if you've never heard a word of Hamlet, or Much Ado; if you think of Othello as only a board game and MacBeth may as well be in Swahili for all the sense it makes to you, you will still find Something Rotten very entertaining, but then you'll miss the rich pudding of inside jokes. Almost every line, situation, and concept is referential to a Bardian play, and skewed by droll songs into a reflective parody. It's comical and self-aware, often skating right up to that fourth wall but never quite breaking it.
And if that were not enough, there are homages to dozens and dozens of other Broadway shows. In the song, "A Musical," for example, there are at least 20 allusions to other Broadway outings from Suessical to Sweeney Todd, from Annie to Evita. But you have to be quick to catch all the lines of lyric or iconic musical phrases.
And anachronisms abound. It's a translation, if you will, of what the Renaissance might have been like in London, seen through modern eyes.
Shakespeare is treated like a rock star, holding MTV-style stage performances of his sonnets and signing autographs on women's bosoms. In "It's Hard to be The Bard"  he moans of his own self-doubts in having to one-up himself with every play – a sentiment which I'm sure can be shared by every high performing actor and director in Hollywood. While the Bottom brothers moan their financial doldrums and the older brother loathes the far more successful Will Shakespeare in
"I Hate Shakespeare," his younger brother Nigel is a fan.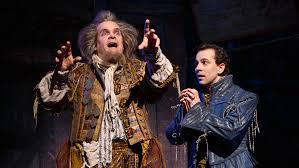 Frustrated and desperate, Nick seeks out the fortune teller, Nostradamus, who sings his predictions of the future, in "A Musical."
Meanwhile, Nick's wife, Portia, decides to dress up like a man and go out to earn some much needed rent money in "Right Hand Man,"
and Puritans seek to close Nick down or have him beheaded. If the names and some of the situations ring a Shakespearean bell, that is because they are supposed to.
To get a delectable taste of the show watch here as the Broadway cast performs two songs on the Tonight Show with Jimmy Fallon.
The costumes are period, the performers we saw were child-on-a-sugar-high, contagious level energetic. I do not know what troupe you might see but the musical lends itself to an upbeat, feel-good time for all.
But it is not FOR all audience members. The language can get rough and, while nothing is seen or done, the topics of conversation occasionally veer into the bawdy.
While no longer, at the moment, in Beaumont, you can catch this little gem on its tour around the country. And if you can't catch up to it geographically, do not dismay. I predict that some day soon this will be transformed into a movie. It's too delicious not — to be. (See what I did there?)
This Post Has Been Viewed 63 Times