Jeremy Scott, the primary narrator at
CinemaSins about whom I have written in another post created the persona of someone who enjoys finding every possible trivia sin and piccadillo in every movie he reviews. The videos are primarily for fun, occasionally somewhat bawdy, often profane, frequently very funny, but the result is always insightful.   He spends 15 or so minutes showing video clips which point out clichés, newspaper text which has nothing to do with the headlines being used for exposition, wildly incorrect timers, continuity goofs, historical anachronisms, just plain bad acting or terrible CGI, and his two FAVORITE sins – too many opening credit logos and narration which substitutes for plot. And he rarely condemns politely, which is part of his humor schtick. This is a site for older mature teens and up, certainly. But his commentary, while biting, is usually both quite accurate and mostly played for laughs
However, during his "Everything Wrong With A Star is Born" send up video, after he does his usual nit picky comic but precise routine, he calls out the movie's plot for its attempts to paint the lead male character's suicide "…as almost chivalrous, and I'm just never getting on board with that."
Well, Jeremy, neither am I. And good for you. As I pointed out in my post: "A Star is Born: Masterful Variation on an Inherently Dissonant Theme" I make a similar argument against lionizing this behavior.
Jeremy THEN does something that in the hundreds of his videos he has never done before, he breaks the "Fourth Wall" – that barrier between the audience and himself which maintains the suspension of disbelief. Jeremy Scott posts a great big notice for the National Suicide Prevention Lifeline and their phone number.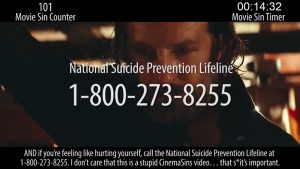 This was an admirable and bold move in a culture of death which has even rationalized the wholesale savage slaughter of unborn infants. He has opened himself up to criticism but it will certainly not come from me.
Thank you Jeremy.
Your instincts are good and this is one of the many things on the list of what I would call Everything Right with CinemaSins.