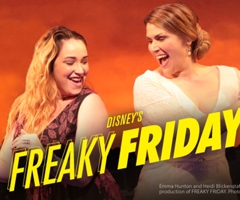 In 1976 Disney came out with a really dumb movie called
Freaky Friday
starring Barbara Harris and a VERY young Jodie Foster about a mother and daughter who get their wish to be each other for a day. It's the old – careful what you wish for. The daughter thinks her mom has it easy because she has all the control. The mom thinks the daughter's position is a toddle because all she has to do all day is go to school, come home and snack. Both are, of course, wrong. But the story, as presented, is silly and superficial, trite and leans heavily on all the cliched generation gap misunderstandings. They didn't do any better with the Shelley Long version in 1995 or the Jamie Lee Curtis version in 2003.
So when my husband bought tickets to go see the new musical version I had to laugh. Why not? On vacation, let's be brainless. By intermission my husband and I turned to each other almost simultaneously and said "Our kids have GOT to see this!!!" The music is catchy with clever lyrics, the script is funny and fast paced. The acting in the one we saw with Heidi Blickenstaff as mother Katherine and Emma Hunton as daughter Ellie were absolutely brilliant and totally believable. The singing was stunning and powerful but nuanced with "attitude" and comic timing. And most importantly it has a really good PLOT! I guarantee you will see yourself somewhere in this play – as the parent, as the child, as the sibling – older or younger – or as all at some point in your life. To see yourself as others see you. Prepare to laugh – a LOT – but bring some kleenex too.
Instead of a throw away one-note gimmick, the tale here is of a widowed mom, Katherine, on the eve of remarriage trying to hold together her fledgling catering company and her fragile family – still traumatized and battered by the untimely death of the father 6 years before. (AGAIN underlining the importance of the DAD!!!) The father leaves his wife and daughter each a "magic" hourglass, as though knowing this day would come. And at the apex of the stresses from the wedding preparation, a journalist about to do a story on the mom's business, the daughter's crush on Adam, the popular guy in class, and a simple conflict in scheduling – well, they get their respective wishes. Fleshing out the cast is: an adorable 10 year old little brother, Fletcher, who is looking forward to having a Dad again; Mike, the deeply patient and understanding fiance; Katherine's underappreciated assistant; Katherine's oblivious parents; a timely parent-teacher meeting; some teenaged angst; a class cutting up frogs in biology class and….a treasure hunt. And yes all these elements work together like gears in a clock to make a funny, warm, insightful, catchy, brilliant little musical. I think this the best thing Disney has done in years.
While focusing mostly on the mother and daughter, the supporting cast is not forgotten. Each gets a moment to shine. And the ensemble group is utilized to the full as well. There are some moments in the play which would have done Mozart proud – as at times there are upwards of 6 people singing in the same song about their different agendas or perspectives – and it all makes sense (think the ensemble song "Tonight" in West Side Story or the Act II and IV octet finales in Mozart's Marriage of Figaro).
The songs each have a personality of their own as well – from the cocky "I Got This" where Katherine and Ellie assume pretending to be each other will be a breeze, to the lyrical heartbreaking "After All of This and Everything" which Ellie, in Katherine's body sings to a sleeping Fletcher, to the bitterly funny "Parents Lie", and the just plain old cute "Women and Sandwiches" which Adam sings to Fletcher in an attempt to explain the fascination women have for him and will one day have for Fletcher.
If you want to get a preview of Freaky Friday you can hear the songs on
Youtube
.
The play opened October 4, 2016 in Arlington, VA and we were blessed with being able to see the original cast leads in Houston. This play will, no doubt, make the rounds around the country – or be filmed at some point. But don't let the previous original versions put you off. This is a truly "magical" play.
FIND and go see this play SOMEWHERE!!!!!!