AUDIO PODCAST OPTION OF GREEN BOOK REVIEW
SHORT TAKE:
Excellent buddy dramedy based closely on the real life friendship between a black gifted but haughty pianist and the thuggish but fundamentally noble white bouncer he hires to chauffeur him during a concert tour through the Deep South in the 1960's.
WHO SHOULD GO:
Any mature mid-teen and up but with parental discretion due to language, the examination of extreme racism during this time period and some conversation topics.
LONG TAKE:
Green Book is one of the most delightfully charming movies I've seen in a long time. The story is about a New York Copacabana bouncer, Tony Vallelonga, conventionally bigoted for the 1960s, hired as the driver for a brilliant black pianist, Dr. Donald Shirley, for a concert tour through the Deep South.
Based on a true story, Tony Vallelonga was already a part of Hollywood. The real Vallelonga appeared in movies like Goodfellas. His son, Nick, wrote and helped produce this movie based upon interviews with him and Dr. Shirley about this road trip taken when Nick was a little boy.
The title refers to the name of the catalogue the men use as a guide for the places that black people were allowed to go – the hotels, vacation spots, tourist areas, bars, and gas stations where black people could stay without fear of harassment from regional authorities and punitive local ordinances. The title comes from its author, Victor Hugo Green, a New York postman and a black man. The book was published yearly from 1936 until 1966, when Civil Rights Law made it, thankfully, obsolete.
The unlikely pair are wonderful to watch.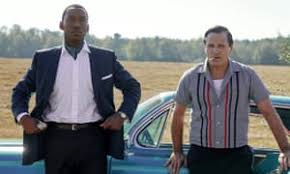 An entire play could have been made just out of their time in the car together as they exchange observations of the world from their own unique perspectives. Tony is white, tough, with a mediocre education, naive in his own way, and world-wise in others, who lives in a simple small house with his devoted wife and two boys,  living somewhat hand to mouth, between jobs, even willing to engage in a hot dog eating contest for an extra $50 towards the soon-to-be due rent.
Shirley also grew up poor, but after being recognized for his gifted playing has become an effete, sheltered, black man residing in an artfully appointed apartment literally above Carnegie Hall. He distances himself from his black heritage in particular and most people in general. Both have much to teach the other.
We get a tour of 1960's Americana, from the gift stands at the local gas stations to the tough bars, and the "coloreds only" seedy hotels to which Dr. Shirley is relegated because of the color of his skin.
The acting is Oscar-worthy.
Mortensen, stepping, chameleon-like into the skin of this gruff and uneducated but likeable and protective bodyguard, is almost unrecognizable in physique, mannerisms or even speech patterns from such previous characters as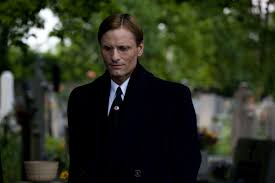 the seduced professor Halder from Good or
the incorruptible hero Aragorn from Lord of the Rings. Along with the accent, the body movements and facial expressions of Vallelonga, which surviving son Nick claimed were so accurate they brought him to tears, Mortensen gained 45 pounds to get into character. Mortensen's Vallelonga is a three-dimensional character from moment one on the screen throughout. Brutal and thoughtful, principled and amoral, loving father, devoted faithful husband, and violent bouncer,
Mortensen creates a completely recognizable person from characteristics which could have lent themselves to a cliched caricature.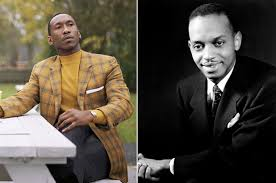 Mahershala Ali (small parts in Hidden Figures and Hunger Games) does an excellent job of portraying the stiff and defensive Shirley while incorporating the subtle chinks in his armor through which the unassuming Vallelonga connects. 
His Shirley is sensitive and subtle with a tough core of dignity, principle, and determined courage.
Linda Cardellini (Daddy's Home) is lovely as Tony's devoted wife, Dolores. In real life the Vallelongas were happily married for 41 years until her death in 1999.
In addition there is the fantastic music, and delightful songs played in classical mode by Dr. Shirley. The background soundtrack was written by
Karol Bowers whose hands, through the miracle of CGI, physically sub for the gifted Dr. Shirley piano performances.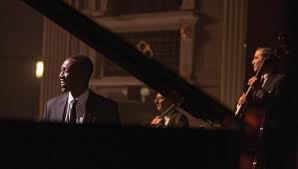 Much effort went into blending Ali's physical performance with Bowers piano playing prowess and it works very convincingly.
Peter Farrelly, whose credits up until now mostly amounted to questionable  movies such as Three Stooges, Movie 43 and Shallow Hal, has really found his inspiration in this script.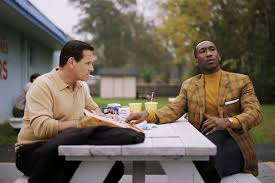 Green Book is masterfully crafted – balancing the natural humor that comes from people simply interacting with each other against the tragic drama of abuse, condescension and indignities which black people endured all over the country during the 1960's. Every detail is complete and period – from the gas station gift stands full of trinkets to the chandeliered restaurants and the florid night clubs.
By all accounts the script details both their trip and their characters very accurately, coalescing experiences described in interviews with both Vallelonga and Shirley. The only liberty taken was that the road trip lasted, not two months, but a year and a half! While taken directly and in detail from real life, the story still serves as an allegory. Vallelonga is an  example of the transformation America was making from the caricature perceptions of minorities to the informed friendships and respect which would soon be crafted, blossom and become commonplace all over the country.
Historically educational, were it not for the rough language, admittedly appropriate to the characters, their occupations, times and places, and one scene depicting a massive character flaw of Shirley, this movie would be family-appropriate. As it is, while I very highly recommend this movie, it is only for midteens and up and even then only upon the discretion of a pre-informed parent. The language is not confined to profanity, but is littered with historically accurate racial epithets often casually included in conversation.
This is a movie both men should be very proud of having made. It touches on very sensitive racial issues from the '60's but does so with politically incorrect good natured humor, an acknowledgement of the past with both its virtues and its mistakes, and attention to detail in authenticity which would have made any history professor proud.
With its slice of the past, the inspirational character learning curves, the marvelous music, and the splendid performances, time going to see Green Book is time well spent.