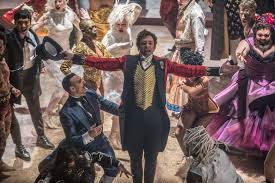 SHORT TAKE: Captivating, beautiful, family friendly musical loosely based on the life of P.T. Barnum's early business life and the people on the fringes of society he turned into a family.
WHO SHOULD SEE IT: EVERYONE!!!!!
LONG TAKE:
Donald O'Conner said: "Always leave them wanting more." And in the tradition of PT Barnum, about whom this movie was made – The Greatest Showman does just that.
Half way through the very first opening number I wanted to see it all again. Every scene, every song was a marvel – as compelling, exciting, absorbing and mesmerizing as the Barnum and Bailey Circus shows which enthralled millions of people for 146 years.
PT Barnum is best known as the inventor of the traveling circus, the King of Humbugs, the displayer of the human oddity, the man who said "There's a sucker born every minute" EVEN THOUGH there is no evidence proving that he actually did say it! In fact, Barnum was also a philanthropist, the founder of Bridgeport Hospital, promoter of gas lighting, improved water systems, abolitionist, and pro-life/anti-contraception advocate.
However, the movie The Greatest Showman is not about his altruistic activities.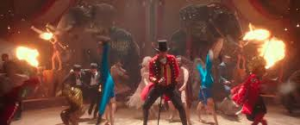 The movie The Greatest Showman starring Hugh Jackman is VERY VERY loosely based upon the life, enterprises, fortunes, failures and inspiration of PT Barnum as showman.
PT Barnum also once said: "A human soul, that God has created and Christ died for, is not to be trifled with. It may tenant the body of a Chinaman, a Turk, an Arab or a Hottentot – it is still an immortal spirit."
It is from the core of this latter philosophy that this screenplay was born. The Greatest Showman is more what PT Barnum represented than about the exact details of the man's life.
The Greatest Showman is about joy, life, family, turning chicken feathers into chicken salad, about never giving up, and overcoming internal as well as external handicaps, and rising above failure and rejection. It is also about embracing with gusto the challenges that God has bequeathed upon every individual soul – be it physical deformity, an unusual height, albinism, being a Siamese Twin, or whether the challenges come from being born into poverty and disadvantage. This story is about learning what is truly important in one's life and what defines your home and your family.
Barnum's biography as interpreted by screenwriters Jenny Bicks and Bill Condon, directed by Michael Gracey, and choreographed by Ashley Wallen, starts as the son of an impoverished tailor. Barnum is bright, ambitious, hard working and imaginative. Barnum joins the railroad, takes clerical positions, tries to bring his innovative ideas to his employers and eventually earns enough to support a family. He marries his childhood sweetheart and lifelong friend Charity (Michelle "Oz the Great and Powerful" Williams), against her family's wishes. They live a modest life but Barnum wants more. When the company he works for goes bankrupt he carves out a unique niche in entertainment singlehandedly with people who have largely been ostracized by society – not for anything they have done but for the physical attributes with which they were born.
In the troupe are
Lettie (Keata Settle) the bearded lady and lead female singer in the circus, and
General Tom Thumb (whose name in real life was Charles Stratton who was actually 2 feet 10 inches tall) played by the 4 foot 2 inch Sam Humphreys with effects that convincingly makes him fit into the smaller shoes of the original General Thumb.
Theater actor Eric Anderson has a small but rather adorable part as Mr. O'Malley, a skilled pickpocket Barnum meets while on the receiving end of O'Malley trade, who Barnum refashions into a magician and then his box office manager. Far too little is made of this charming character and he just kind of disappears after the first half of the movie in a regrettable editing decision by the film makers.
Barnum's gift is taking the weaknesses and apparent handicaps in others and turning them into strengths.
He takes people who hide because of their birth defects and turns them into proud headliners for all the world to see. He takes a petty thief and puts him in charge of his money.
He takes a drunken society playwright and convinces him to become the junior partner in an enterprise that will make him a societal outcast but a far happier and more fulfilled man. He takes isolated people and forms them into a family.
Barnum understands people and cares about them deeply. This is his gift. But Barnum must learn that not all handicaps are visible and is eventually forced to confront his own prideful self inflicted deformities.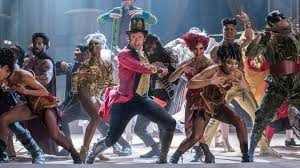 And the story is told with brilliant colorful musical numbers which light up and leap from the screen in the only way that really counts – not via 3D but through panache and vibrant beautiful melodies performed with style and absolutely irresistible enthusiasm.
Hugh Jackman as PT Barnum and
Michelle Williams his wife Charity, sing with joyful abandon and dance with infectious charm, gravity defying skill, and tremendous energy.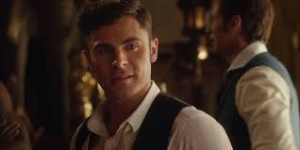 Zac Efron plays Phillip Carlyle, an unhappy swell with a flair for story telling who Barnum entices into his troupe. Efron has grown well beyond his High School Musical days into an accomplished actor and hoofer, and proves he can keep up with even the indefatiguable Jackman.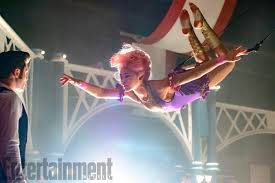 Zendaya performs as the trapese artist Anne with whom Efron's Phillip falls in love. Efron and Zendaya do all their own flying dancing swinging stunts in an incredible scene where they dance a love song as athletic as the barn raising in 7 Brides for 7 Brothers and as graceful as Fred Astaire and Cyd Charisse in — well, anything!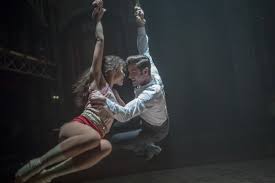 Most of it is performed flying through the air on rigging and without nets (though interviews revealed they were, thankfully, harnessed for safety).
I can't say enough good things about this movie. It's uplifting, beautiful to watch, wonderful to listen to, with brilliant editing that meshes music to dance and slow motion effects used with admirable and effective restraint.
Honestly the only complaint I have is that there was not enough of it. It was too short.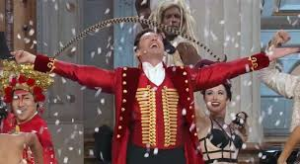 You know how some movies – a lot now a days frankly – would benefit from some serious chopping – the Hobbit trilogy, Pirates of the Caribbean: At World's End, and Pearl Harbor all come to mind. But rarely do you come across a movie which you wish was LONGER.
The progress of Barnum's jump from childhood to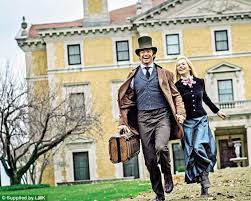 adulthood was blinked over and I would not have minded more of his progress from urchin to self supporting adult. Same for Barnum's initial success as a "circus" owner to wealthy entrepreneur. Easily 5 or 6 more songs and another hour would have been more than welcome. There could have been more of Mr. O'Malley and included backstories on some of the other performers who are mostly seen in the group dances. And there were even a couple of my favorite lines from the trailer which were cut. It is almost as though the relative newbie director Gracey did not have the courage of his convictions. But he needn't have worried. What is there is brilliant and entrancing.
I loved this movie not just for the performances by Jackman,
Zendaya and
Efron which were amazing – blending the acting with the singing and dancing seamlessly as only accomplished confident hoofers can. I also loved the morality tale played out in Barnum's life as he is forced to reconsider what are those things that make his life worthwhile.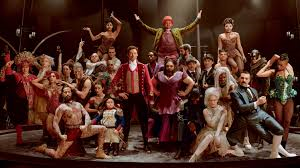 This is an uplifting delightful movie for the entire family. And although I would have loved for it to be another hour long, they employed Mr. O'Connor's sage words and left us wanting more. I think I'll just go see it again …. and take everyone I know.
PT Barnum also once said: "The noblest art is that of making others happy."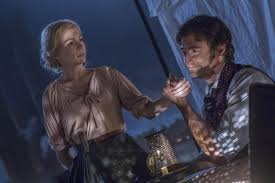 The film makers of this movie about his life I believe are noble souls indeed.