SHORT TAKE: Stage musical version of the classic animated Shrek movie @ ACTS Theatre in Lake Charles, LA through March 11, 2018
WHO SHOULD GO: EVERYBODY!!!
LONG TAKE: For the benefit of those of you who have been on a long trip out of the solar system and do not know,
the premise of Shrek is about an ogre who is compelled to rescue the Princess Fiona for the short and devious
Prince Farquaad in order to retrieve sole proprietorship of his beloved and isolated swamp. Along the way he meets and, reluctantly, befriends the talking Donkey who helps Shrek become the hero Fiona really needs.
The story crosses all genre of mythological creatures – from Disney's Pinocchio to Grimm's Wicked Witch to Mother Goose's Humpty Dumpty to Beatrix Potter's Peter Rabbit, they are all on stage at one time or another.
This production was no easy task.
There are dozens of cast members who range in age from 5 to 65 and having done plenty of live theatre I know that it must be quite hectic back stage. But you'd never know it from the audience as the production went off like a well oiled machine. Whether it was the arrival of
17 tap dancing mice,
the choreographed pirouettes of men in stocks, or
the entrance of a singing dragon into an enchanted tower,
the cast and crew pulled off a bit of magic themselves
with an extremely smooth and professional looking show.
Director Walter Kiser has brought out the best in all of the production team. Everyone from the youngest fairy to the oldest knight launched into their roles with infectious enthusiasm. All the singing was good but special note should be made of the romantic leads.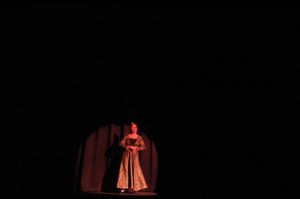 Kristen Harrell (Fiona)
who also doubles up as choreographer, and
Casey Doucet (Shrek) belt out their duets and solos with professional quality and timing.
Julian Quebedeaux is additionally very funny as Donkey,
bringing his own individual style to a character originated by Eddie Murphy.
Damien Thibodeaux chews the knees off the scenery and often steals the show as the half-pint evil prince Farquaad.
Shrek the Musical has everything you have come to expect from the movie Shrek only with more songs and the
immediacy of a live theatre performance.
There are knights and
talking animals and
familiar fairytale creatures for the kids and quips and jokes which, like Bugs Bunny or Who Framed Roger Rabbit, leave the adults laughing and fly over the younger kids' heads but are harmless enough to do no harm if they don't.
Take your grandkids, take your grandparents, go there for a first date – it will be a delight to all. But go soon as the tickets are selling fast and the last show is on March 11, 2018. Friday and Saturday performances start at 7:30 pm and the Sunday matinees are at 3pm. ACTS Theatre: 1 Reid St, Lake Charles, LA 70601
Map of where ACTS Theatre in Lake Charles, LA is located here.

Tickets via Vendini for Shrek available here
This Post Has Been Viewed 147 Times