Daniel Wu
SHORT TAKE:
Discount Indiana Jones style adventure thriller with a female lead that takes advantage of the popularity of the video game of the same name.
WHO SHOULD GO:
Mid to older teens and up but video game fans should be warned that while the spirit of the game is there, this is a mostly different plot.
LONG TAKE:
In the African fable of The Cow-Tail Switch a father, the leader of the tribe, is lost on a lion hunting trip. The youngest has not yet even been born when the father goes missing. Time goes by and eventually the youngest brother is born, toddles about, grows older and learns to speak. His very first words are, "Where is our father?" The six older brothers then realize their father has been gone a very long time and decide to go on a quest to find out what has happened. Many days travel away they eventually come upon the father's bones. Each son has a magic gift of life. One puts the bones together. Another replaces the sinews and muscle. Another gives his father organs. Another flesh. Another fills his father's body with blood. The sixth brother breathes life into him. They all return rejoicing and the father announces he will make the next ruler of the tribe the one who contributed the most to his return. Each of the six older sons makes an argument for the part they played in returning their father to life. But the father chooses the youngest, reasoning that he was the one who thought to ask about him – and as long as someone remembered him he was never really dead.
Such is the case of Lara Croft in Tomb Raider.
SOME SPOILERS
The premise of Tomb Raider is that a young woman, Lara Croft (Alicia Vikander – Ex Machina) decides to embark upon a quest to find out what happened to her long lost adventurer father. During this quest she must overcome everything from Chinese muggers to shipwrecks and an evil nemesis
Mathias Vogel (Walton Goggins, the perennial bad guy) who works for the mysterious Trinity, an organization seeking to control the world, who shoots the weak and offers up the predictable, "You should not have come," line. Based on the video game of the same name, fans of the game need to be aware that the Tomb Raider movie has virtually (pun intended) nothing in common with the video story except that the lead character is a female on an adventure on a mysterious island to find something. No mention of a missing father or a world catastrrophe she is tasked to stop is ever mentioned in the video game.
Missing for seven years, everyone else has given Richard Croft, (Dominic West with a diverse filmography from 300, the musical Chicago and 1999's A Midsummer's Night Dream) her father, up for dead.
But so intent is Lara upon the idea that her father is still alive that she will not even lay claim to the inheritance which will get her off the streets and allow her to return to the life of luxury in which she grew up.
It is only when she is prevailed upon to meet with the family attorney that she is introduced to a wooden puzzle box which, according to the will, she is to solve upon her father's death.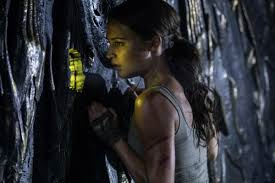 Solve it, of course, she does (or it would have been a very short movie) and off she is sent on an adventure that would have challenged
Indiana Jones.
Until Gal Gadot put lie to my assertion that a really good super hero movie could not be made with a female lead, I did not think that a woman was as good a choice as a man for an action adventure……and aside from
Gal Gadot's Wonder Woman I still think this is true.
Part of the problem is that the extremely physical stunts required of the character in Tomb Raider would have been a challenge for a circus gymnast with the power of Dwayne Johnson, much less a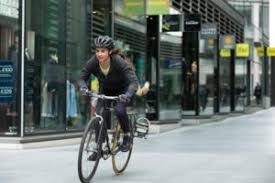 female bike courier who likes to
kickbox for fun, which is what Lara is without her family dough.
A video game character gets several lives, but
the movie is more grounded in a real life scenario, and to have a female endure the abuse and survive the jumps, falls, hits,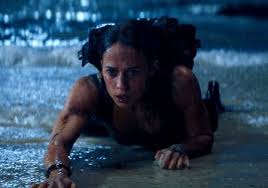 fighting and wounds she does and still have the energy to run with weapons into a battle, cartwheel through ancient booby traps and still have the strength to stand is beyond the limits of even my considerable powers of suspension of disbelief.
Another problem with this movie in particular is the plot. The very McGuffin is flimsy.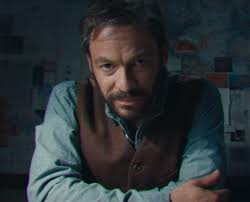 The father spends much of his time away from his supposedly beloved daughter scouring the world in search of something that – well, truthfully he could have found in the nearest church.
It is never made clear exactly why Lara did not continue to live on the family estate even while her father was missing. Did she, at some point, decide – gosh, I think I'll move away because if I CONTINUE to live here it will be like an admission of his death….? They never even explain why she left the home of her childhood to begin with. They show her there as a child and an older teen just before Richard leaves on his fateful last trip. When did she abandon the family manor so that returning would be an acceptance of his death? You have to LEAVE somewhere before you can RETURN. And if she left – why? And when? There is no logic, pretext, reason or excuse so much as alluded to. Doesn't make any logical sense.
Another McGuffin point is that the family executor,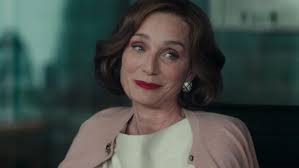 played by Kristin Scott Thomas, tells Lara if she does not sign papers acknowledging her father's death that everything will be sold at auction. Um….why? It's not as though they were going bankrupt. This seems like a very arbitrary threat which comes out of nowhere with no background explanation.
Lara is a newbie to the adventure scene. Indiana Jones' father took him to exotic locales since early childhood. Indiana grew up as an artifact hunter with a lot of experience fending for himself. Batman and Iron Man used LOTS of gizmos to get between their relatively fragile human bodies and the hostile punches, bullets, missiles and other assorted threatening challenges being thrown at them. Superman simply had … powers.
Lara is a relative hothouse flower who…rides bikes fast and…kickboxes. Whoopie.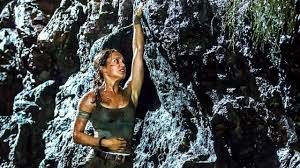 This in no way demonstrates that she can survive: an ambush by three thugs, a shipwreck, a fall from a cliff, a landing through trees, picking up her own dead weight one handed – and these are only things you see in the trailer.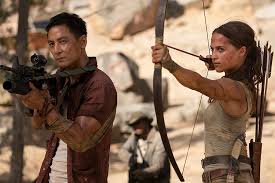 Lu Ren (Daniel Wu) is a significant and likeable supporting character who figures strongly in the plot yet is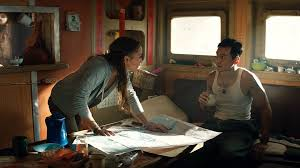 never given the clear resolution he deserves but is just kind of left…
hanging.
The main baddie Mathias Vogel tells Lara he has killed her father but does not explain why he would murder the one man who, by his own admission, is the only way to find and open the tomb of Himika – the goal that will get him off the island. Then, let us say, in a surprise that takes no one unawares, that he is laughably bad at follow up.
Without giving away too much more than is already IN the trailer I find it difficult to determine who the real bad guy is – Mathias Vogel who only wants to "win" so he will be allowed to go home to his family, or Richard Croft, the titular good guy/Dad who, truth be told, abandoned his daughter to set off a search for an item that he should have predicted would get a lot of people killed, and all for some pretty lame reasons.
And I don't think it is much of a spoiler to reveal that this movie is primarily a great big set up for a sequel.
But then so was Ron Eli's 1975 Doc Savage, and given you probably have never even HEARD of that movie you can see how well that turned out.
Not that Tomb Raider is a bad movie. It is certainly a mostly satisfying wild ride of a tale. But Lara Croft is no Wonder Woman. Nor is she Indiana Jones, Captain America, Hulk, Spiderman, Iron Man, Superman, Batman or even Zorro. OK Lara Croft is better than Doc Savage …. or Howard the Duck.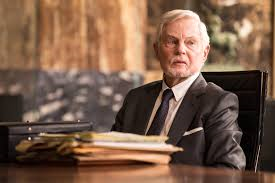 There is a surprise and very small role featuring one of my all time favorite actors, Derek Jacobi. Although the character provides almost nothing to the movie, Sir Derek would lend class and grace to a McDonald's advertisement, so it was a joy to see him.
Movies like Tomb Raider are like the pleasure you get riding roller coasters or eating cotton candy – not harmful in moderation and a hoot if you don't think about it very hard.
In short Tomb Raider is a good old fashioned potboiler of a thrill ride with plenty of hair raising incidents, near misses, goofy but ignorable plot holes, preposterously unlikely survivals and…running. LOTS of running. So get your popcorn and malted milk balls, turn your brain WAY down to simmer and enjoy.
NOTE: There is NO nudity and NO sex as there is no time and virtually zero opportunity for the characters amidst all the chasing and shooting and RUNNING. There are a few profanities including one blasphemy which is spoken by the bad guy. The violence is on par with your average Indiana Jones movie.
But being a firm believer that people should check things out for themselves, especially when it comes to one's kids, who will VERY likely want to see this movie, I recommend you subscribe and check out: Tomb Raider on www.screenit.com http://www.screenitplus.com/members/tomb_raider_Full_Content_Review.cfm#p
This Post Has Been Viewed 104 Times