SHORT TAKE:
I Can Only Imagine is the beautifully told biography, not just of the challenging life of Bart Millard, who was both the product of an abusive father, and the composer of the inspirational song, but a biography of the song, itself. The song "I Can Only Imagine" is unique in the annals of Christian music, crossing Christian music boundaries to become a number one hit in mainstream markets nationally. This song, on which the movie is based, achieved a unique triple platinum status and is the most popular Christian music song in history.
WHO SHOULD SEE THIS MOVIE:
Young teens on up. Caution should be used in bringing children due to the portrayal of Bart Millard's father, who was an angry, physically abusive man. Though most of the abusive behavior is only talked about there are some disturbing episodes of violence.
LONG TAKE:
Earl Swain was one of my husband's best friends. He was also one of the kindest, gentlest, most faith filled man I ever met, whose favorite way to start a sentence was: "I'm so thankful that…". Earl gave up his life, repeatedly, during the course of his adulthood in many ways to many people.
Bryan met Earl while working in the emergency room. Originally from New York, then a southern transplant, Earl was a gifted nurse and would work in our home town, Lake Charles, Louisiana long enough to earn sufficient money to set out to nurse and preach the Gospel in countries hostile to Christianity. He would work as a medical missionary in places like Saudi Arabia, where even declaring your Christianity could get you thrown in jail or executed, until he needed to go back to Louisiana to make enough money to return to his missionary work. Earl continued with these acts of corporal and spiritual mercy until he met a lovely widow with three boys. He married the lady and adopted the sons. Then, on April 22, 2003, while out fishing in the Gulf with two of the kids, their cousin and Earl's father, the boat was swamped by a rogue wave. The cousin was washed away and drowned. His father died of a heart attack as they tried to stay afloat together. Left with only a waterlogged life jacket and a styrofoam ice chest to cling to Earl prayed with the boys, kissed them goodbye and swam away to be sure that he would not be tempted, in his extremity, to latch onto one of the children. Miraculously, the boys were saved by an oil rig crew boat changing shift in the middle of the night as one of the boys held his brother above water and barely clung to consciousness himself.
Earl spent his life offering it to others and his final act of love saved the life of two of his children.
The song "I Can Only Imagine" was released in 2001, but I first heard it as it crossed station genres into the mainstream in 2003. I remember at the time it reminded me of Earl and they played it at his funeral. I can not hear it without thinking of him.
So when I tell you the song is personally important to me, you now can understand why.
The song has a story of its own. Bart Millard, the composer, was inspired to write the song in the wake of his father's death. He sings of imagining what it would be like in Heaven when he first meets Jesus: "…will I stand in your presence or to my knees will I fall, will I sing HALLELUJAH! Or will I be able to speak at all, I can only imagine…." But it quickly becomes obvious that Bart is envisioning his repentant and recently deceased father's first encounter with Christ.
The music video of Mercy Me singing "I Can Only Imagine" bears this out as well as person after person is shown during the song with pictures of their longed for lost loved ones.
The movie recounts Bart's tragic and crushing childhood through to his early adult years under the brutal hand of his physically, emotionally and verbally abusive father after his mother's abandonment. The first miracle is that Bart's soul came away only bruised and not broken. Bart is the kind of person that never met a stranger and his enthusiasm and optimism infectiously help ingratiate him into a struggling band, then convince a jaded but wryly amused music agent to become their manager.
J. Michael Finley, a pastor's son in his first film acting role, does a marvelous job of portraying this struggling young man and inspirationally powerhouses his way through the singing. His renditions of everything he sings will raise the hair on the back of your neck. Finley's bubbly personality, physique, humble but outgoing interactions with other people and confident singing prescence reminds me of a combination of Sean Astin and Hugh Jackman.
The supporting cast is full of familiar faces, including
Dennis Quaid who is remarkable as the alternately horrifying and touching father.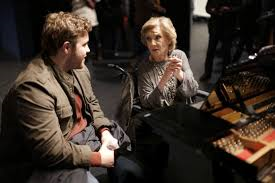 Cloris Leachman has a small role as Bart's adorable grandmother Memaw.
Priscilla Shirer, who we last saw in the Kendrick brothers' War Room takes on the life changing instrumental (pun intended) role of Mrs. Fincher, the music and theatrical teacher who recognizes Bart's potential and literally pushes Bart on to stage work. The other members of Mercy Me – Jim, Mike, Nathan & Robby – are played, respectively, by Randy McDowell, Jason Burkey, Mark Furze, & Cole Marcus. And rounding out the troupe is
Trace Adkins, the baritone country western singer from Springhill, Louisiana, who plays Brickell, Mercy Me's initially reluctant agent and ersatz father figure.
So bring your hankies and open your hearts and ears to this wonderful, spiritually cleansing, musical biography about brokenness and God's ability to redeem those who have given up on even themselves. As Earl might have said: I'm so thankful that they have made such a lovely movie out of such a beautiful song. I pray that it continues to inspire for many generations to come.
NOTE: There is no sex or nudity and no bad language and certainly no blasphemy.
This Post Has Been Viewed 138 Times