SHORT TAKE:
Mesmerizing biodrama of Queen, the rock band in general and Freddie Mercury its lead singer, in particular, from its formation in the early 1970's through its appearance at the 1985 benefit concert Live AID, including a positively brilliant performance by Rami Malek as Mercury and completely spot-on recreation (or so I've read) of Gwilym Lee as Brian May, lead guitarist.
WHO SHOULD GO:
Primarily adults only due to the nature of Mercury's personal life. Exceptions might be made on an individual basis, but I would STRONGLY advise that the parent see the movie first before considering allowing anyone under the age of full consent see this movie. For lifelong Queen fans I would say this is a must see movie.
AND IF YOU LIKE THESE REVIEWS PLEASE SUBSCRIBE! THEN YOU'LL GET EVERY NEW REVIEW SENT STRAIGHT TO YOUR E-MAIL!!
GO TO THE BOTTOM OF THE LEFT HAND SIDE AND TYPE YOUR E-MAIL IN – IT (SHOULD BE) THAT EASY. ANY PROBLEMS PLEASE SEND ME A COMMENT AND I'LL DO MY BEST TO RESOLVE YOUR ISSUE.
LONG TAKE:
SPOILERS – AS FEW AS POSSIBLE BUT MOST PEOPLE KNOW THE KEY POINTS ANYWAY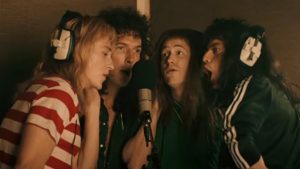 What do an astrophysicist, a dentist, an electronics engineer and…an airport baggage handler all have in common? No. It's not a group gearing up for the next Oceans movie. It's, respectively,
Brian May (Gwilym Lee),
Roger Taylor (Ben Hardy – Angel in X-Men),
John Deacon (Joseph Mazzello – as a child actor was Douglas Gresham in Shadowlands and Tim from Jurassic Park) and
Freddie Mercury/Farrokh Bulsara (Rami Malek – Mr. Robot series and Twilight Saga – Breaking Dawn) of the 1970's rock group Queen. Maybe I was the last one on the boat with this one, but a lot of the personal details about the members of this unique, audience participatory and groundbreaking musical phenomenon were a surprise to me.
They formed when I was in grammar school and hit their peak with their come back performance at the benefit relief concert for the Ethiopian famine in 1985. While it was a band which achieved unusual longevity and success via the strength of their loyalty to each other and egalitarian approach to the structure of their band, one member, nonetheless, stuck out due to his flamboyant style and scandalous personal life.
In full disclosure – growing up, Queen was, to me, in many ways just background music and a caricature. I liked the music but it was off the wall in the same way that Pink Floyd was, with its experimental sounds and genre combinations. I did not follow any of the details or titillating stories at the time. However, I assume the film presentation is accurate based upon the commentaries from those who consider themselves lifelong fans. So my review will assume the accuracy of the film story as presented.
Much of their personal lives, explored in the movie, came as a surprise to me. All these men were accomplished, intensely creative, profoundly talented, and intelligent men. Most had wives and children. Mercury's personal life was a bit more complex.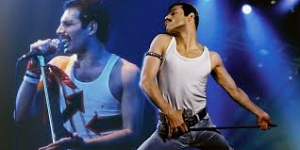 Fairly quiet about his private life, his flamboyant and effeminate stage behavior was a constant source of unsatisfied conjecture with reporters. According to the film, Mercury was bisexual. In the early 1970's he started a lifetime romance with Mary Austin. In this regard, his life parallels Cole Porter's, who married, but then constantly cheated on his wife with homosexual lovers.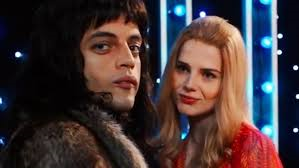 Mercury, on the other hand, was faithful to Mary (Lucy Boynton from Murder on the Orient Express), and seemed to genuinely adore her and she him, until he went on tour to America without her.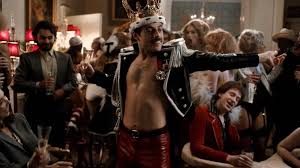 Predictably, his already vulnerable personality succumbed to the allure of wealth and celebrity – indulging in drugs, and the experimental promsicuous sex which lost him this love of his life, his health and eventually his life.
Rami Malek's performance as Mercury is breathtaking, recreating Mercury's flamboyant on and quiet off stage personas.
But Mercury's unique four-octave, Tuvan (vocalizing a note AND its undertone at the same time) singing, with exceptional vocal control, and high speed vibratto, was impossible for Malek without assistance. Malek's voice, Mercury's studio recordings and the voice of Canadian Christian rock singer Marc Martel (near the bottom of this page is a video of Martel singing as Mercury) are blended, synced, combined and edited to re-incarnate Mercury's singing voice for Bohemian Rhapsody.
Similarly the instrumental performances of May, Taylor and Deacon were reproduced as accurately as possible, even with the assistance of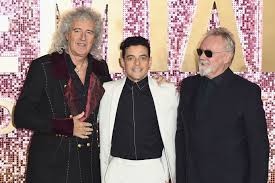 May, Taylor and other coaches, but these virtuoso musicians could not be duplicated and there is some slight of hand with both the visual as well as auditory recordings.
The result is a spot on reproduction of Queen's music and many of their performances. The music was wonderful – artful and masterful incarnations of the songs which are so familiar to us now, the movie allows us to watch and listen to a vision of how those iconic moments were conceived, recorded, blended and molded into the unique musical expressions we have come to love – from "Happy Birthday" and "Killer Queen" to – of course – "Bohemian Rhapsody", we are privy to their manifestations as reproduced through the magic of cinema. However, and wisely, unlike many other movies about musicians which drown in music to the damage of plot, Bohemian Rhapsody, from scene to scene, as Donald O'Connor might have said, leaves us wanting more. We are only given tidbits of song snacks which enhance the storyline, so that the ending 20 minute full re-creation of the Live AID benefit concert is a welcome musical feast.
One common complaint, with which I agree, is the abruptness of the ending after the benefit concert. Mercury lived for six more years and while I understand and respect the decision not to wallow in Mercury's illness and decline, there was a good deal more Queen written after 1985 to explore.
These men were first, last and primarily, musicians of exceptional talent and creativity. The best parts of the movie were the expression of that talent – even if it was merely re-creations of those brilliant acts of inspiration: building entire songs from one individual phrase, enhancing and individualizing their sound with deliberately peculiar assists like water or coins on the drums, stressing their falsettos, or planned genre blending with opera.
During one scene, for example, a disagreement starts to get out of hand between two members while a third is physically trying to keep them separated. The fourth simply starts a guitar riff and the combatants are so taken with it and the idea of creating a song around it the dispute is defused.
Along with the great performances – both acting and the musical slight of hand,
there is an amusing cameo by Mike Myers (Shrek) as Ray Foster, loosely based on Roy Featherstone of EMI Records.
Mercury's descent into the more carnal excesses of celebrity are not shied from but are treated with a measure of restraint – ergo my cautionary note to parents. Otherwise the movie is appropriate for mature older teens – but again with serious provisos depending on the discretion of the parents.
So if you are an adult, especially an adult fan of Queen, this movie is a musical treat but also a reminder of the consequences which can occur from a lack of self-restraint. Mercury sang and contributed continuously to Queen until only a few days before he died. Without him, the band could not function as it had before and Deacon's grief over the loss of his friend and collaborator was such that he declined to contribute to the making of the film. Mercury's unnecessary and early death ended the prolific and brilliant contributions of Queen to the rock scene.
But this is not a new or unique story. Indeed, Bohemian Rhapsody does for Freddie Mercury what Amadeus did for Mozart and All That Jazz did for Bob Fosse (Fosse actually made the thinly veiled autobiographic film All That Jazz, which ended in the lead character's death, then himself died the same way a few years later). While I am not comparing Mercury to Mozart to Fosse, there are parallels of tragedy in the needless premature loss of significant musical contributions in their respective genres, all because of personal weakness and the lure of excess, exacting a terrible price from them, their families, and to the culture at large.
May they rest in peace.
This Post Has Been Viewed 236 Times