Aron
SHORT TAKE: Brutally violent and deeply disturbing metaphor for poorly understood Judeo-Christian theology.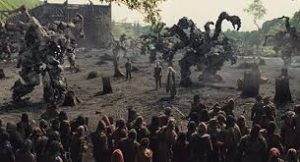 LONG TAKE: Having seen Darren Aronofsky's unusual and creative but theologically sound Noah, I had hopes that the rumors Mother! was a Biblical metaphor would play out and that the grosteque brutality I had also heard tell about would be justified.
I was disappointed…and more than a little shocked. Rex Reed savaged it as the worst movie of the century, calling it a "delusional freak show…of pretentious twaddle." I wouldn't go that far, but even reading two synopses in advance I found it hard to watch.
There have been a lot of movies which allege to "interpret" the Bible but which mishandle, mangle and demonstrate a lack of understanding of the Bible in general and Judeo-Christian theology in particular. Some are Dogma, Paul, Michael, Legion, and pretty much anything written by Dan Brown. Some are merely misguided, some just foolish, and some viciously biased anti-Christian propaganda.
To give the benefit of the doubt to Mr. Aronofsky, and because of his Noah, I like to think Mother! falls under the sincerely meant but ignorantly misguided category. It is my understanding that Aronofsky attempted a metaphorical telling of the entire Bible, from pre-Genesis to the Apocalypse and, for a little while, he got it right.
SPOILERS
The premise has an almost Thorton Wilder – Skin of Own Teeth feel and made me think it might work better as a play.
The story is about a never named young Woman (Jennifer Lawrence), deeply in love with her also never named older Husband (Javier Bardem), living in the quiet pastoral countryside in a charmingly creaky mansion that might have, at one time, been a farm house or even minor plantation. The Husband is a once famous writer with block and both patiently wait for his inspiration to happen again.
Unexpected guests appear in the form of a sickly doctor who is a fan of the Husband's work (Ed Harris) and
his boozy prickly wife (Michelle Pfeiffer). The Woman wants them out but the Husband wants them to stay.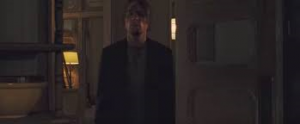 The sons of the guests show up (played by real life brothers Domhnall and Brian Gleeson), fight over the coming inheritance and one kills the other then flees but not before demonstrating the mark of Cain on his forehead in his brother's blood.
Up to this point I get it.
The idyllic scene is Paradise.
Bardem is the Creator whose very Words will fill their world with life.
Lawrence is the paradigm for Mary.
Harris and Pfeiffer are Adam and Eve – Harris brings death in the form of cigarette smoking and his own disease. Pfeiffer represents the vices of lust, uninhibited behavior, spite, and vengefulness. Their sons are, obviously, Cain and Abel. And up to this point, if you are prepared for this vision, it plays out as an interesting allegory. Had Aronofsky kept to the Biblical themes it might have been a great film. But it is at this point his theological symbology train goes off track.
God is love and desires obedience of His Creations but does not NEED love or adoration the way the Husband does. If Lawrence is playing Mary then she would not be clueless about the arrivals to her house, nor scream at "God" nor slap Him nor tell him no. As difficult as we humans all are, Mary is our adopted Mother. While she might be grieved at our condition, she would not try to bar us from her house – this is if we are keeping to the theology from which Aronofsky is supposedly dipping his ladle. And the linchpin of all Creation is that Mary told God "yes" in ultimate obedience to Him – "Mary said, 'Behold, I am the handmaid of the Lord. May it be done to me according to your word.'" Luke 1:38.
By the end of this very odd film,
Aronofsky's Woman is more Kali, Hindu goddess of destruction and sexuality than Catholic Blessed Virgin Mary, Mother of Jesus our Savior and Prince of Peace. By Aronofsky's own admission Lawrence's character is a "Mother Earth" figure, which druidic reference is completely inapproriate to a movie with all the Judeo-Christian themes and symbols. This inclusion alone exposes the glaring errors in Aronofsky's vision.
Bardem is more like one of the Roman gods who craved worship and "needed" the love of others to thrive and be creative. In Christian theology, God is not the greatest among creations, yearning for approval and recognition, but is entirely outside of creation, being Creation Itself, and requires nothing from us – any more than a painter requires anything from his painting. But in Aronofsky's misguided understanding of the Bible he seems to see God as suffering from creative entropy until he has one really good night with his wife and is greeted by a crowd of adoring fans. He is more admiration addicted rock star than God of Jacob, Joseph and Issac.
And, frankly, Aronofsky's interpretation of the sacrifice of Jesus had me running to take a judiciously timed bathroom break. Again, Aronofsky's version is theologiocally unsound as Jesus was more than full age of consent and knew exactly what He was doing, what was being done to Him and why. He was not an unwilling infant martyr to a misguided divinity's misplaced trust in his groupies.
Mother!, to borrow from a What Culture evaluation, is really only for film students and critics. It is a study in art house script writing which might have risen to masterpiece had Mr. Aronofsky had a firmer grasp of the theology he was supposedly analogizing. Instead it comes off as the violent musings of a gifted high school videographer who didn't pay enough attention in Bible study but only vaguely, and without context, remembered all the gory bits.
This Post Has Been Viewed 98 Times